Fully connected: from the order to delivery and beyond
We are your partner for planning and implementing a turnkey Smart Factory. With an integrated system, you will get the most out of your production. We ensure optimal interaction between machines, automation and software components. This enables continuous flows into your production facility, increases productivity and allows you to react flexibly to new customer requirements. In addition, our Manufacturing Execution System (MES) continuously documents all relevant production data to ensure the best possible transparency in a smart factory. Other apps can then be used to quickly exploit further optimization potential.
Modules for your Smart Factory
Our TruConnect solutions enable you to implement your Smart Factory step by step. No two paths are the same so TruConnect enables individual components to be combined to create individualized solutions. Modular solutions from TRUMPF support you and help to give your processes greater transparency, flexibility and, most importantly, economy. To achieve this, TruConnect experts work with you to develop the optimal Industry 4.0 package for your needs. The package includes machines and automation components, appropriate software for preparing quotations, programming and control, as well as our consulting and implementation services.
In full flow: What fully connected production looks like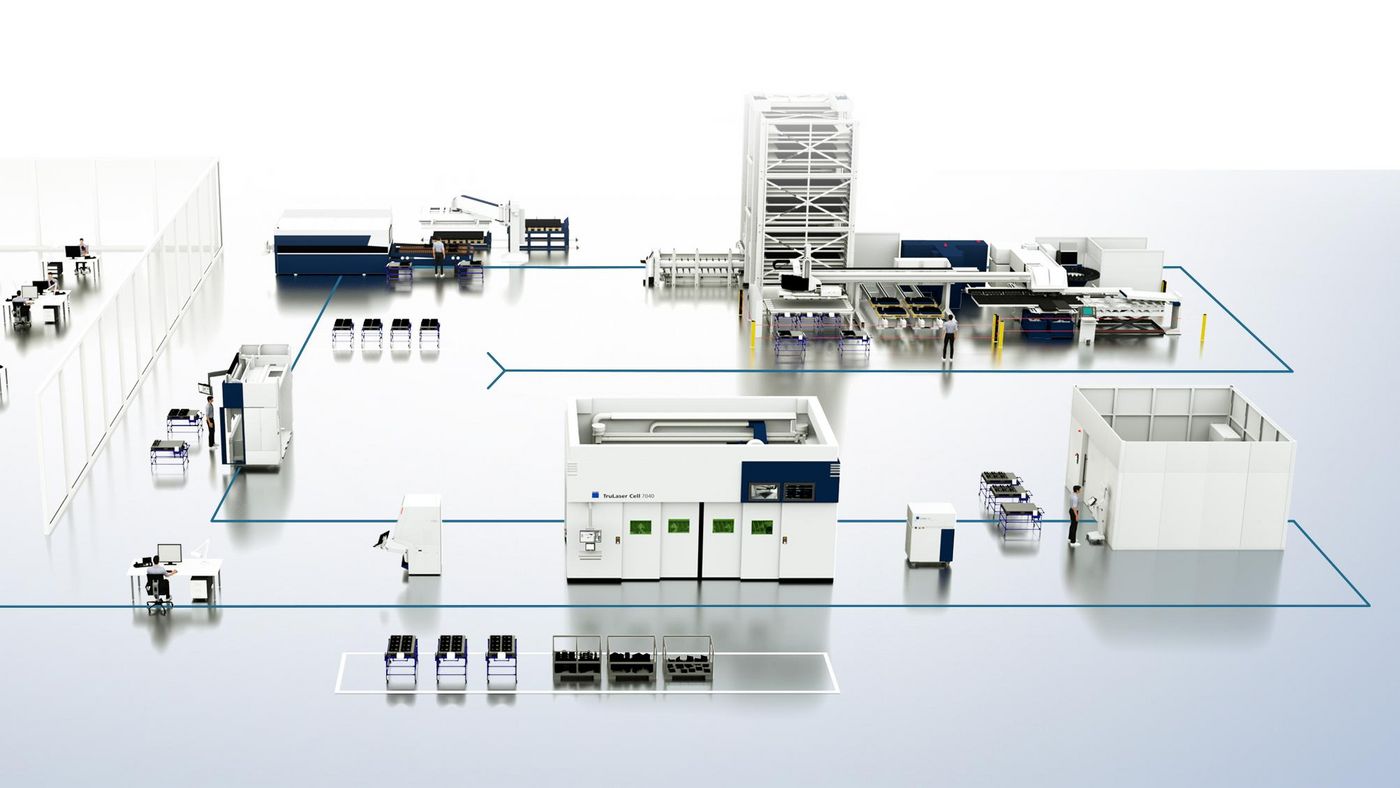 Intelligent connection of production components creates an integrated whole. This comprises all subsystems, from machines and automation through to suppliers and customers. Smart material flows with automated parts localization increases the productivity of every machine. Behind it all is an integrated storage and logistics system that brings raw materials and parts to the right processing station at the right time. The machines report their production status to the main TRUMPF software system. You monitor your orders from here, and can automatically plan, control, analyze and optimize your production.
Smart Factory Consulting – let us advise you!
We will accompany you on your path into the connected future What potential can you unleash? What does your path to networked production look like? Regardless of whether you want to just make a start, make step-by-step adaptations or fully network throughout, our consultants will help you find the ideal solution for any situation.
Request consultation
Uwe Cichowicz
Smart Factory Consultant
Email