The complete package for your entry into laser metal deposition
Tap into new markets with laser metal deposition – from coating to repair, through to additive manufacturing: In addition to the beam source and powder feeder, the DepositionLine technology package includes optics and nozzles. Due to its modular structure, you can also put it together to suit your OEM solution. Whether you want to enable a specific special system to produce your end product using laser metal deposition, or whether you, a machine and systems engineer, want to expand your portfolio with a machine for laser metal deposition – with the DepositionLine technology package you can find the right product tailored to your needs. With TRUMPF at your side, you have a reliable partner who will support you with the further development of your product portfolio, and who can offer you a global service network around the clock.
Modular construction
Put the technology package together so that it is perfect for your OEM solution.
Tried and tested in the industry
Our robust laser sources and optics are used in numerous sectors and are therefore tried and tested many times over.
Everything from a single source
Perfectly coordinated – TRUMPF provides you with a complete package comprising the beam source, powder feeder, nozzle, and optics.
Reliable and skilled
You can rely on the perfect solution with individual TRUMPF application consultation and global service.
Coating a maize chopper
To optimize the service life of a maize chopper, components are provided with a wear-resistant hard coating using laser metal deposition.
Repairing a compressor blade
Repair is another main area of application of laser metal deposition. This is because the generative manufacturing method means there are no costs for a new component with an expensive manufacturing process.
Wear protection on a piston
Effective wear protection can be created on a piston using laser metal deposition. The protection layer preserves expensive parts against wear and repair.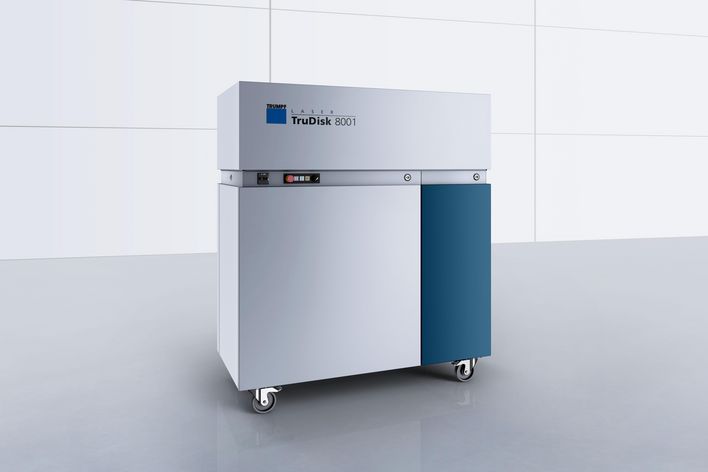 Beam source
The correct laser power for every application: the different product variants of the TruDisk disk laser can be used within the technology package. With many years of expertise in the industrial environment, TRUMPF has developed and produced the lasers itself. As several laser outputs can be used, multiple systems can be served by one beam source. This means you benefit from a much lower initial investment.
Welding optics
Using our welding optics, you simply focus the laser beam on the workpiece. Here our robust and industrially tested focusing optics from the BEO product group are used for laser metal deposition. These have programmable and motorized focusing, with which the focal point can simply be adjusted in the Z direction.
Powder feeder
The powder feeder ensures effective metering and the transport of the metal powder from the storage container to the workpiece. Here you have the choice between two different feeding principles: vibratory feeders or disk feeders.
Nozzles
You focus the powder on the workpiece using the process nozzles. A wide range of applications can be processed using our different nozzles. There are coaxial nozzles for the finest track widths, multijet nozzles for higher application rates and complete 3D-capability, as well as a multijet nozzle for high-speed laser metal deposition for the utmost surface application rates.
This product range and information may vary depending on the country. Subject to changes to technology, equipment, price, and range of accessories. Please get in touch with your local contact person to find out whether the product is available in your country.
Sales Laser Technology
Email