The multiple pallet changer
With the PalletMaster Tower, you can start unmonitored production affordably. It combines the automatic changing of pallets with compact storage technology. It can store up to 20 pallets of various materials and process them in a fully automatic fashion. In so doing, it uses a separate pallet for every material type and every sheet. The PalletMaster Tower changes thin sheets with minimal scratching and ensures that thick sheets can be processed unmonitored for a long time. This saves times and reduces costs.
Minimal scratching when changing sheets
Higher quality with individual sheet processing.
Impressively productive
Increase machine utilization by 50% through unmanned shifts. 1
More room, more freedom
Increased manufacturing flexibility as a result of such capacity.
| | PalletMaster Tower |
| --- | --- |
| System | |
| Maximum sheet size | 3048 mm x 1524 mm |
| Minimum sheet thickness | 0.8 mm |
| Maximum sheet thickness | 25 mm |
| Maximum pallet carrying capacity | 940 kg |
| System height (stage 4) | 6022 mm |
| Number of pallets (stage 4) | 20 pieces |
Technical data sheet
The technical data of all product versions as a download.
Sorting and slat cleaning station
The sorting and slat cleaning station makes it possible to perform loading, unloading, and cleaning parallel to production.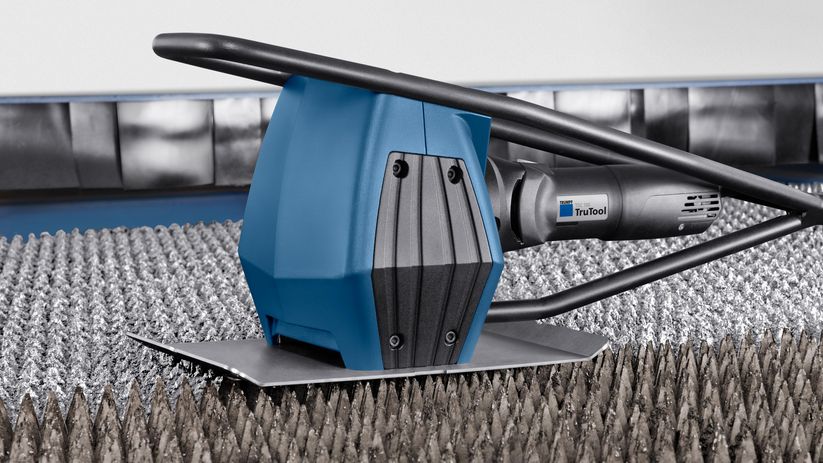 The TruTool TSC 100 is delivered together with the sorting and support slat cleaning station.
This product range and information may vary depending on the country. Subject to changes to technology, equipment, price and range of accessories. Please get in touch with your local contact person to find out whether the product is available in your country.
Footnotes
Two shifts during the day, at night an additional shift unsupervised
Mark Bronski
Laser Technology Sales
E-mail