Affordable introduction to bending
The ProfiPress bending machine is adaptable, flexible and reliable. It represents excellent value for money and is highly economical even at low capacities. Simple, user-friendly control and programming makes operating it easy for all. The tool system can be used flexibly according to requirements and has practical, intelligent options.
The economical alternative
Even at low utilization, the ProfiPress is economical.
Maximum precision
CNC crowning ensures uniform, precision angles, just like the OCB goniometer.
Simple control
With the multi-touch control, operation is as easy and intuitive as with a standard tablet PC.
Ergonomic for users
Support brackets enable easy material handling.
Extensive bending options
3.5 meters between the columns increases your part variety.
Choice of tools
Any tool system can be used, for example, EHT, TRUMPF and other makes.
Highly reliable
A robust C-frame and high-quality components provide a reliable, Made in Germany machine.
Practical extra options enable you to work more efficiently and reliably with the ProfiPress press brake.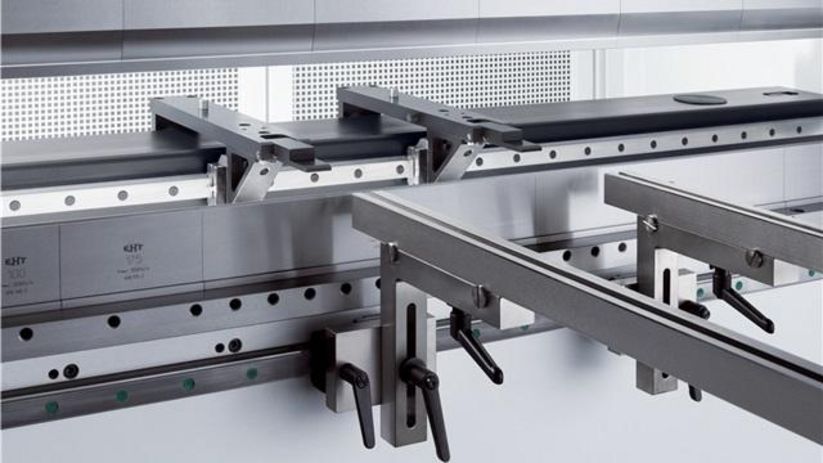 Simple support brackets for positioning sheet metal make component handling easier
You are equipped for almost any eventuality with up to 4 backguage axes. Your workpieces are positioned precisely and securely – for perfect bending results.
You have the choice of tool: as standard the machine comes with the proven EHT tool system. An adapter enables the machine to be equipped with other tools.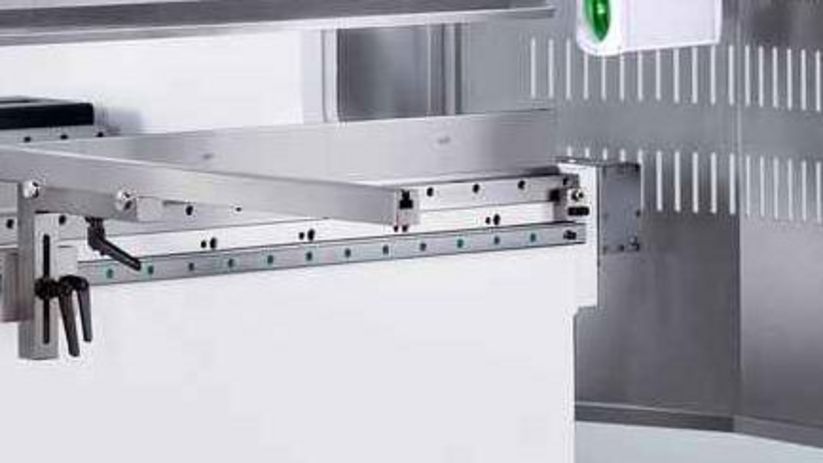 Automatic crowning ensures uniform, precision angles along the entire bending length. It has a load capacity of up to 2000 kN/m.
OCB angle measuring device
The digital OCB (Operator Controlled Bending) goniometer transmits angle data to your control system within seconds. All this is done wirelessly via Bluetooth. At the push of a button, bending angle corrections can be transmitted to the bending software. The easy-to-use system not only saves you the effort of inputting data, but also time and travel.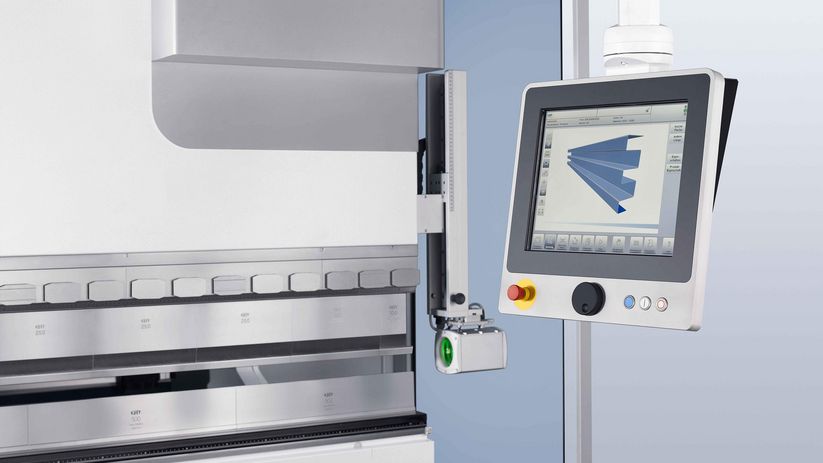 The T3500T multi-touch control is clearly structured, self-explanatory and easy to use. Stored empirical values, such as pressing depth, deflection and bend deduction, represent our entire know-how and make bending easier for you. Components can be drawn, graphically programmed and visualized directly at the machine. The high-resolution 17-inch colour flat screen can even be operated when users are wearing gloves.
Choose from more than 150 upper and lower tool versions. You can also choose to order the tools individually or as a set.
For tool lengths up to 300 mm, lightweight bending tools with a weight saving of more than 30% are equipped with the Safety-Click as standard. These significantly reduce the physical effort required by operators and shorten set-up times.
The coated TRUMPF LASERdur ZN bending tools prevent zinc sticking after machining. The coated tools also have the advantage of being corrosion-resistant and therefore require no cleaning.
For specific requirements, TRUMPF will develop your own personal tool solution.
This product range and information may vary depending on the country. Subject to changes to technology, equipment, price and range of accessories. Please get in touch with your local contact person to find out whether the product is available in your country.