XTREME Solutions
Make even the biggest tasks easy: whether it's laser cutting, laser tube processing or bending, with our machines you are ideally equipped for oversized sheet processing.
XTREME bending: TruBend 8000 stand-alone and TruBend 8000 tandem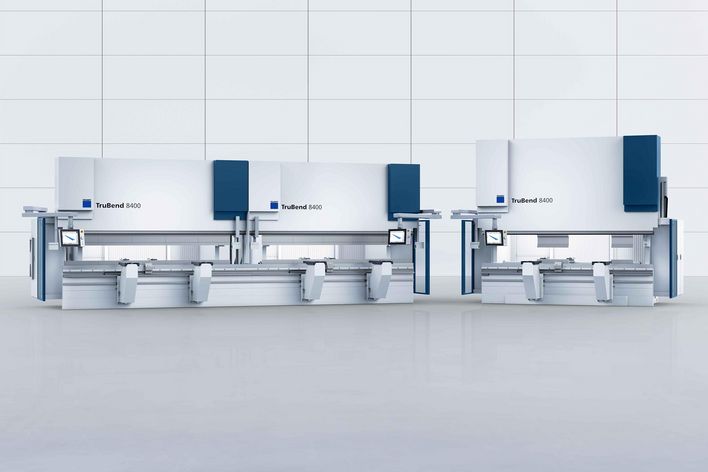 Need to bend a lot of long or short heavy parts? Then this heavy-duty solution with up to 2,000 tons of press force will come in handy. A single TruBend 8000 can handle bending lengths of up to 12 meters, and even 16 meters in tandem operation. Thanks to the heavy-duty upper tool clamp, you can bend even extremely thick and short sheets to precise angles. A height-adjustable heavy-duty bending aid with a carrying capacity of 300 kilograms ensures ergonomic working. Adapt the bending expert to your needs with the help of numerous special options and customizing.
Bend up to 16 meters in tandem
Up to 2,000 tons of press force
Precisely bends extremely thick & short sheets
Heavy-duty bending aid up to 300 kg and other heavy-duty options
XTREME automated bending: Starmatik on the TruBend 8000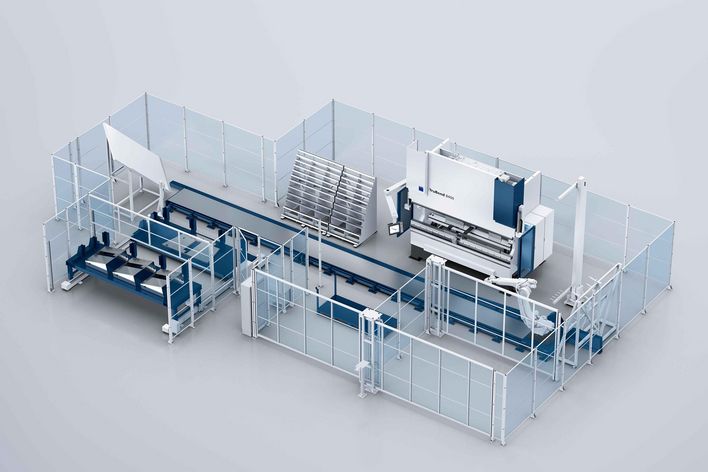 A strategically strong combination: Combine the maximum freedom of the TruBend 8000 with flexible automation from Starmatik. Bend oversized sheets up to 6 meters in length or 400 kilograms in weight. With its six axes, the robot speeds up your production process. It easily controls automatic tool changes and gripper changes and handles your materials in the most beneficial way for your manufacturing. Want to integrate additional manufacturing methods in the automation? Customize your setup with our specialists.
An industrial robot loads and unloads oversized sheets
Six axes for accelerated processes
Automatic tool and gripper changes
Versatile material handling and other manufacturing methods
Interested in XTREME bending?
Find more information on our TruBend Series 8000 on the product page.
To the product
XTREME laser cutting: TruLaser 3060 fiber and TruLaser 3080 fiber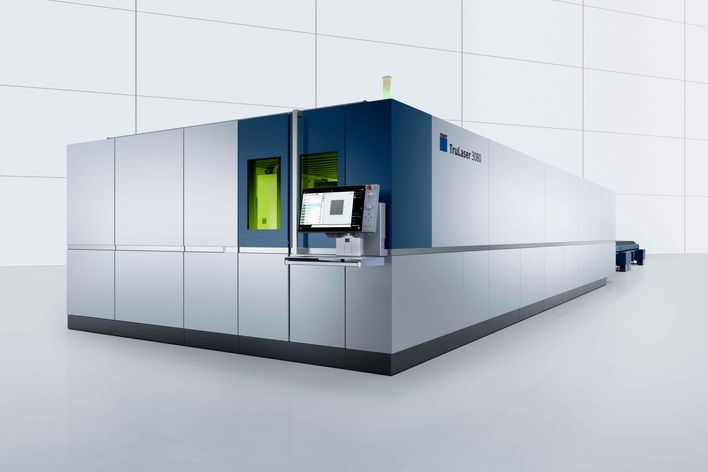 Cut better and longer: Quickly cut sheets up to eight meters long in all sheet thicknesses with versatility. This is particularly productive thanks to the dream team of the TruDisk 12001 laser and a fully adaptive lens system. BrightLine fiber ensures high cutting quality in thick sheet metal, while CoolLine cools your parts, making intricate geometries possible, even with high laser power. Which 2D laser machine do you use to cut longer sheets?
And if you're still looking for automation for it, Starmatik also provides active support with loading and unloading units.
Cut sheets up to 8 meters in length
Productive for thin and thick sheets
High cutting quality thanks to BrightLine fiber
Process reliability, even with high laser power
Interested in XTREME laser cutting?
Find out more about our TruLaser 3060 fiber and TruLaser 3080 fiber here.
To the product
XTREME laser tube cutting: TruLaser Tube 7000 fiber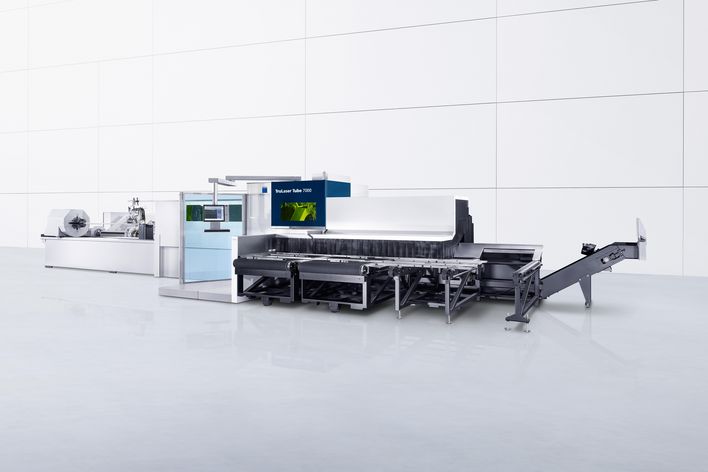 Laser tube cutting at maximum productivity: This powerhouse of a machine and solid-state laser can handle tubes weighing up to 370 kilograms and cut tubes up to 9.2 meters in length to millimeter accuracy. Your 6 kW TruDisk Laser with 2-in-1 fibers glides through wall thicknesses of up to 14 mm and delivers high part quality. This allows you to quickly process an enormously versatile range of parts and materials. Fully automated, the machine can be loaded with unprocessed material of up to a 8.05 m profile length and 4 tons per storage cassette. If desired, you can link the loading automation to various STOPA tube storage systems.
Tubes up to 370 kg and 9.2 m
Maximum productivity with solid-state laser
Top quality for wall thicknesses up to 14 mm
Automated loading of up to 6.5 tons of raw material
Interested in XTREME tube cutting?
Visit our product page for more details on the TruLaser Tube 7000 fiber.
To the product