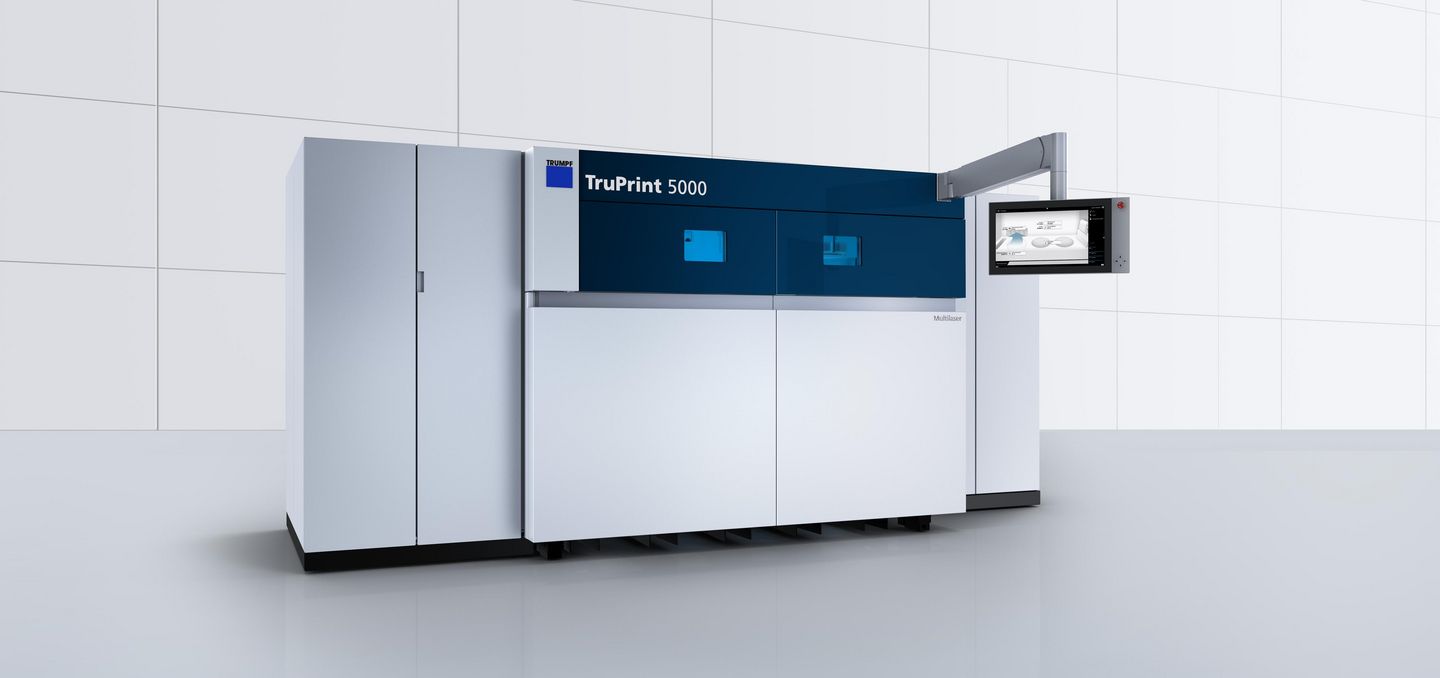 TruPrint 5000
Highly productive and automated 3D printing machine for industrial serial production - with the TruPrint 5000. Parts can be generated faster and more efficiently thanks to fullfield the multilaser system with up to three 500-watt TRUMPF fiber lasers. All three lasers can simultaneously expose in the entire build chamber independently of the number and geometry of components. At formnext, experience the automatic process start for safe LMF and fast set-up live at the push of a button. With preheating of up to 500°C, the TruPrint 5000 also generates high quality and robust parts for numerous materials. Using quickly interchangeable build and supply cylinders you can work parallel to production just as with the TruPrint 3000 and keep your machine availability high.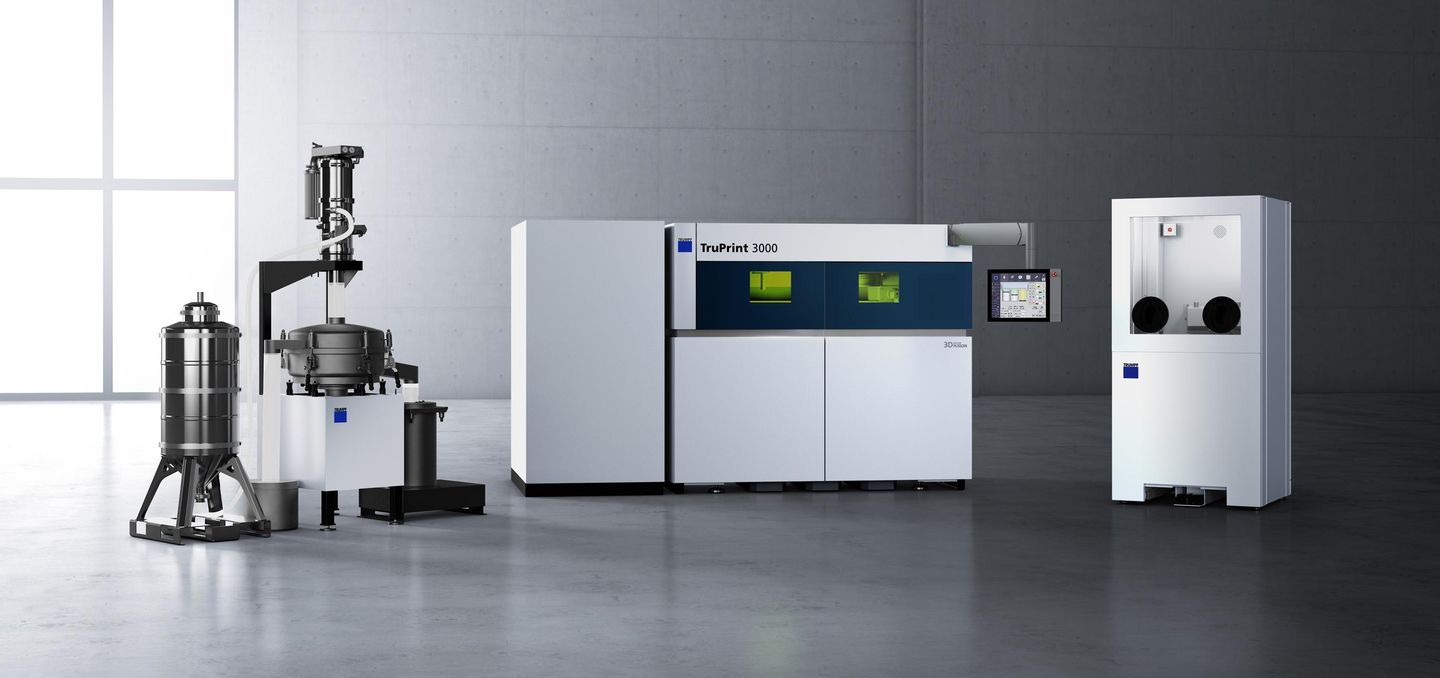 TruPrint 3000 with industrial part and powder management
Are you looking for a flexible and scalable solution for industrial 3D printing? Learn about the many advantages of our universal medium-format machine TruPrint 3000 at formnext. Along with the machine you will experience the entire additive process chain live: from programming to set-up, the LMF process, industrial parts and powder management, as well as monitoring.
What's new?
TruPrint Setup Wizard for safe and easy machine handling
Durable and reliable filter unit for fast and safe material changes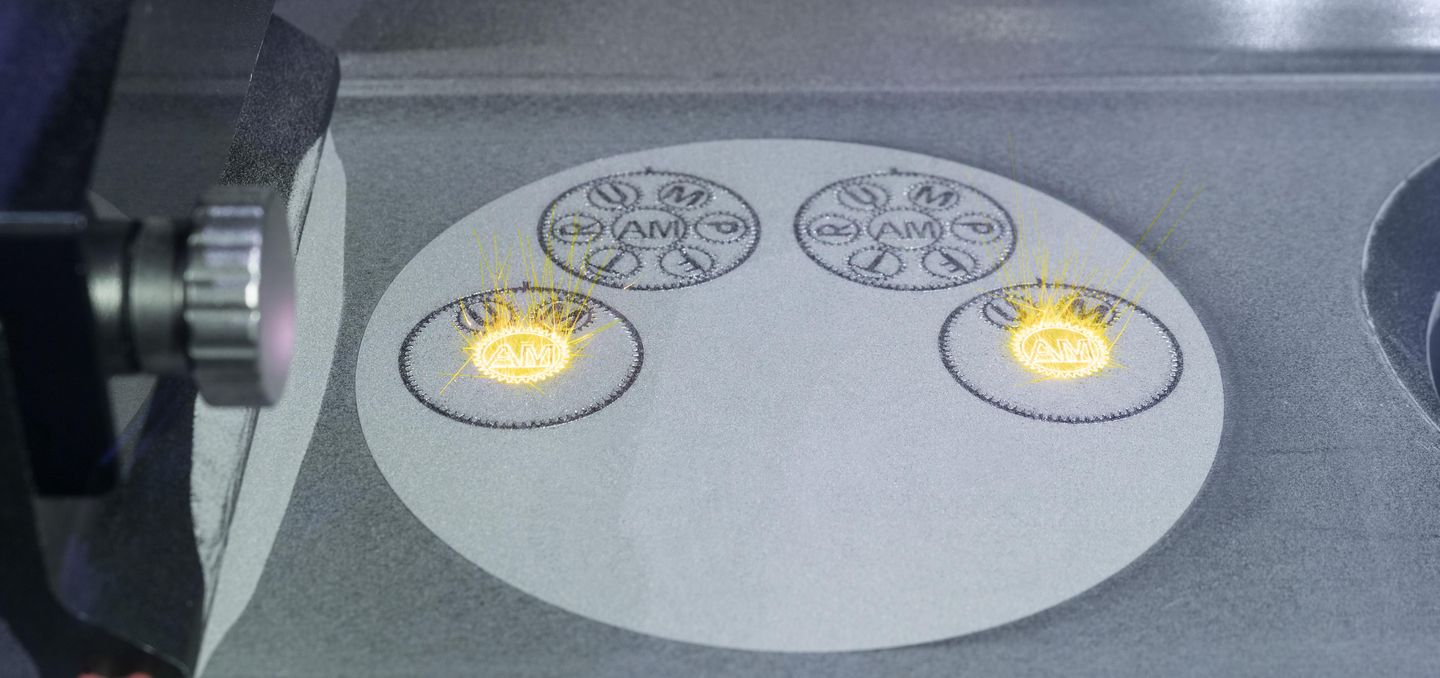 TruPrint 1000 with multilaser option
The TruPrint 1000 is the most productive machine in its class. It provides all the advantages of Additive Manufacturing - ergonomic handling and intuitive touch screen. Experience the multilaser option for maximum productivity live at our booth: Two 200 watt TRUMPF fiber lasers expose in the build chamber simultaneously and generate up to 80% more parts in the same period.
What's new?
Powder Bed Monitoring with up to 40% faster image processing
TruPrint Setup Wizard for safe and easy machine handling
TruLaser Cell 3000 – uniquely universal
The TruLaser Cell 3000 is a true all-rounder: In addition to automated 2D and 3D laser welding and cutting, this machine also impresses in additive production: partial reinforcements are applied to an aluminum die-cast component by laser material deposition. You benefit from digitized processes, because a line scanner is used that captures the 3D data of the component and transmits it to the TRUMPF machine control. TRUMPF offers everything for this additive technology from a single source, including support and comprehensive process know-how. In addition, seal welding and other joining operations will be shown at the trade show.
TRUMPF - Your total solution provider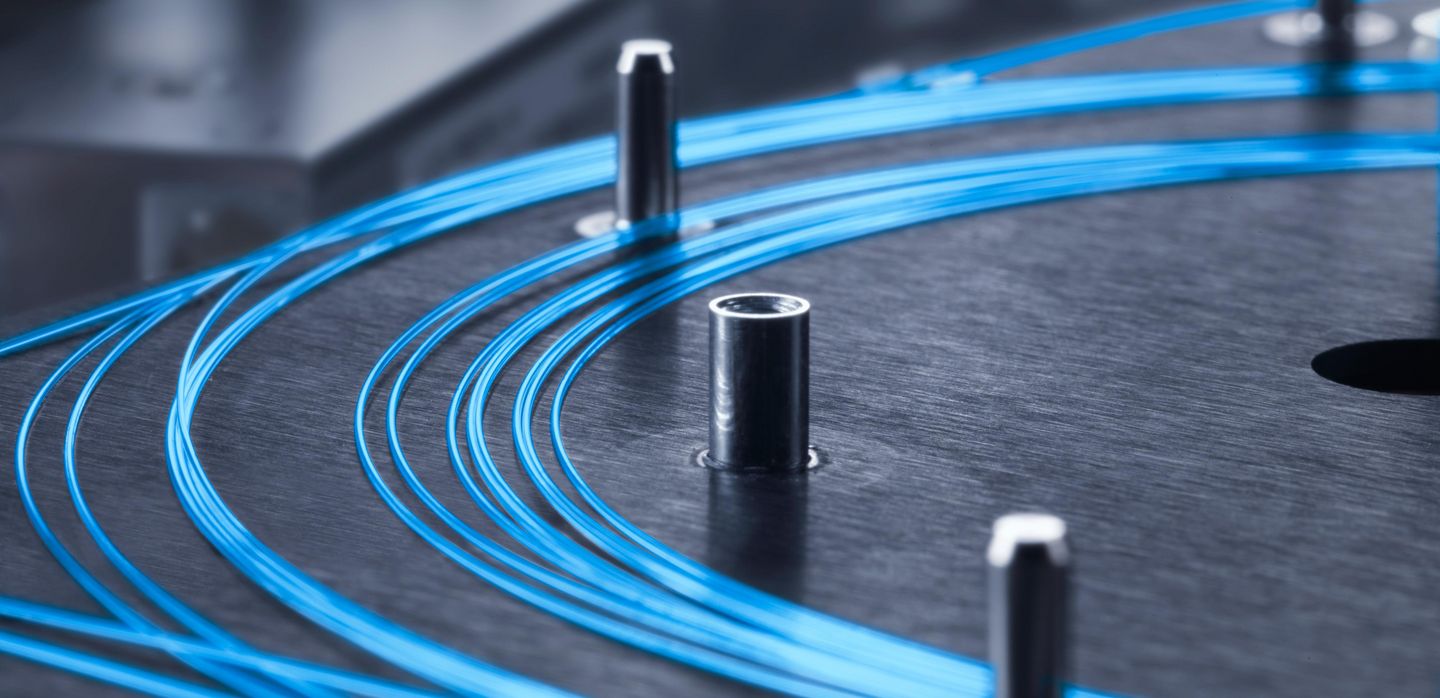 Laser expertise
TRUMPF is a laser specialist and offers you a unique portfolio of lasers and laser systems including worldwide application consulting, integration support and services. You receive everything from a single source: from the laser beam source to optics, beam guidance and sensors - TRUMPF develops and produces everything in-house. You will therefore find the optimal and high-quality laser for every application - we are also constantly advancing additive technologies with our laser expertise.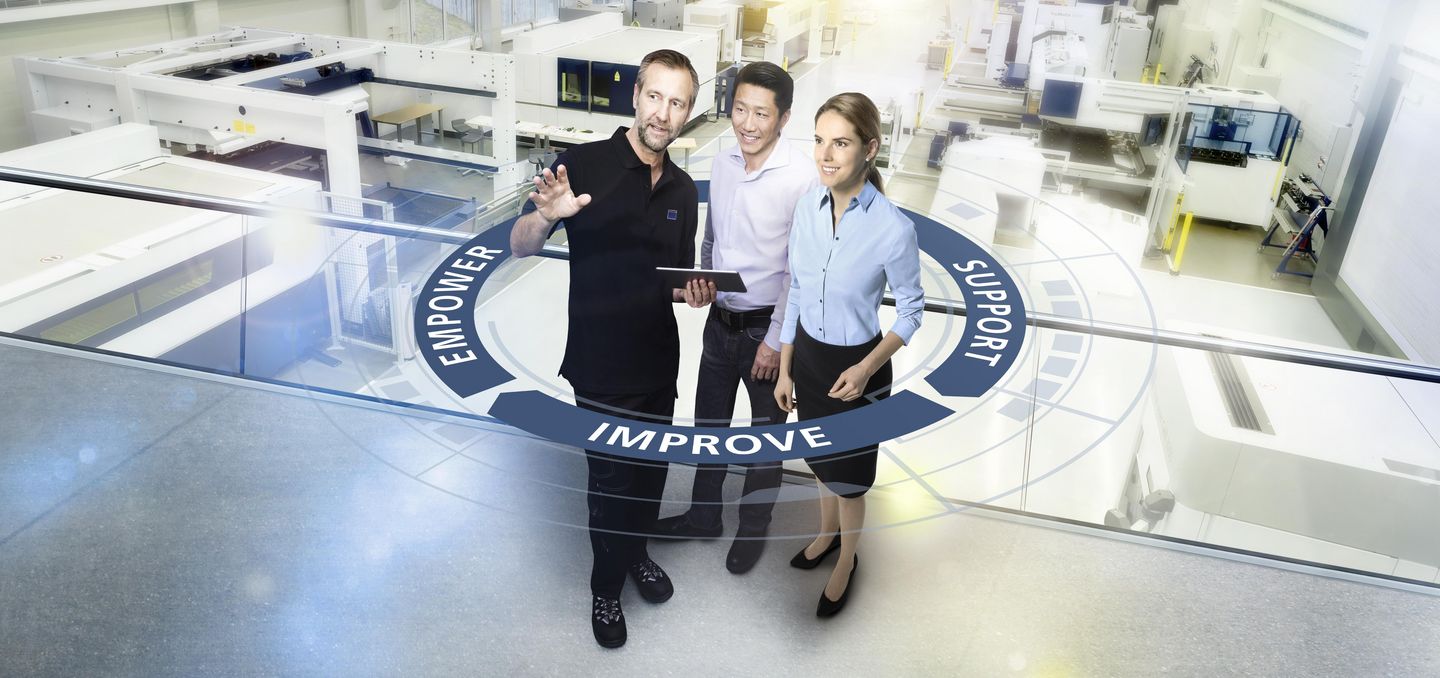 TruServices - Your Partner in Performance
Whether flexible financing, service agreements for professional maintenance or quick help with technical challenges - with the TruServices portfolio we always have the right solution for you. We support you in maximizing your value creation in a sustainable manner - this you can rely on!
What distinguishes TruServices?
First-class trained technicians worldwide
24/7 spare parts service
Metal powder adapted to machines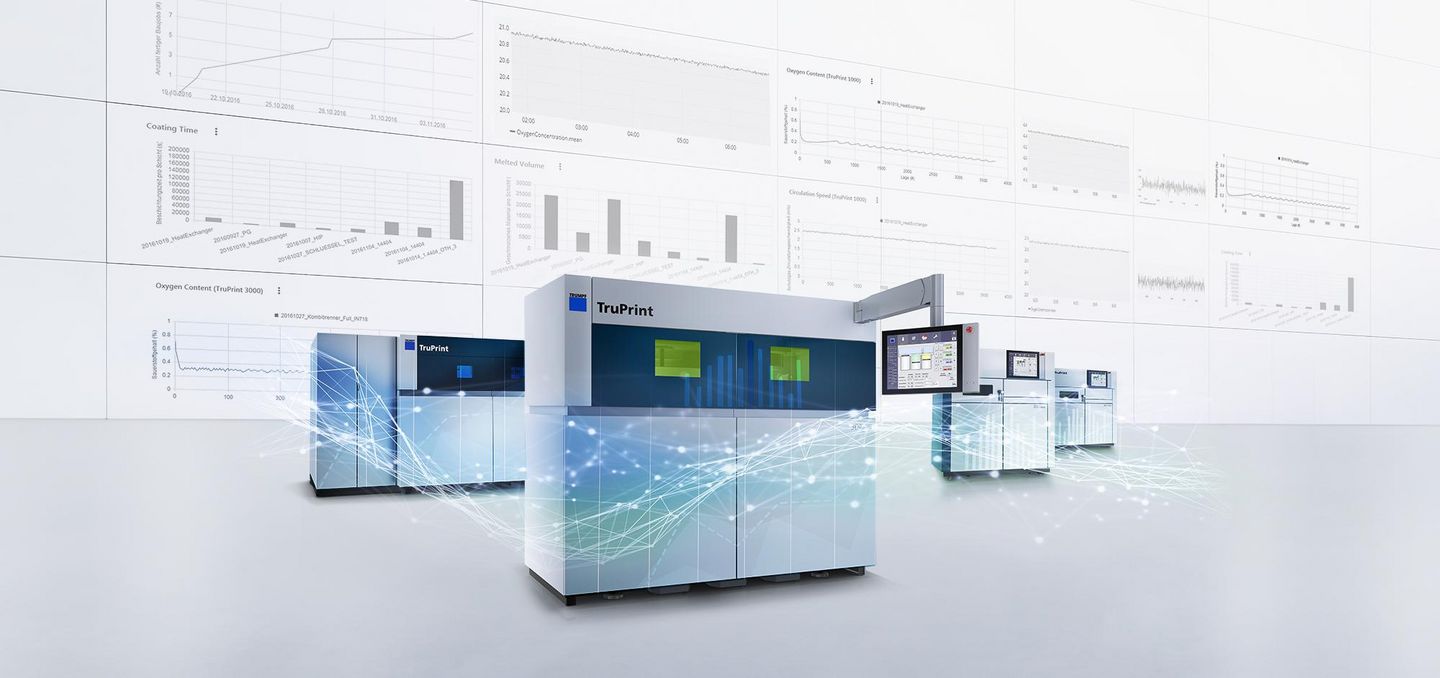 TruConnect - Your Smart Factory
As an experienced machine manufacturer, TRUMPF sees itself as a pioneer in the digital transformation of the manufacturing industry. With our comprehensive TruConnect solutions range, we are networking people and machines transparently through information. With TruTops Monitor or by connecting your machine via an OPC UA monitoring interface, you always have an overview of what is happening and can plan better. You can produce more quickly and flexibly, and your processes become more controllable.
What does 'TruConnect' mean?

Intelligent integration of software, hardware and services