Powerful compact machine
The TruLaser 2030 fiber is your easy introduction to highly productive laser cutting. Operation is intuitive – you can get started immediately and continuously benefit from the system performance. It does not require lots of room because the TruLaser 2030 fiber is compact and brings together its full power with minimal use of space.
Simple operation
Intuitive control panel with touch control and optimal view of the entire work area.
Powerful and fast
High cutting productivity and long-term reliability with the TruDisk disk laser.
Compact layout
The machine is available in different installation versions depending on your requirements.
Quick starting point, consistent success
Cut reliably from the first day onwards – continuously and for many years.
Cost-effective single-cutting-head strategy
You can cut all types of material and sheet thicknesses with the same cutting unit.
Automated loading and unloading
LiftMaster Shuttle automatically loads and unloads parts.
Short non-productive times
The automatic nozzle changer increases speed and process reliability.
High availability
Benefit from a high level of availability – for example due to collision protection on the cutting head.
Particularly fast in thin sheet
For sheet thicknesses from 0.04-0.5 in., the TruLaser 2030 fiber makes the most of all of its strengths. It works especially quickly in this range, and exploits the productivity benefits of the solid-state laser compared to CO2 lasers.
High-quality and process reliable with BrightLine fiber – even in thick sheets
BrightLine fiber is a combination of unique optics, cutting parameters, and flow-optimized nozzles. The particular advantage of this is that cutting edges are even more high quality. The kerf is also wide enough in thick sheet metal that parts do not get stuck during part removal. Save a lot of time as a result, as you can easily remove parts.
Quicker piercing with PierceLine
With PierceLine, the TruLaser 2030 fiber also makes easy work of contours with lots of piercing, Save time for each piercing – it is particularly worthwhile for parts with lots of individual piercings. The end of the piercing is detected immediately; the cutting process starts more quickly.
Process non-ferrous metals with high process reliability
Strongly reflective non-ferrous metals can also be cut reliably with the robust TruDisk laser. Even copper cutting with nitrogen is possible with the TruDisk laser.
| | TruLaser 2030 fiber |
| --- | --- |
| Dimensions | |
| Length | 8276 mm |
| Width | 6764 mm |
| Height | 2300 mm |
| Weight | |
| Weight, basic machine | 7750 kg |
| Max. speed | |
| Simultaneous | 140 m/min |
| Working range | |
| X axis | 3000 mm |
| Y axis | 1500 mm |
| Max. workpiece weight | 900 kg |
| Laser-specific data - TruDisk 2001 | |
| Max. laser output | 2000 W |
| Max. sheet thickness, mild steel | 16 mm |
| Max. sheet thickness, stainless steel | 8 mm |
| Max. sheet thickness, copper | 3 mm |
| Max. sheet thickness, brass | 3 mm |
| Max. sheet thickness, aluminum | 6 mm |
| Laser-specific data - TruDisk 3001 | |
| Max. laser output | 3000 W |
| Max. sheet thickness, mild steel | 20 mm |
| Max. sheet thickness, stainless steel | 16 mm |
| Max. sheet thickness, aluminum | 12 mm |
| Max. sheet thickness, copper | 6 mm |
| Max. sheet thickness, brass | 6 mm |
| Laser-specific data - TruDisk 4001 | |
| Max. laser output | 4000 W |
| Max. sheet thickness, mild steel | 25 mm |
| Max. sheet thickness, stainless steel | 20 mm |
| Max. sheet thickness, aluminum | 20 mm |
| Max. sheet thickness, copper | 8 mm |
| Max. sheet thickness, brass | 8 mm |
| Consumption values | |
| Average power input in production - TruDisk 2001 | 11 kW |
| Average power input in production - TruDisk 3001 | 13 kW |
| Average power input in production - TruDisk 4001 | 13 kW |
Technical data sheet
The technical data of all product versions as a download.
High productivity and the best quality: Powerful functions guarantee the best processing results.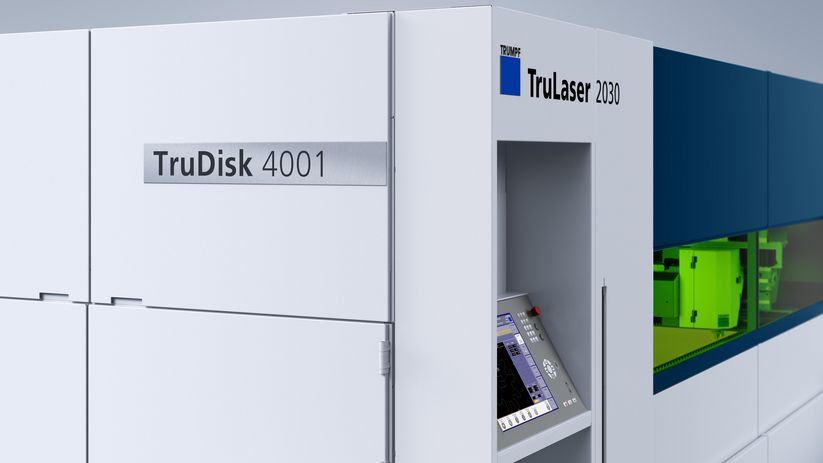 TruDisk 2001, TruDisk 3001, or TruDisk 4001
Different lasers are available for your laser cutting machine depending on the power you require: The TruDisk 3001 with 3 kW or the TruDisk 4001 with 4 kW.
You can adapt the TruLaser 2030 fiber automation to your production quite simply. You can choose between different installation versions.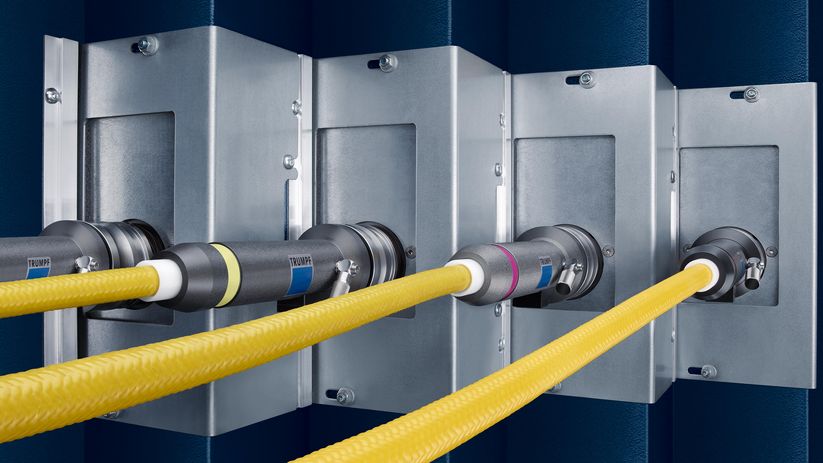 Second laser output for use in the TRUMPF LaserNetwork
With the TruLaser 2030 fiber you can not only carry out cutting processes, but other applications are also made possible for your production in a cost-efficient manner. You can optionally share the laser with other machines – for example with a laser tube cutting machine or a laser welding cell. In addition, you can use your TruDisk laser in the laser network in a flexible manner.
All of the machine's key components, such as the laser, electrical cabinet, or compact dust extractor are integrated into the machine frame. Including the pallet changer, the TruLaser 2030 fiber fits on an installation surface of 7.8 x 5.9 meters.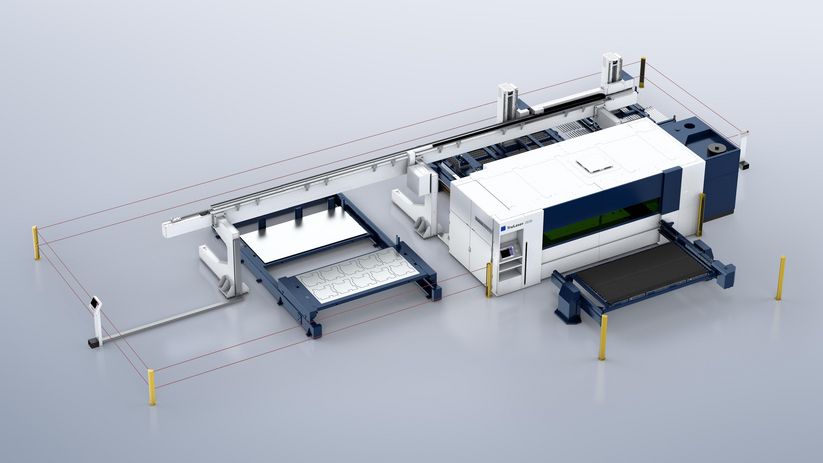 Customized automation – your capacity utilization is what counts
Whether it's with low capacity utilization or highly-productive multi-shift operation – you assemble your machine according to your requirements. With the TruLaser 2030 fiber, you can flexibly choose a manual pallet, a pallet changer, or fully automated loading and unloading via LiftMaster Shuttle.
User-friendliness & process reliability
The 19-inch touch display makes work pleasant for the operator. But not just on the display – the operator also always has an overview of all the processes in the work area since the entire work area is clearly visible.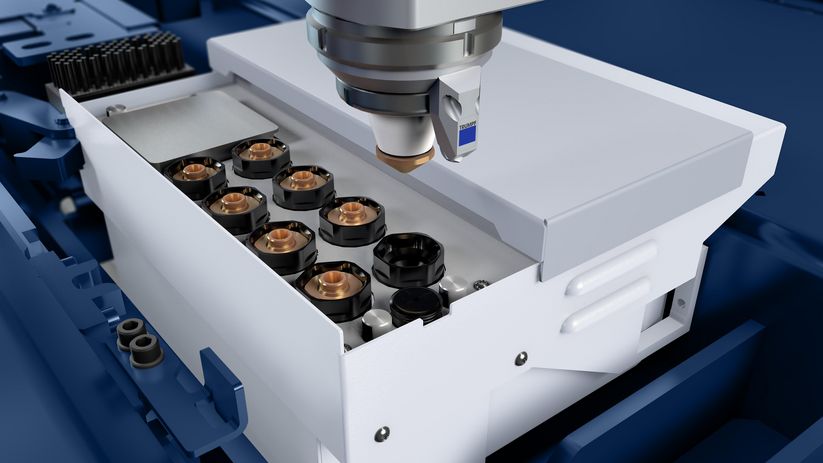 With the automatic nozzle changer, you can leave your machine to operate in continuous operation. If the machine needs a different cutting nozzle for a new job, it is taken care of without operator intervention.
The collision protection for your cutting head guarantees process reliability – in the event of collisions between the cutting head and tilted parts, damage to the cutting head is prevented, meaning that you do not have to replace the cutting head. You benefit from shorter non-productive times due to increased machine availability.
Easy working, even for novices
The intuitive operation makes getting started in productive laser cutting easier; training outlay is minimal. Cutting parameters for all materials and sheet thicknesses are stored. You can create simple drawings and cutting programs directly on the machine with a few clicks.
Single-cutting-head strategy
You save setup time with the TruLaser 2030 fiber – it is not necessary to change lenses or cutting heads, as all materials and sheet thicknesses are cut with the same cutting unit. The focal position and other parameters are automatically tailored to the material to be cut.
BrightLine fiber provides you with high-quality cutting results over the entire sheet thickness range. At the same time, all of the advantages of the solid-state laser during thin sheet processing are retained, in particular the high speeds. The cutting edges are particularly smooth, meaning that you can quickly sort parts.
PierceLine monitors and controls the piercing process. This saves material and preserves the machine, increasing part quality and shortening the piercing time by up to 80%.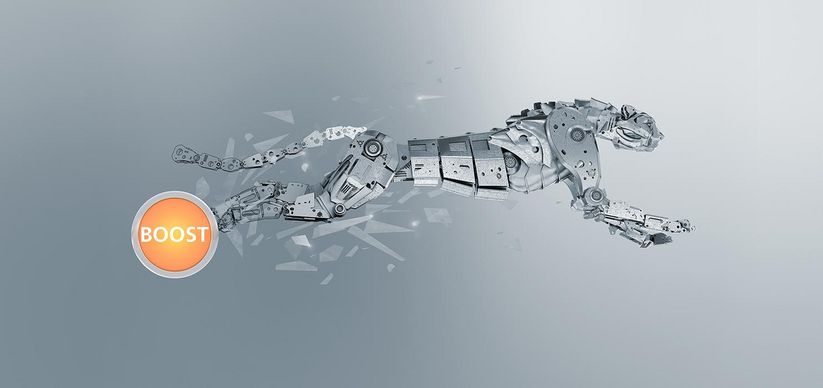 TruTops Boost
Construct and program your laser, punching, and combination punch laser machines intelligently with TruTops Boost, your all-in-one 3D solution. Numerous automated processes save you time-consuming routine processes and the joint nesting pool saves time and material. You also always have an overview of all manufacturing orders and order-based work.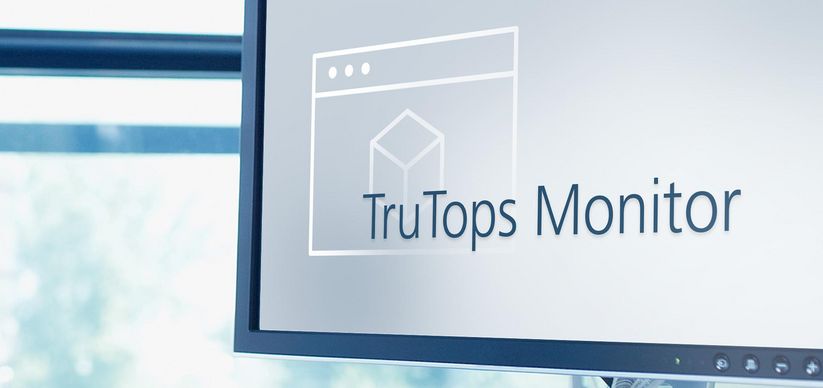 TruTops Monitor
Reduce your idle time. Record and analyze machine data, including idle states, error messages, causes of malfunctions, and maintenance periods for all of your production workplaces. If an idle state or a malfunction occurs, TruTops Monitor will inform you immediately about the cause, allowing you to respond quickly.
Software
The extensive range of TruTops software supports you throughout the entire production process. Control your operational workflow in a simple and targeted manner, from managing your customer orders and purchasing processes to delivery of the produced parts. Through the direct coupling with the machine control, you can keep a constant eye on the status of your orders.
The LiftMaster Shuttle is available for automated processing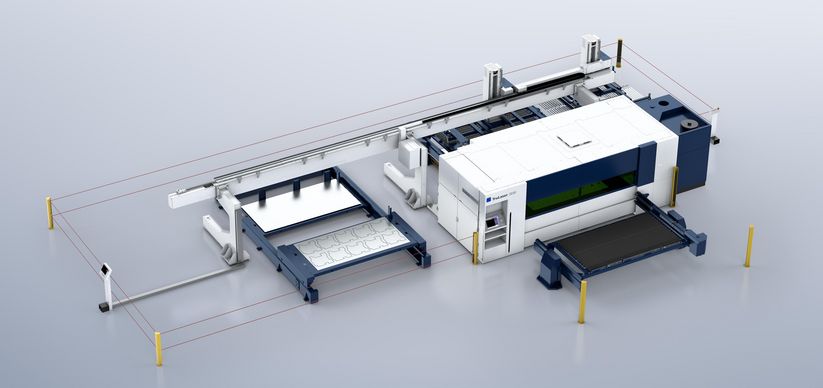 Loading and unloading
Automate the loading and unloading process of your TruLaser 2030 fiber using the LiftMaster Shuttle. Due to numerous installation versions, you can not only adapt the system to the space you have available, but also to the desired material flow in your production.
This product range and information may vary depending on the country. Subject to changes to technology, equipment, price, and range of accessories. Please get in touch with your local contact person to find out whether the product is available in your country.
You may also find these topics interesting
Contact
Uwe Krauß
Support Sales
E-mail
Downloads

2D laser cutting machines brochure
pdf - 6 MB