The right optics for your application
Whether for welding, cutting, ablating, heating up or drilling: with robust focusing optics from TRUMPF you can attain high-quality process results. The optics can be used flexibly with the TRUMPF solid-state lasers and optimally adapted to these. Through the modular toolkit from TRUMPF, the fixed optics can be adapted individually to your requirements.
Reliable for everyday industrial processes
TRUMPF focusing optics will win you over with their long service life and reliability.
Modular toolkit
A large number of options guarantees you the right solution for any task.
Simple integration
Various optic designs ensure system-specific adaptation to the work situation and environment.
High seam quality
The sophisticated technology means that customised seams can be created with an excellent seam quality.
User-friendly
Important work parameters can be set simply and specifically for the application.
Transmission components
The optics help you to focus the laser beam precisely on the weld. The simultaneously supplied shielding gas ensures an even higher quality welding result and thereby reduces time-consuming reworking of the welding seam.
Dual clutch unit
TRUMPF processing optics deliver the best performance in 24/7 operation, and the quality of your welding results remains consistent in the long term.
Centre differential
Precisely focusing the laser light is especially important when welding a butt joint or overlapping joint. TRUMPF focusing optics show their strengths in this field, and can be used, for example, to weld a centre differential with an overlapping joint of outstanding quality.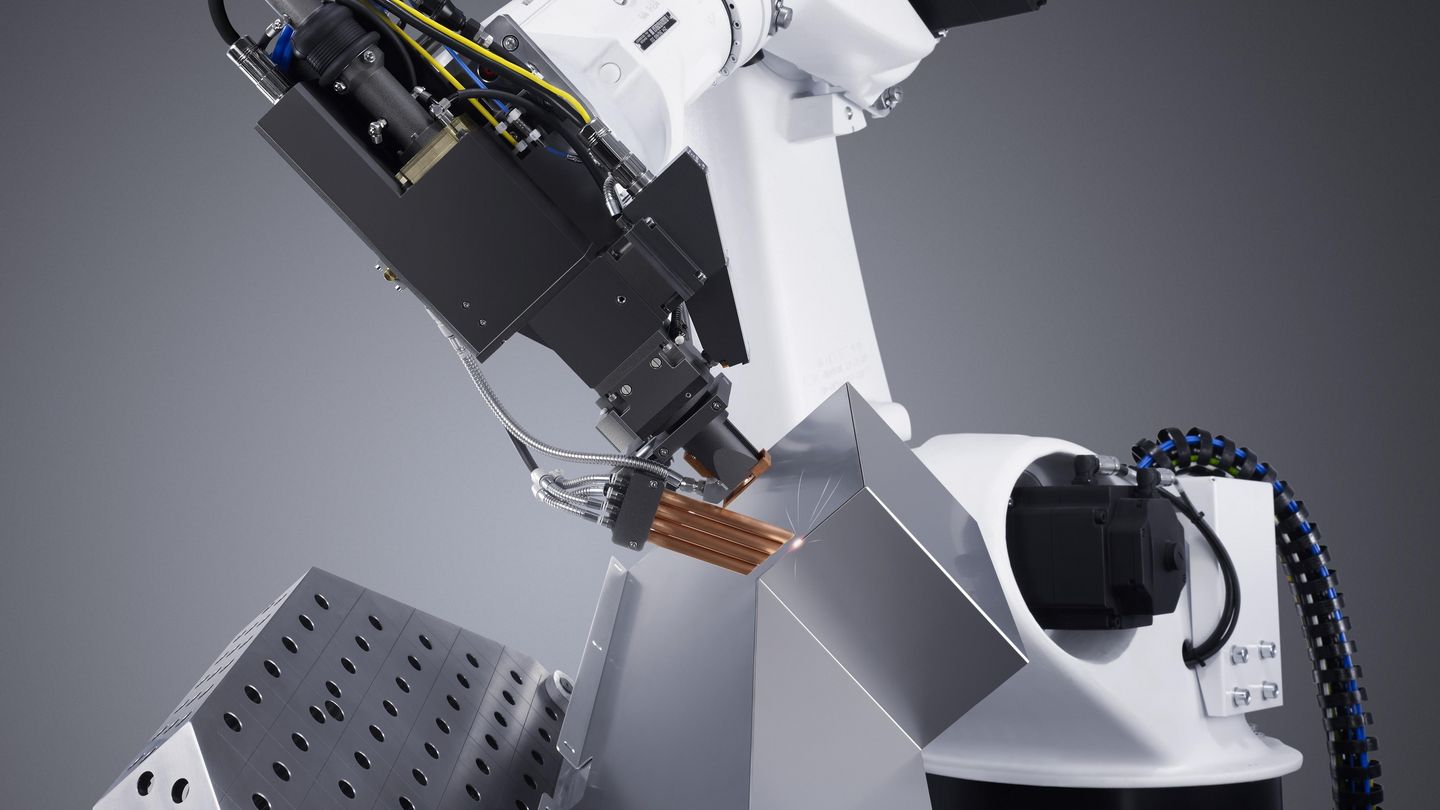 Robot welding
With the combination of TRUMPF focusing optics, such as motorised focusing optics, and a robot, you can substantially increase the size of the work area of your optics and use their excellent focusing properties.
Laser metal deposition
Generative laser metal deposition with TRUMPF focusing optics.
Copper welding
You can also process copper using TRUMPF focusing optics. This means you can weld contacts on printed circuit boards, for example.
BEO D25


Compare product

BEO D35


Compare product

BEO D70


Compare product

RFO


Compare product

CFO


Compare product

Laser parameters
Wavelength
1030 nm - 1070 nm
1030 nm - 1070 nm
1030 nm - 1070 nm
1030 nm - 1070 nm
1030 nm - 1070 nm
Max. power
150 W
4000 W
8000 W
16000 W
8000 W
Optics configuration
Standard collimation
90 mm
35 / 100 mm
200 mm
-
200 mm
Available focal lengths
48 / 60 / 90 / 135 mm
70 / 100 / 140 / 200 / 300 mm
100 / 150 / 200 / 300 / 400 / 600 mm
600 mm
100 / 150 / 200 / 300 / 400 / 600 mm
Installation
Protection class
IP54
IP54
IP54
-
IP54
| | BEO D25 | BEO D35 | BEO D70 | RFO | CFO |
| --- | --- | --- | --- | --- | --- |
| Laser parameters | | | | | |
| Wavelength | 1030 nm - 1070 nm | 1030 nm - 1070 nm | 1030 nm - 1070 nm | 1030 nm - 1070 nm | 1030 nm - 1070 nm |
| Max. power | 150 W | 4000 W | 8000 W | 16000 W | 8000 W |
| Optics configuration | | | | | |
| Standard collimation | 90 mm | 35 / 100 mm | 200 mm | - | 200 mm |
| Available focal lengths | 48 / 60 / 90 / 135 mm | 70 / 100 / 140 / 200 / 300 mm | 100 / 150 / 200 / 300 / 400 / 600 mm | 600 mm | 100 / 150 / 200 / 300 / 400 / 600 mm |
| Installation | | | | | |
| Protection class | IP54 | IP54 | IP54 | - | IP54 |
Technical data sheet
The technical data of all product versions as a download.
You can adapt your focusing optics to any job with the large number of options. You can also receive special optics for laser metal deposition with powder feed, or for linear laser spots.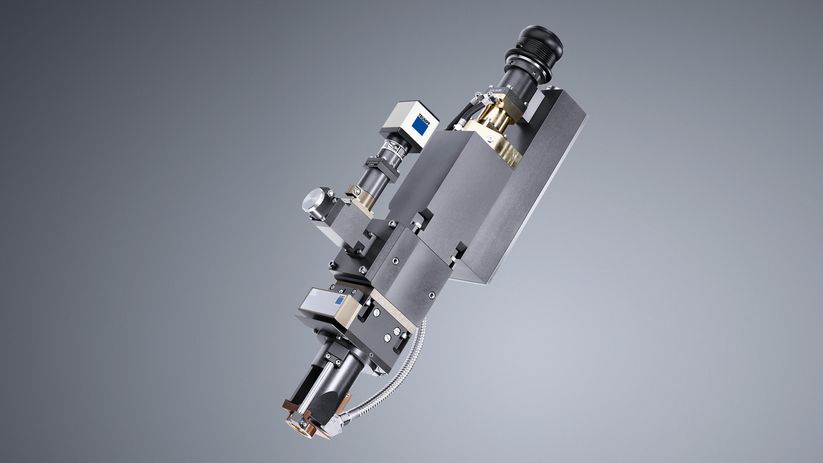 Programmable motor focusing
Thanks to motor positioning of the collimator lens, the focus point can be conveniently set in the Z direction. Modifications can be entered either directly via the laser control system TruControl or via an external machine control. Applications for which the focal position must be frequently changed can therefore be performed without a great deal of additional effort.
The CCD camera monitors the process at the processing point, and enables convenient setup of the laser process. It is the basis for process monitoring.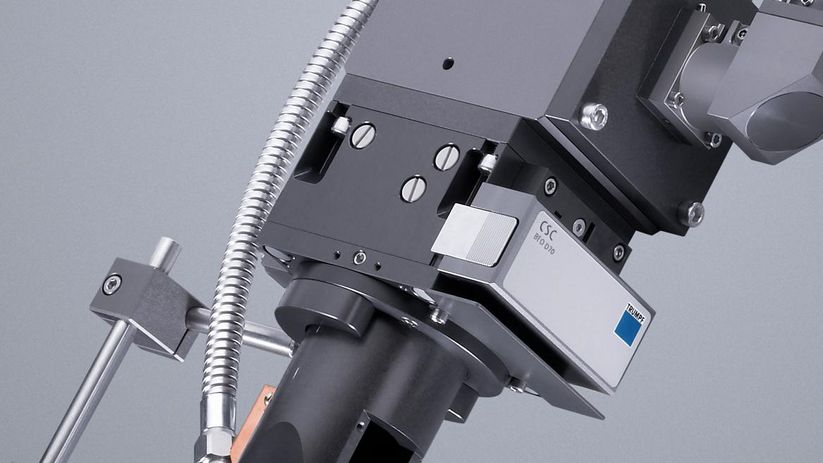 Protective glass and power measurement cassette
During operation and when changing the protective glass, the seal and interior ventilation of the protective glass prevent contamination. Changing the protective glass itself is quick and easy without tools. In place of the protective glass cassette, you can also insert a power measurement cassette. This enables you to easily check the laser power.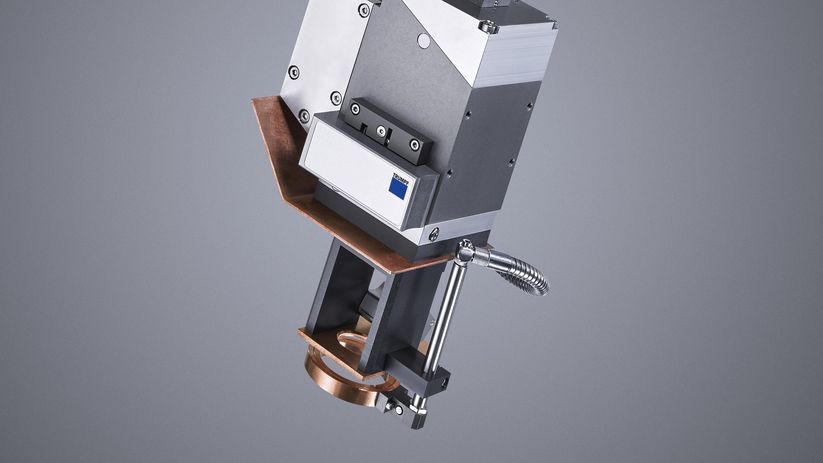 Crossjet is a compressed air flow that runs orthogonally to the laser beam. It diverts contamination and spatter and thereby extends the service life of the protective glass. The optics become more robust and the laser process more reliable.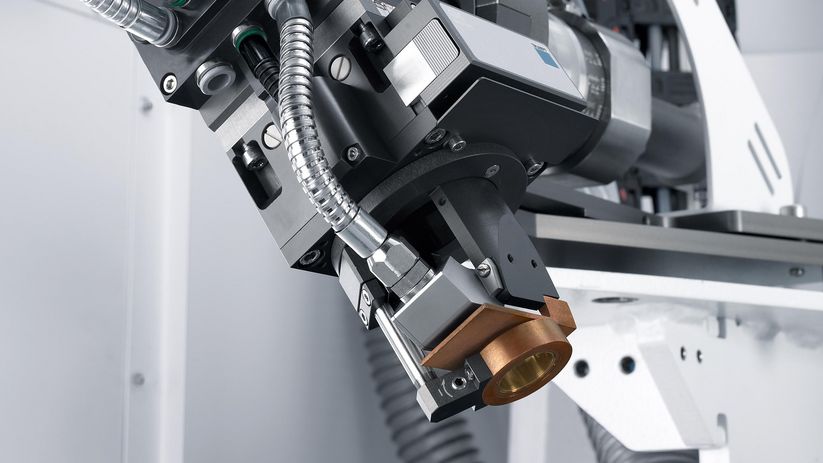 MDE nozzle (metal vapour effect nozzle)
To make your welding process more efficient, you can add, in addition to the crossjet, the airflow from the metal vapour effect nozzle (MDE nozzle). The airflow keeps the metal vapour torch that arises while welding constant and therefore the energy brought into the material. This stabilises the welding depth for precise laser processing. You also reduce your costs through a longer service life for your protective glass.
For high-quality welding results, a separate nozzle supplies shielding gas. The welding seam thereby oxidises less. You can choose from various nozzles: aerator nozzle, linear nozzle or multiple pipe nozzle.
In addition to a range of processing optics, TRUMPF also offers you the right machines and beam sources to be used with these. This allows you to find exactly the right combination for your application and requirements – all from a single source. When it comes to beam sources, TRUMPF offers all industrially relevant lasers. You can rely on our experts, trust us to always have the best solution in mind for your production tasks and know that we will advise you independently of any preferred technologies.
This product range and information may vary depending on the country. Subject to changes to technology, equipment, price, and range of accessories. Please get in touch with your local contact person to find out whether the product is available in your country.
You may also find these topics interesting
Contact
TRUMPF Ltd.
Fax +44 1582 399260
E-mail