Highly dynamic cutting of transparent materials without post-processing
The TOP Cleave focusing optics are processing optics for quickly cutting transparent materials such as glass or sapphire. As a result of its patented technology, this process is substantially more effective, precise and quick than ablative processes. In addition, the surface roughness is so minimal when cutting glass with TOP Cleave that no costly post-processing is necessary.
Breakneck speed
With TOP Cleave optics you can achieve process speeds of > 1 m/s.
Cutting thick glass
You can cut glass thicknesses of more than three millimetres in just one pass.
No post-processing
Straight slitting edges with a surface roughness of less than 1 µm save on time-consuming post-processing.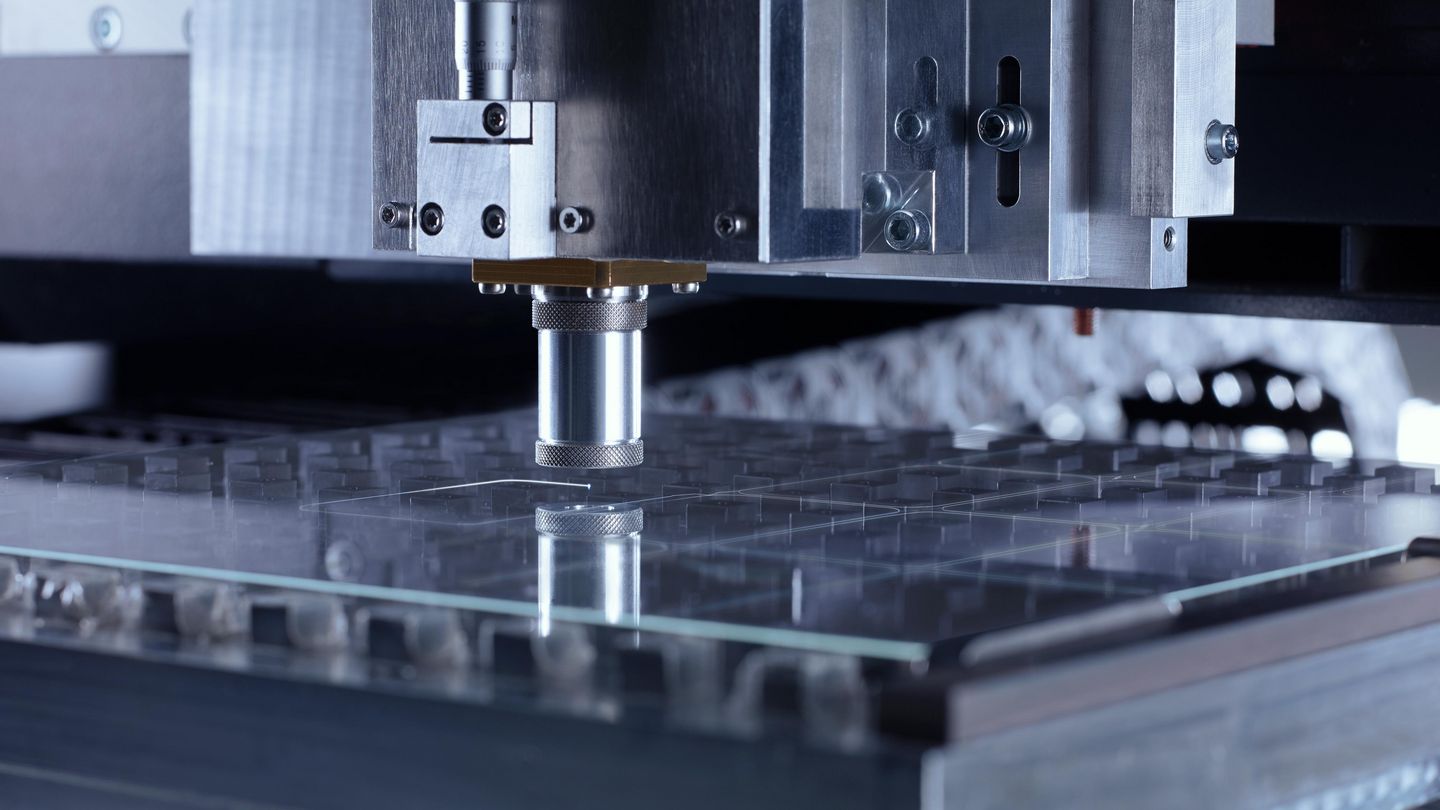 Cutting glass with TOP Cleave
A typical application for the TOP Cleave cutting optics is the processing of thin, hard display glass for smartphones. In the past, thermally or chemically toughened glass was cut into defined sizes, loaded onto carriers, and then coated. With TOP Cleave you can save on individual process steps because the large panes can be coated directly and the individual pieces of glass can then be cut out later on.
High edge quality
When cutting with TOP Cleave, you attain outstanding edge quality, and reworking in the form of regrinding or polishing can be minimised or eliminated. You thereby significantly reduce the duration of the process and the processing costs.
Any contours and the smallest geometries
With TOP Cleave focusing optics you can freely and precisely cut contours down to a hundredth of a millimetre. With extremely short laser pulses, you can modify a narrow area along any desired separating line. The change creates an intrinsic weakening, and the glass will break off smoothly and in a controlled manner at the desired location.
| | TOP Cleave cutting optics |
| --- | --- |
| Structural design | |
| Width | 98 mm |
| Height | 480 mm |
| Depth | 86 mm |
Technical data sheet
The technical data of all product versions as a download.
In addition to a range of processing optics, TRUMPF also offers you the right machines and beam sources to be used with these. This allows you to find exactly the right combination for your application and requirements – all from a single source. When it comes to beam sources, TRUMPF offers all industrially relevant lasers. You can rely on our experts, trust us to always have the best solution in mind for your production tasks and know that we will advise you independently of any preferred technologies.
This product range and information may vary depending on the country. Subject to changes to technology, equipment, price and range of accessories. Please get in touch with your local contact person to find out whether the product is available in your country.
TRUMPF Ltd.
Fax +44 1582 399260
E-mail