Total confidence with TRUMPF process sensors!
You can avoid defective parts with VisionLine, TRUMPF's image processing solution. VisionLine automatically detects the component position, forwards this information to the control and ensures that the welding seam or marking is always in the right place. The system instantly detects whether a component is missing or if it has already been processed. The sensor system supports all manner of applications – from welding and cutting through to marking. A check of the marked code or text recognition (OCR) can also be carried out very easily. Using an intuitive user interface and pre-defined attribute library, it is very easy to integrate VisionLine in the production process. After just a few work steps, the operator can start right away.
Highly integrated solutions from a single source
Enjoy the benefits of having TRUMPF as an entire system supplier – from the laser to the process sensor system and consulting
Improve process capability
Reduce your component positioning requirements without any loss of quality
Easy to do by yourself
The person doing set-up work can create all the image processing tasks themselves – even if they have no previous knowledge relating to this.
Transparent and reliable
You can save image data at any time to guarantee traceability.
Hairpin welding with VisionLine image processing
A typical application for VisionLine image processing is
position recognition of hairpins in stators which are used in electric motors.
Welding of electronic components
The image processing system detects the pins that are to be welded, for example in electronic control units, sensors and actuators.
Welding of joint connections
Image processing enables you to detect seam points when welding heat exchangers or seat rails and means that these are welded at the right location.
Marking of text and code
VisionLine image processing finds the right position before the marking process, and, after marking, checks whether the content and quality of this meets the specifications.
Position recognition and content check with VisionLine
VisionLine image processing automatically finds, recognises and learns the component position and can read and evaluate content such as Data Matrix Codes.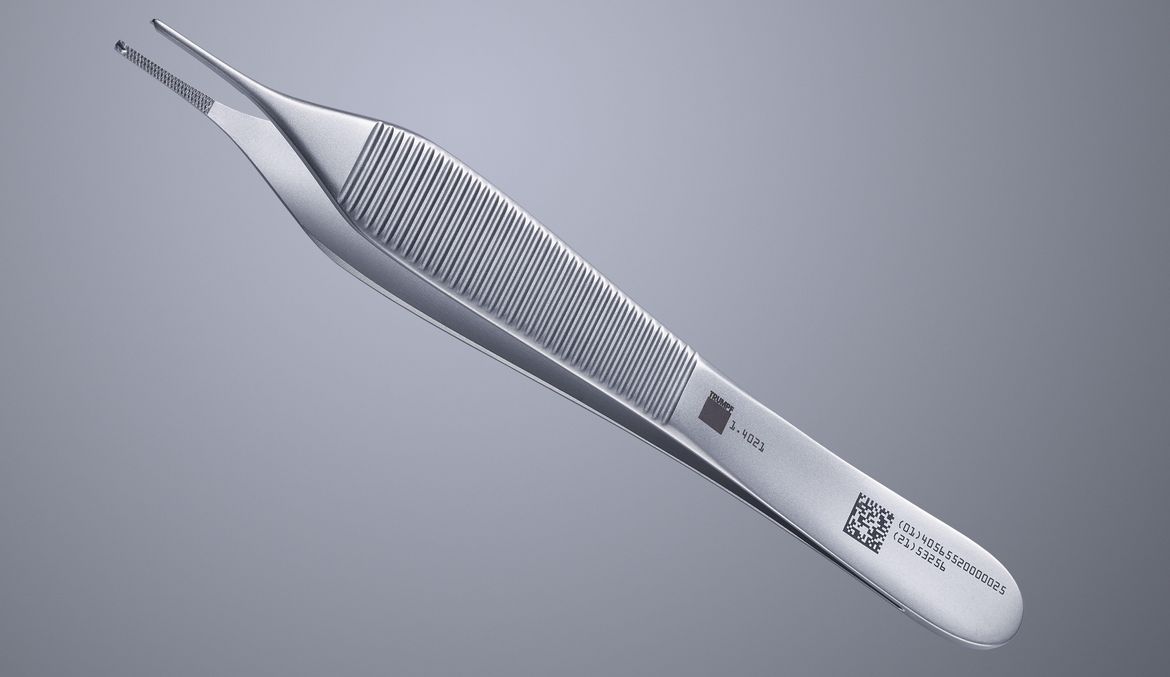 UDI identification in medical technology
VisionLine facilitates automatic or manual positioning of the marking data, such as for UDI-compatible marking, for example, including documentation.
Quality checks via VisionLine
VisionLine offers an auto focus function for the laser as well as separate focus position settings for camera and laser, making laser processing and quality control possible across several levels.
Image processing for cutting and welding applications

Image processing for marking applications

Configuration
Systems available
TruLaser Cell 3000
TruMark Station 5000, TruMark Station 7000
Available lasers
TruDiode, TruDisk, TruFiber, TruPulse
TruMark Series 3000/5000, TruMicro Mark 2000, TruMark 6030 G2
Available options
Basic, Detect, Project
Adjust (TruLaser Cell 3000)
Adjust, Detect, Model, Code, OCR
Available focal lengths
150 / 200 mm (FocusLine Professional)
150 / 200 / 250 mm (WeldLine Modular)
150 / 200 / 250 / 300 mm (BEO D50)
200 / 300 mm (BEO D70)
255 / 345 / 450 mm (PFO 33-2)
255 / 450 mm (PFO 3D-2)
160 / 163 / 254 mm (TruMark)
Lighting
-
Kundenseitig oder 2- / 4- Beleuchtungsleisten

1

Parameters
Smallest readable DMC module size
-
30 μm
Supported codes
-
1D Codes (BC412, Codabar, Code 39, Code 93, Code 128, EAN 8, EAN 13, EAN 14, GS1-128, GS1 Databar, Industrial 2 of 5, Interleaved 2 of 5, UPC-A, UPC-E)
2D Codes (Data Matrix Code, QR Code, Aztec Code, PDF417 Code, Maxicode)
1D and 2D Code Industrial Grading
Supported fonts
-
System Font (Arial, Calibri, Cambria, Courier, Times New Roman)
Machine Font (various non-Windows fonts such as OCR-A, OCR-B or Helvetica)
No curved fonts
Typical image processing time
80 ms - 150 ms
200 ms
Typical precision of the working distance search
± 50 μm with f = 150 mm (TruLaser Cell 3000)
± 50 μm (TruMicro Mark)
Typical precision of the position recognition
± 20 μm in the image centre
± 20 μm in the image centre
Technical data sheet
The technical data of all product versions as a download.
Image processing for cutting and welding applications
Camera-based image processing means you can keep an eye on everything
during cutting and welding applications. With the Basic, Detect and Project options, you can choose between simple monitoring of the workpiece, recognition of characteristics or a customer-specific extension. The TruLaser Cell 3000 also has the Adjust option, which enables you to set the working distance automatically.
Image processing for marking applications
Image processing impresses when used in marking applications, as it can be applied in all manner of ways. No matter whether the camera looks through the scanner lens, is laterally installed or whether the machine uses one or two cameras – the possibilities are endless. The Adjust, Detect, Model, Code and OCR options enable you to choose between automatic working distance search, characteristics recognition, code selection as well as verification and text recognition (OCR).
A digital camera image with cross-hairs in the laser focus helps with monitoring the workpiece and during teaching. Using the VisionLine Basic in combination with the TRUMPF scanner optics of the PFO series is particularly advantageous. In this case, the offset between the laser light and monitoring light outside of the centre of the scan field is corrected so that the focus position shown in the image corresponds to the actual position of the laser focus.
The automatic focal position setting automatically sets the right distance to the workpiece. This means you save time setting up – a simple press of a button is enough.
Edge-detection offers the option of integrating simple characteristics recognition on the workpiece in the production process for position correction. The appropriate distinguishing features (for example, blots, circles, lines or intercept points) can be selected from a template library for many application scenarios.
Image processing offers the identification of taught geometric features for position correction on the workpiece. It is easy to integrate the image processing program in the production process. Sufficient lighting can be ensured by the optionally available lighting strips so that the function is guaranteed even under difficult industrial conditions.
You can ensure that the content is correct and legible by reading back the marked 1D or 2D code. In addition to reading out a code, its quality can also be checked.
VisionLine OCR offers character recognition (OCR – Optical Character Recognition) and evaluation of the system and machine fonts.
With an additional service package, TRUMPF provides a complete solution for complex image processing tasks. Programming of the process-stable image processing program, including extensive documentation is performed subject to a successful feasibility study.
This product range and information may vary depending on the country. Subject to changes to technology, equipment, price and range of accessories. Please get in touch with your local contact person to find out whether the product is available in your country.
Footnotes
VisionLine OCR funktioniert ohne Beleuchtung nicht korrekt. Bei kundenseitiger Beleuchtung muss eine ausreichende Beleuchtungsstärke durch geeignete LEDs in der Wellenlänge 850 nm, beziehungsweise 630 nm bei den Markiersystemen TruMark 3230 und TruMark 3330, sichergestellt werden.
TRUMPF Ltd.
Fax 01582 399260
Email