The perfect welding seam in even less time
You can reduce your reject rate with the TRUMPF seam position control. The sensor systems detect the joint gap during the welding process and control the welding position. Compared to tactile welding processes, the non-contact process permits a much higher feed rate with comparable results. Additional seam geometry measurement provides maximum quality. It determines characteristic parameters of the seam that has already been welded and monitors quality during the welding process. Testing software can also be used to evaluate the entire component quality on the basis of several individual seams with the help of individually adjustable rules.
Reducing rejects
The seam position control detects the joint. You therefore always weld at the right point.
Quicker welding
The non-contact process means that you achieve higher feed rates.
Impressive results
Comprehensive component evaluations thanks to quality checks on the individual welded seam.
Tubes and profiles
The SeamLine seam position control assists the user when welding seams on continuous tubes and profiles. With the SeamLine Pro solution, the welded seam can also be assessed online for quality assurance.
Butt joints in gear manufacturing
The SeamLine Pro seam position control helps with welding of butt joints on gear plates. The independent Y and Z axes on the sensor head ensure the correct welding position.
Fillet seams in body construction
The SeamLine Remote seam position control for fillet seams makes it easier to weld bodywork parts in remote welding applications. The system detects the seam profile without any problems, even at processing angles of 45°.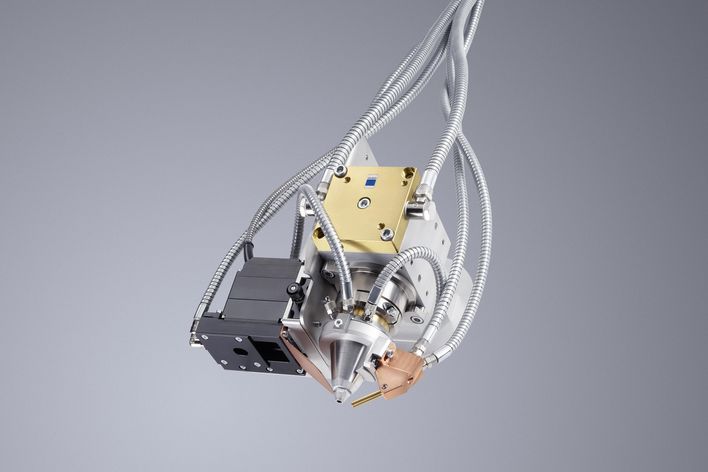 SeamLine
SeamLine takes care of seam position control for TRUMPF laser systems. The system reliably detects gaps or edges with an alternating incident light and light section procedure.
SeamLine Pro TruFlow
SeamLine Pro TruFlow combines the seam position control and seam geometry measurement with light section procedures for CO2 lasers to form one integrated solution. A high-speed camera records the seam point, the focal spot and the welding seam simultaneously.
SeamLine Pro TruDisk
SeamLine Pro TruDisk provides the seam position control and seam geometry measurement with light section procedures for solid-state lasers. The independent Y and Z axes ensure that the welding position and working distance are always correct. The penetration-welded hole is evaluated in the focal spot in order to monitor the penetration weld.
SeamLine Remote
SeamLine Remote takes care of seam position control and seam geometry measurement with light section procedures for remote welding applications. The robust process can cope with different surface quality (e.g. scratches) or differences in the shape of the edge.
Compatibility of sensor systems
PFO 2D
PFO 3D
BEO D35
BEO D70
other
TruFlow
TruDisk
TruPulse
TruFiber
TruDiode
TruMicro
TruLaser Cell Series 1000
TruLaser Cell 7000
This product range and information may vary depending on the country. Subject to changes to technology, equipment, price and range of accessories. Please get in touch with your local contact person to find out whether the product is available in your country.
TRUMPF Ltd.
Fax +44 1582 399260
E-mail