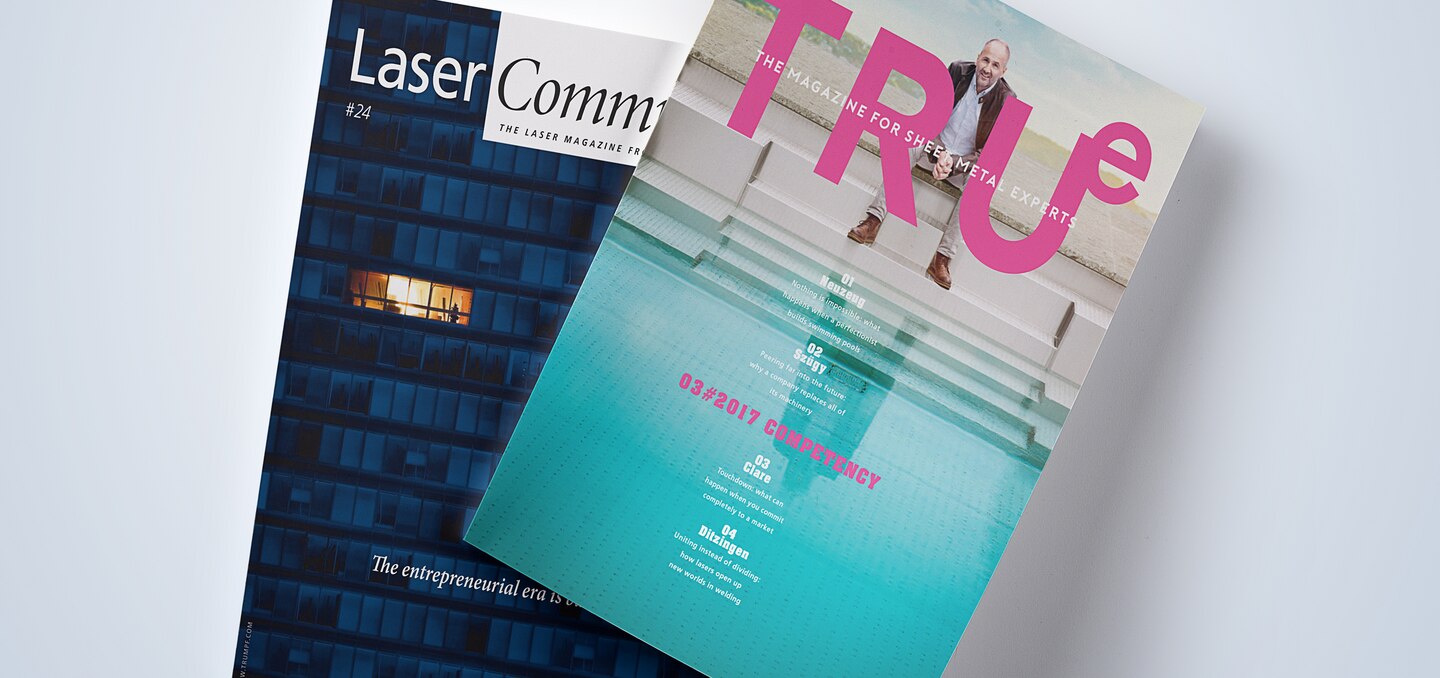 TRUMPF magazine
Keep up to date with the TRUMPF publications! Whether you're looking for the latest trends and new products or would like to read about customer experiences – our magazine is well worth a read. You can subscribe or download it as a PDF free of charge.
TRUe – the magazine for sheet metal experts
TRUe - 08# 2019 Trust
Vriezenveen
From Malawi to connected manufacturing: how a friendship forged in Africa led to a successful digitalization project
Trang Bom
From saw blades to laser beams: a Vietnamese furniture manufacturer replaces pine and beech wood with steel
Lincoln
Go-karting for all the family: the Wherrells show what bending machines (and bonding) are capable of
Ditzingen
A life's work: how Berthold Leibinger left his mark on TRUMPF

TRUe - 07# 2018 Change
Chennai
Express train meets sheet metal - one woman helping to drive change in India
Numana
Tomorrow's world: are robots better people?
Trimmis
Love at second sight: how a test machine revolutionized a company
Le Bourget du Lac
The search is over: how a French James Bond is transforming production processes

TRUe - 06# 2018 Entrepreneurial Vision
Rugvica
Turbo boost: how the EU supports pioneers in Croatia
Bad Saulgau
Tabula Rasa: a company hits the stop button
Konga
Mother, son, machine: sometimes one good investment can change everything
Ditzingen
A man on a mission: Mathias Kammüller talks digital transformation

TRUe - 05# 2018 Ambition
Dresden
Saxon-style success: with ibexes, motorcycles and the World Wide Wide Web
A Coruña
Forget anniversary parties – sheet-metal fabricators are giving flagship stores a better way to shine
Siheung
Work and travel: a seasoned entrepreneur's ambitious expansion plans on the other side of the world
Ditzingen
Ambition takes spare parts higher: a converted spice mill becomes one of Germany's most cutting-edge logistics centers

TRUe - 04# 2017 Proximity
Kilrea
The apple doesn't fall far from the tree - or does it? The story of a family company
Auckland
The reason why entrepreneur Tony spends a lot of time behind bars
Pirey
Hardly a metro without Ricupero: The company that the Parisian underground system relies on
Chicago
Future today: Why the new TRUMPF Smart Factory is more than just another showroom
TRUe - 03# 2017 Competency
Neuzeug
Nothing is impossible: what happens when a perfectionist builds swimming pools
Szügy
Peering far into the future: why a company replaces all of its machinery
Clare
Touchdown: what can happen when you commit completely to a market
Ditzingen
Uniting instead of dividing: how lasers open up new worlds in welding

TRUe - 02#2017 Courage
Bergen op Zoom
No fear of change – digitization in Dutch
Gunzenhausen
Frequently copied, never bettered – meticulous work on heating makes it a brand
Beirut
Courage in times of unrest – the success story of a strong family
Ditzingen
Who dares, wins – innovation management made by TRUMPF

TRUe – 01#2016 Openness
Shijiazhuang
How a courageous entrepreneur is shaping the future with full automation
Rosheim
Living for lasers: how genuine passion generates progress
Baiersdorf
Of fathers, sons, and robots: how to convince test customers
Ditzingen
How to make the impossible possible – revolution made by TRUMPF
Laser Community – the TRUMPF laser magazine
Laser Community edition 28/2019
Featuring:
Artificial intelligence: What consequences does AI have for laser material processing? Join us on a journey into the future of the manufacturing industry.
Ultrashort pulse laser: Medical device manufacturer Miethke acquired a marking laser to carry out precision cutting – but the story didn't end there.
Brain research: Professor Karl Deisseroth has set himself the task of understanding the brain. To help him achieve this goal, he developed a method called optogenetics, which uses a laser to influence thoughts and decisions.

Laser Community edition 27/2018
Featuring:
Additive Manufacturing: Metal 3D printing is gaining ground on the shop floor. Find out how far we have come, what the future holds - and which industries are driving development fastest.
Interview: Dr. Aidan Brooks is in the business of measuring gravitational waves. He expects big surprises that challenge our understanding of the universe - if we trust our math.
Nuclear waste: British engineers are on the hunt for the most reliable laser-welded seam for nuclear waste containers.

Laser Community edition 26/2018
Featuring:
Electro-mobility: It's heading this way - experts suggest electric drives will be the norm seven years from now. It's about time we started using some highly productive manufacturing processes.
Additive manufacturing: Electric toothbrushes – Procter & Gamble boosts production by combining two additive manufacturing methods.
Pop culture: laser ignites the sun

Laser Community edition 25/2017
Featuring:
Sensor systems: Monitoring, readjusting, documenting – the boom in process sensor systems is giving a whole new edge to laser processing. Why are there more and more sensors, and what impact is that having on the world of production?
The new light source: A new window glass from Saint-Gobain lets through lots of light and also significantly reduces heat loss. All it took was impossible laser optics.
Prof. Albert Stolow: in an in-depth interview, the molecular researcher states, "A look at the fundamentals of nature is almost akin to a religious experience".

Laser Community edition 23/2016
Featuring:
Industry 4.0: Data, light, and the factory of the future – Factories are getting smarter, more digital, and more flexible. Lasers are the ideal tool for Industry 4.0.
3D printing: A Swiss start-up prints the most secure key in the world; the experts in coolant systems at Grindaix print nozzles with an optimized flow.
Micro-processing: Tokyo-based LPS Works develops new microprocessing methods for unusual materials.

Laser Community edition 22/2016
Featuring:
And now it's time for the weather: Physicists fire lasers at clouds. Their aim is to better understand – and change – the weather.
The most interesting discoveries in my laboratory were all serendipitous: Harvard physics professor Eric Mazur reflects on the discovery of black silicon and the art of serendipity.
Railways: Photon AG is implementing solutions on trains that were previously only possible for cars.

Laser Community edition 21/2015
Featuring:
Lighter with lasers: Laser processing also excels when processing (sometimes unconventional) lightweight materials. An overview of the key laser joining and separating processes is also provided.
Materials in the automotive industry: Oliver Schauerte, head of materials research and manufacturing processes at Volkswagen, discusses the latest trends in terms of materials.
Welcome to infinity: THE Machines welds coils that truly never end.

Laser Community edition 20/2015
Featuring:
"More light!" In an essay, Nobel Prize winner Shuji Nakamura explains why inexpensive light forms the basis for civilization and progress
"Adding depth to surfaces" A small but perfectly formed institute conducts research into the smallest, most perfectly formed structures for functional surfaces.
"A model of success" Automotive giant GKN Driveline has been welding drive components with lasers for 14 years. Now the tried-and-tested system is moving to the next round – featuring disk lasers.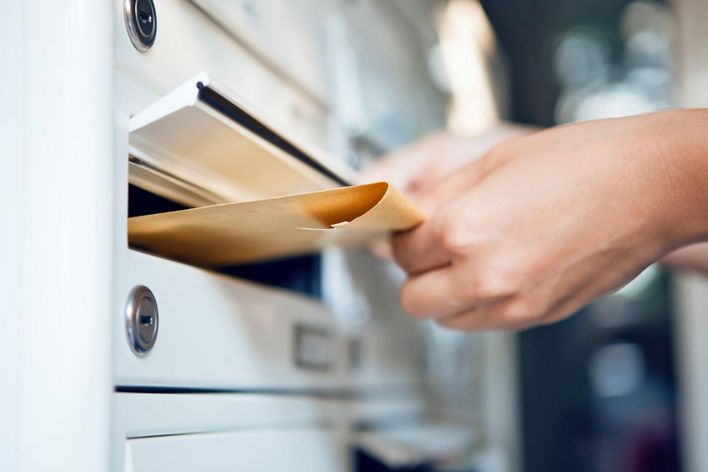 If you would prefer to read our magazine as a printed copy, we will gladly send you Laser Community and/or TRUe by post. The subscription is free of charge. Simply use our e-mail forms to order your copy.