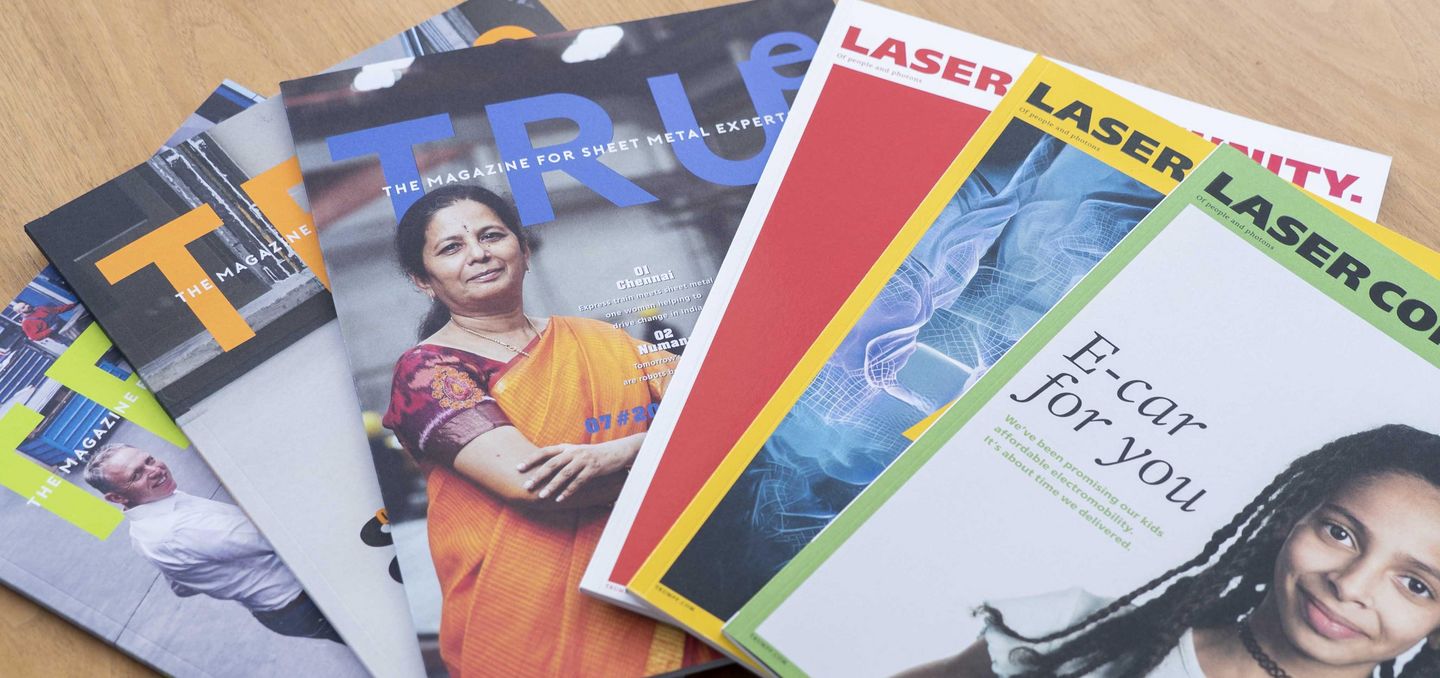 TRUMPF magazine
Keep up to date with the TRUMPF publications! Whether you're looking for the latest trends and new products or would like to read about customer experiences – our magazine is well worth a read. You can subscribe or download it as a PDF free of charge.
TRUe – the magazine for sheet metal experts
TRUe - 09# 2019 Creativity
Sintra
Bold and colorful: how Apametal became one of Portugal's most successful signmakers
Cikarang
Arabica from Java: an interview about barista courses for job-shop workers and Industry 4.0 in Indonesia
Mainhausen
High bay racking versus old traditions: a century of successful business for German company Gefinal
Ditzingen
From spaceships to bending connections: how a single idea can save millions

TRUe - 08# 2019 Trust
Vriezenveen
From Malawi to connected manufacturing: how a friendship forged in Africa led to a successful digitalization project
Trang Bom
From saw blades to laser beams: a Vietnamese furniture manufacturer replaces pine and beech wood with steel
Lincoln
Go-karting for all the family: the Wherrells show what bending machines (and bonding) are capable of
Ditzingen
A life's work: how Berthold Leibinger left his mark on TRUMPF

TRUe - 07# 2018 Change
Chennai
Express train meets sheet metal - one woman helping to drive change in India
Numana
Tomorrow's world: are robots better people?
Trimmis
Love at second sight: how a test machine revolutionized a company
Le Bourget du Lac
The search is over: how a French James Bond is transforming production processes

TRUe - 06# 2018 Entrepreneurial Vision
Rugvica
Turbo boost: how the EU supports pioneers in Croatia
Bad Saulgau
Tabula Rasa: a company hits the stop button
Konga
Mother, son, machine: sometimes one good investment can change everything
Ditzingen
A man on a mission: Mathias Kammüller talks digital transformation

TRUe - 05# 2018 Ambition
Dresden
Saxon-style success: with ibexes, motorcycles and the World Wide Wide Web
A Coruña
Forget anniversary parties – sheet-metal fabricators are giving flagship stores a better way to shine
Siheung
Work and travel: a seasoned entrepreneur's ambitious expansion plans on the other side of the world
Ditzingen
Ambition takes spare parts higher: a converted spice mill becomes one of Germany's most cutting-edge logistics centers
TRUe - 04# 2017 Proximity
Kilrea
The apple doesn't fall far from the tree - or does it? The story of a family company
Auckland
The reason why entrepreneur Tony spends a lot of time behind bars
Pirey
Hardly a metro without Ricupero: The company that the Parisian underground system relies on
Chicago
Future today: Why the new TRUMPF Smart Factory is more than just another showroom
TRUe - 03# 2017 Competency
Neuzeug
Nothing is impossible: what happens when a perfectionist builds swimming pools
Szügy
Peering far into the future: why a company replaces all of its machinery
Clare
Touchdown: what can happen when you commit completely to a market
Ditzingen
Uniting instead of dividing: how lasers open up new worlds in welding

TRUe - 02#2017 Courage
Bergen op Zoom
No fear of change – digitization in Dutch
Gunzenhausen
Frequently copied, never bettered – meticulous work on heating makes it a brand
Beirut
Courage in times of unrest – the success story of a strong family
Ditzingen
Who dares, wins – innovation management made by TRUMPF
Laser Community – the TRUMPF laser magazine
Laser Community Issue 29/2019
Featuring:
Architecture: Laser technology opens up new possibilities for steel in architecture.
Quantum technology: Are we on the way to transmission of thought? And what does the laser have to do with it?
Mini Laser: VCSEL – How a tiny beam source is opening up huge possibilities in sensor technology.
Laser Community edition 28/2019
Featuring:
Artificial intelligence: What consequences does AI have for laser material processing? Join us on a journey into the future of the manufacturing industry.
Ultrashort pulse laser: Medical device manufacturer Miethke acquired a marking laser to carry out precision cutting – but the story didn't end there.
Brain research: Professor Karl Deisseroth has set himself the task of understanding the brain. To help him achieve this goal, he developed a method called optogenetics, which uses a laser to influence thoughts and decisions.

Laser Community edition 27/2018
Featuring:
Additive Manufacturing: Metal 3D printing is gaining ground on the shop floor. Find out how far we have come, what the future holds - and which industries are driving development fastest.
Interview: Dr. Aidan Brooks is in the business of measuring gravitational waves. He expects big surprises that challenge our understanding of the universe - if we trust our math.
Nuclear waste: British engineers are on the hunt for the most reliable laser-welded seam for nuclear waste containers.

Laser Community edition 26/2018
Featuring:
Electro-mobility: It's heading this way - experts suggest electric drives will be the norm seven years from now. It's about time we started using some highly productive manufacturing processes.
Additive manufacturing: Electric toothbrushes – Procter & Gamble boosts production by combining two additive manufacturing methods.
Pop culture: laser ignites the sun

Laser Community edition 25/2017
Featuring:
Sensor systems: Monitoring, readjusting, documenting – the boom in process sensor systems is giving a whole new edge to laser processing. Why are there more and more sensors, and what impact is that having on the world of production?
The new light source: A new window glass from Saint-Gobain lets through lots of light and also significantly reduces heat loss. All it took was impossible laser optics.
Prof. Albert Stolow: in an in-depth interview, the molecular researcher states, "A look at the fundamentals of nature is almost akin to a religious experience".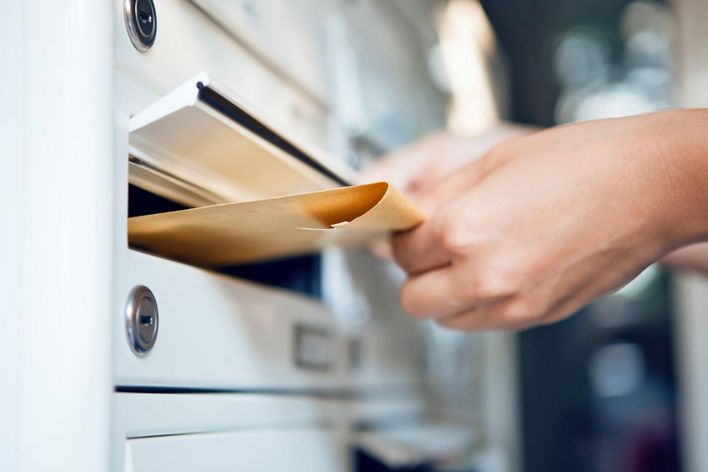 If you would prefer to read our magazine as a printed copy, we will gladly send you Laser Community and/or TRUe by post. The subscription is free of charge. Simply use our e-mail forms to order your copy.