Your specialty - our expertise
Turnkey marking solutions
Medical devices must be marked with a unique UDI code (Unique Device Identification) which must be traceable across the entire supply chain.
Accurate positioning marking and laser welding with position recognition
VisionLine image processing provides high process reliability and increased productivity with automatic position recognition.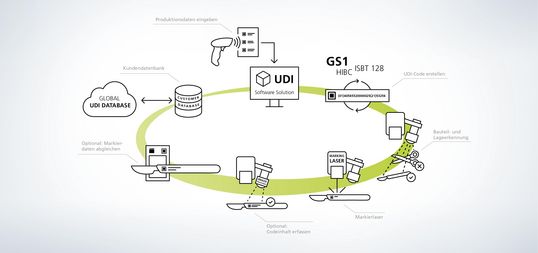 Traceability / quality assurance
Marking medical devices makes them traceable throughout the entire production chain and even throughout the entire product life cycle. Applied codes and markings can also be directly read back and checked with the image processing solutions.
Automation
The solutions are as varied as the requirements for products in medical technology. As well as standardized software and hardware modules, TRUMPF experts also develop customer-specific complete solutions to achieve maximum productivity.
Equipment qualification IQ/OQ
In order to comply with the legal regulations and directives such as the Medical Product Directive 93/42/EEC, the MDR Ordinance or FDA regulations, TRUMPF systems such as marking lasers, 3D printers or laser processing systems must be qualified within the process validation framework.
Turnkey marking solutions
Thanks to TRUMPF marking lasers' highest level of quality, every marking can be applied so that it is permanently legible. TRUMPF provides the perfect marking laser for this purpose as well as the software solution from a single source. It is easy for you to create, apply and read back codes with this complete solution. This means that you comply with the legally required regulations for traceability in this industry.
TruMark 6030 | New: Excellent beam quality for high-contrast markings and annealing. You can even mark three-dimensional surfaces with the optional TruTops Mark 3D marking software.
TruMicro Mark | Ultrashort pulse lasers in the pico- and femtosecond ranges for particularly deep-black and corrosion-resistant markings with viewing-angle stability (black marking).
TruMark 5020 | The MOPA fibre laser marking system is ideal for annealing and can be perfectly adapted to the material.
TruMark 3330 | Marking laser in the UV wavelength spectrum. An ideal interaction with plastics is possible thanks to a wavelength of 355 mm. This means that even medical plastics, such as UHMWPE, which are difficult to mark, can be processed.
Accurate positioning marking / position recognition
With its integrated camera and state-of-the-art lighting concept, the image processing software automatically recognizes the component position. It ensures each marking and every weld seam is in the correct precise position, and checks it immediately. The system reports missing components and actively prevents double markings. Elaborate setup processes, expensive fixtures and unnecessary rejects are a thing of the past. The property to be identified is simply selected from an extensive library of predefined properties and is input with the code to be imported as well as a few parameters – job done. The functions can also be integrated as a standard sequence in an automated marking process.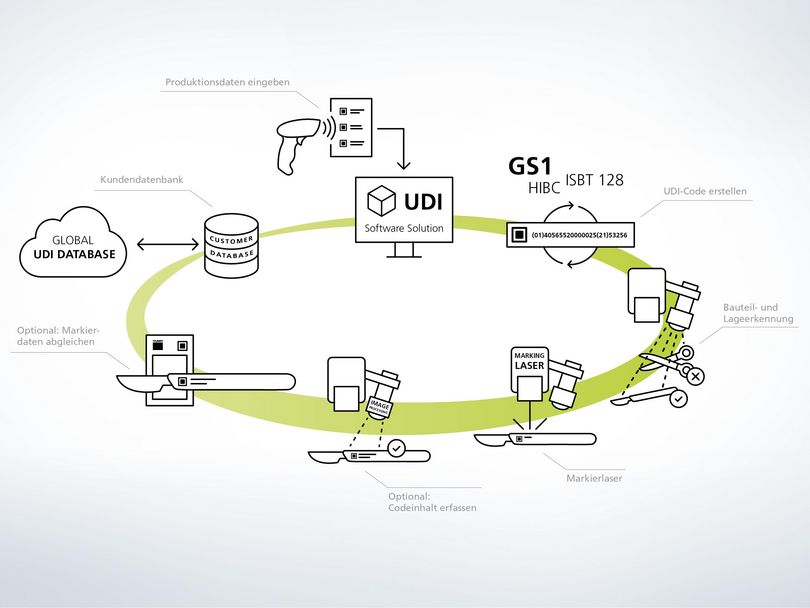 Traceability / quality assurance
One of the legal boundary conditions for marking medical devices is UDI - Unique Device Identification. The most important requirement: it must be permanently legible – by machines as well as by humans. The machine-readable part is represented either as a linear barcode or as a 2D Data Matrix Code. The human readable part can be represented with numbers and letters. Batch numbers, CE markings or even company logos are further information which many companies require. These demands are virtually perfectly satisfied by TRUMPF marking lasers with wavelengths in the UV range.
More information under:UDI-compliant marking
Automation
As well as classic process solutions such as laser marking optimization, TRUMPF offers customizable solutions for upstream and downstream processes: from automatic position recognition and autofocus for maximum precision to automated quality checks for the product markings to alignment and storage of information in databases. An individual complete solution (compare figure) could consist of the following elements: fully equipped marking system with light bars and flat dome lighting for challenging medical applications, automatic sequence control using manual scanners, image processing for positioning, DMC read and grade, OCR and quality assurance.
The question of automation is also addressed in the area of additive manufacturing. The automated process start of the TruPrint 5000 plays a decisive role in this. It not only accelerates and simplifies the system's setup process but also increases the degree of repeatability. The TruPrint 2000 is not set up automatically but can be initiated using the HMI.
Equipment qualification IQ/OQ
TRUMPF supports you with the on-site installation and function qualification as your reliable partner. TRUMPF experts carry out the qualification step by step right on the system using comprehensive qualification documentation.
Installation Qualification (IQ): inspection of the correct delivery (in accordance with the quote), installation, documentation of the system as well as of the measurement equipment used.
Operational Qualification (OQ): inspection of the correct basic functionalities of the system in the selected working environment. The entire marking system is verified to ensure it is working in accordance with the defined specifications.
You can rely on TRUMPF's technical expertise in equipment qualification in the area of additive manufacturing as well. TRUMPF's qualification support for the TruPrint systems as well as for the corresponding peripheral equipment is based on all the guidelines and standards available on the market, for example ISO/ASTM 52941/52942, ISO 13485, ISO 9100, AMS 7003, and complies with the specifications of the respective institutions and authorities such as FDA, NADCAP, etc.
However, an initial qualification is only one part of the approval process. To maintain the certification long term, TRUMPF offers its customers different Service Agreements with annual, comprehensively documented maintenance operations as well as remote support for quick and cost-efficient problem solving.
What our customers say: Christoph Miethke GmbH & Co. KG
We would be pleased to advise you.
Please consult our experts with your questions.
Branchenmanagement Medizintechnik
Email