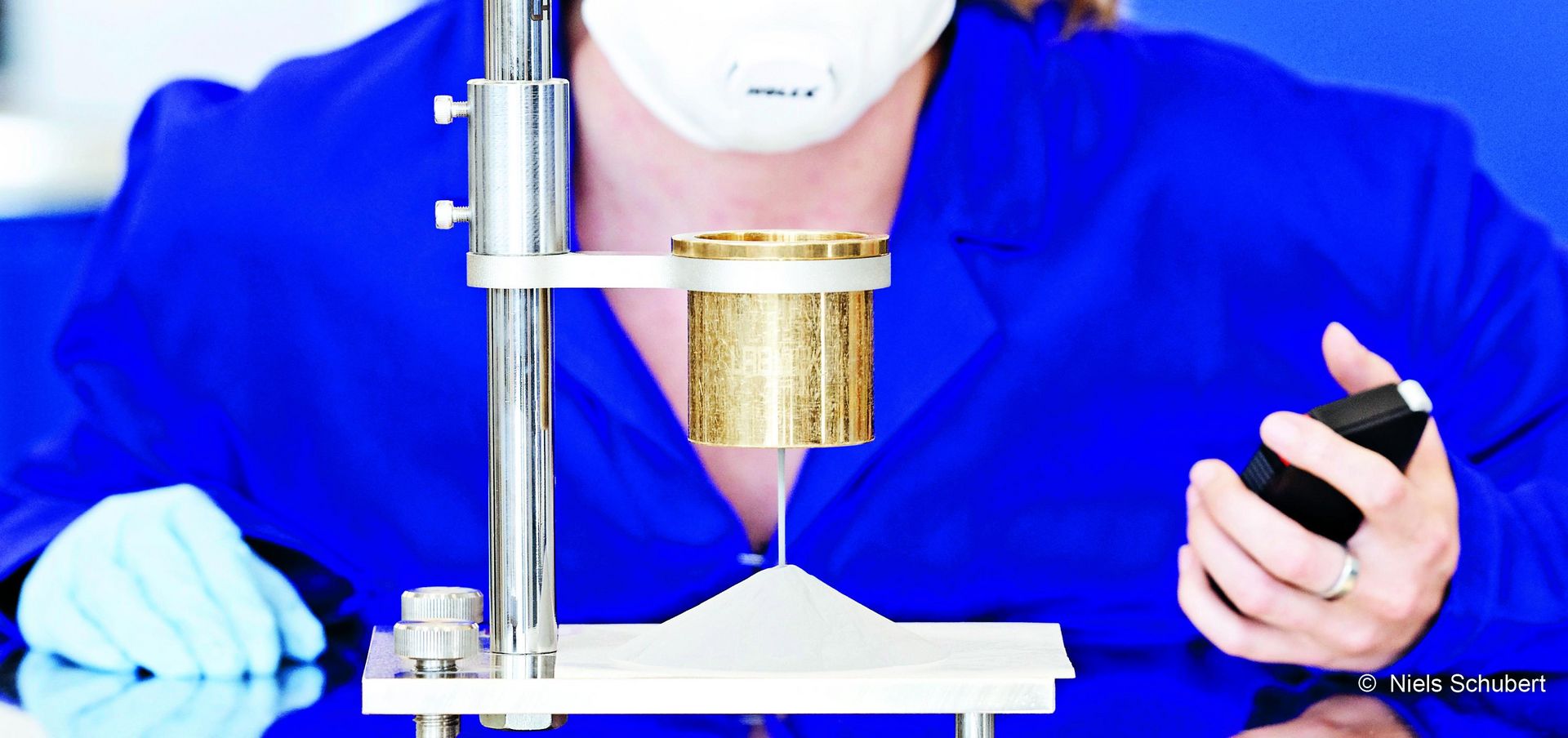 11.09.2017 / Athanassios Kaliudis
The right powder for any occasion
3
D printing is booming – Industry is reaping serious benefits from the new technology, which is also commonly known as additive manufacturing. Main ingredients: a laser, and a fine metal powder that has the peculiar effect of seeming to be neither liquid nor solid!
A qualified chemist, Joachim Behm spent 23 years working for a powder manufacturer in charge of laboratory facilities and quality management. Just under a year ago, he decided to move to TRUMPF, where he is now responsible for metal powder, overseeing each and every step up to and including powder processing in TruPrint machines. He forms part of what is known as the materials team, a group of experts who focus on locating and acquiring the right kinds of powder.
Their works involves numerous lab tests to determine each powder's grain size, grain-size distribution, and flowability. Behm and his colleagues also run test build jobs to analyze the various metal powders, because it's imperative that they fulfill their required function even in shapes that were almost unimaginable before now. In fact, the way in which 3D printing allows us to manufacture objects of almost any geometry and complexity is one of its biggest strengths – ultimately we are limited more by our imaginations than the technology itself.
Making everything out of nothing
Additive manufacturing (AM) means making a completely new part from scratch, using a laser to build up metal powder layer by layer to form the required shape. The data comes straight from 3D CAD software, and the model can be whatever shape you choose. "This process of gradually adding new layers to the top of the powder bed is also referred to as laser metal fusion, or LMF," says Behm. "It's a useful alternative to more conventional methods, providing solutions for multiple industries including tool and die making, automotive, dental and medical devices, and even the aerospace sector." More than ten years have passed since TRUMPF developed its first machine based on this technology. "It's fair to say that we were pioneers in this field."
Laser metal fusion has made it easy for us to do things that we previously thought were impossible.
It soon became clear that TRUMPF was ahead of its time, however. Demand was still too low, leading the company to temporarily halt development in 2005. In 2014, the decision was taken to revive LMF technology in the form of an innovative department in its own right, which has been growing steadily ever since. "After so many years working at one company, I was very excited by the idea of helping to shape a new project from scratch in a different kind of working environment," says the powder specialist.
The materials team in working process.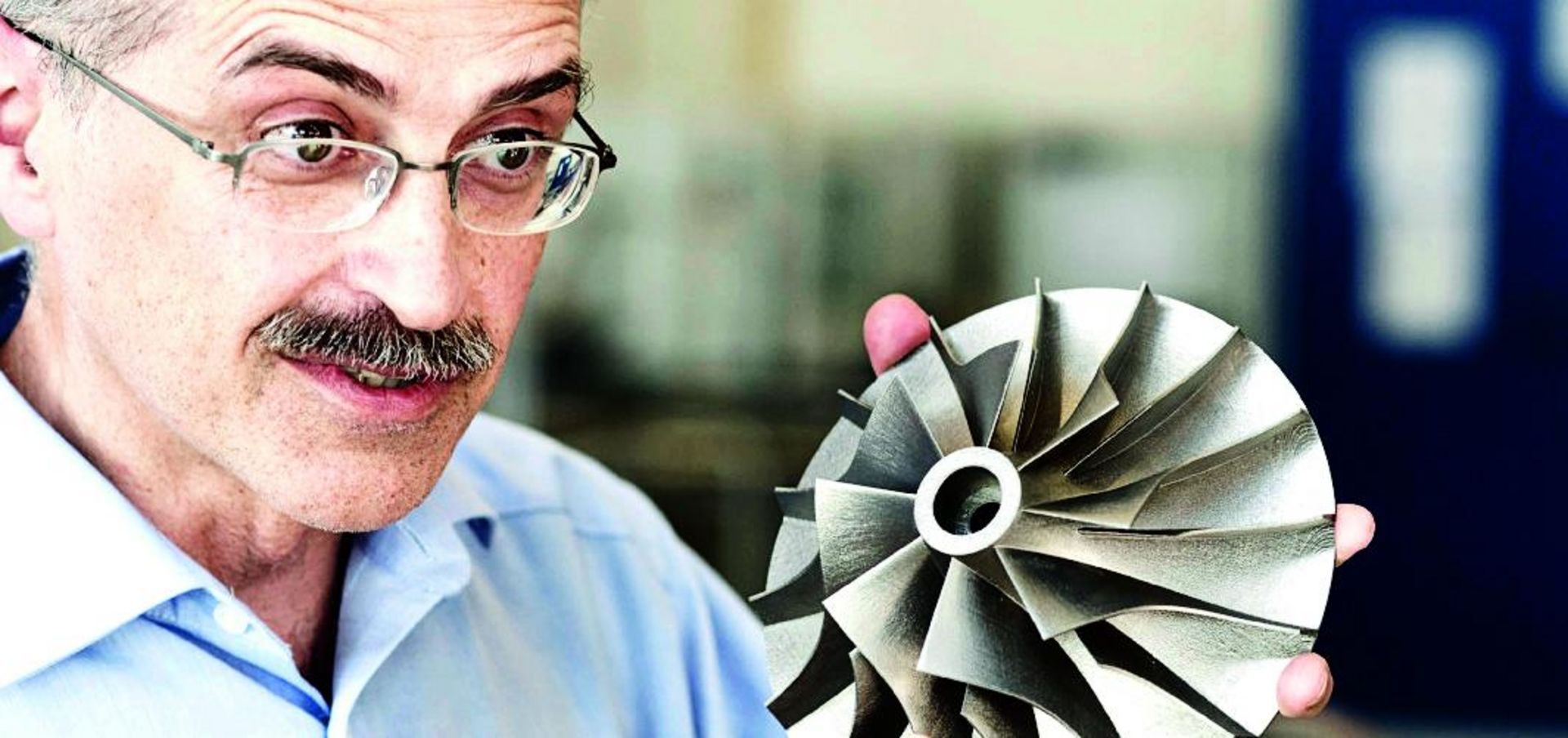 The materials team in working process.
Behm also reveals that he has a personal favorite in the powder kingdom: Inconell 718. "Because it flows so well!"
The materials team in working process.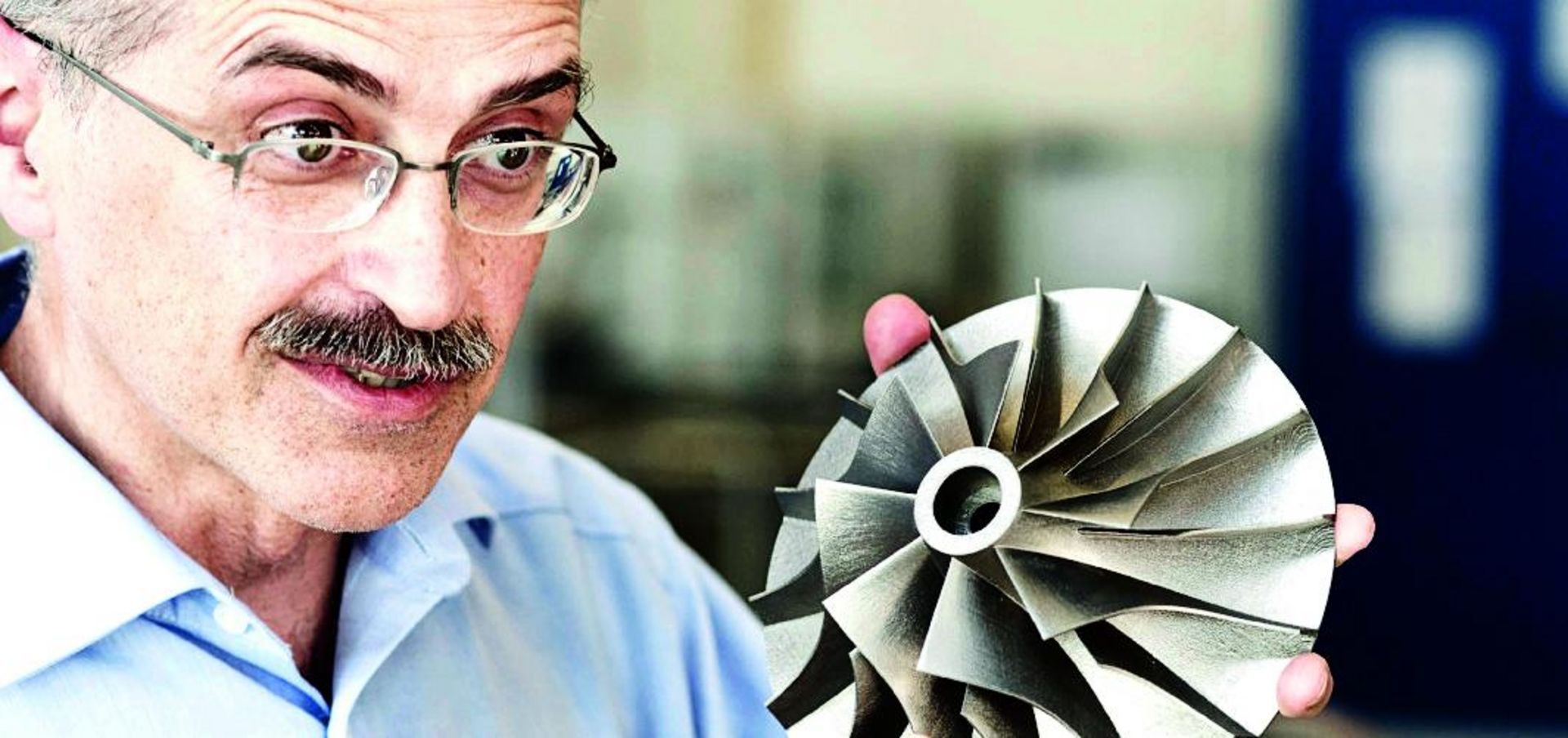 The materials team in working process.
Behm also reveals that he has a personal favorite in the powder kingdom: Inconell 718. "Because it flows so well!"
As well as working on a new machine, which will be celebrating its launch in November, and numerous other development topics, the AM department also focuses on powder sales and marketing. Selecting from a wide variety of powder containers stacked on storage shelves and in cupboards, the members of the materials team test the contents of each container using the facilities in TRUMPF's in-house powder laboratory. To ensure they analyze each powder's full range of properties, the team even prints test parts, cuts them up and examines them under the microscope, checking aspects such as porosity and mass. Once all the tests have been run, machine experts define suitable parameters for each powder. These give an indication of how to coax the optimum behavior from each powder by adjusting machine settings such as laser output and process speed.
TRUMPF launched its first standard powders on September 1, selling them to customers in a wide range of industries. Combined with the right parameters and a suitable TruPrint machine, these powders can be used to create the parts of the future. Behm sees this technology as a huge step forward: "Laser metal fusion has made it easy for us to do things that we previously thought were impossible. Whole new ways of thinking are emerging – and that's exactly the kind of openness we need."
In principle, Behm says, the possibilities offered by the alloys you can produce from the 50-plus naturally occurring metals on the periodic table are virtually endless. The most important materials for 3D printing are titanium and titanium-aluminum alloys. That's because they offer a combination of high strength and low weight, which is highly advantageous for the aerospace industry. In the realm of medical devices, dental bridges are often made from cobalt-chrome alloys, while power plants and turbines make use of nickel alloys, since these resist corrosion up to a temperature of 600 degrees. Other commonly used metals include stainless steel, tool steel, and sometimes even gold. Behm also reveals that he has a personal favorite in the powder kingdom: Inconell 718. "Because it flows so well!"