Quality that meets the highest standards – at TRUMPF Hüttinger, this is more than just a vision. We have our own test and qualification center (TQZ), where our application engineers ensure that product quality is continuously optimized, each and every day.
Extensive tests for new product developments
HALT (Highly Accelerated Life Tests), EMC, power system simulation, environment simulation, and service life (MTBF).
Rated power up to 450 kW
Nominal current consumption: up to 650 A; cooling water: 500 l/min; rotary plate: 4.5 m diameter and 3 tons carrying capacity.
Failure analysis
Support in the event of failures in the field: cause analysis, error elimination, and effectiveness monitoring.
Our TQZ in Freiburg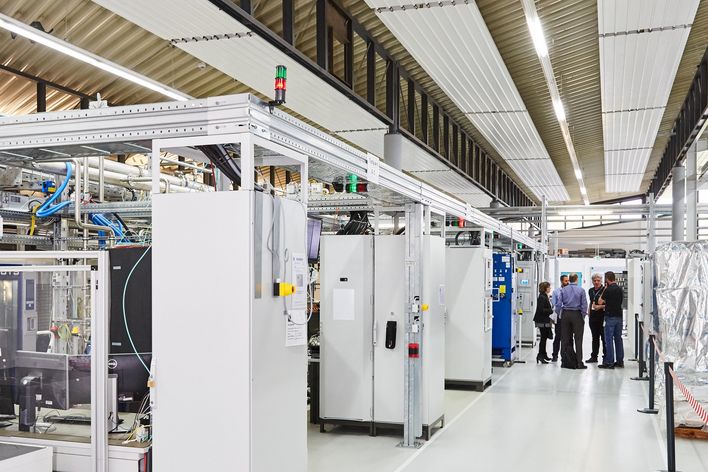 The TQZ covers an area of more than 1000 m² and offers extensive testing facilities. Two plasma chambers enable power supplies to be tested on real plasma. The MF plasma chamber has a target length corresponding to a standard glass coater and enables high-power MF generators to be tested. In order to test RF, DC, and MF generators with lower power outputs, the TQZ is equipped with an additional plasma chamber featuring a 60 cm long magnetron sputtering cathode.
The TQZ also has its own HALT chamber in order to perform accelerated life tests. A power system simulation facility and an EMC system round off the testing and qualification facilities.
Real benefits for both you and TRUMPF
We offer a range of tests, including for external companies. Take advantage of our test and qualification center and ensure optimal product quality.
HALT chamber
HALT (Highly Accelerated Life Test) determines the failure behavior of system units equipped with electronic, electrical, mechanical, electro-mechanical, or similar components.
The units are exposed to extreme thermal, mechanical, and/or product-specific stress situations. During the tests, the failure causes can be analyzed in an interactive process and improvements can be made.
In our test and qualification center, TRUMPF Hüttinger tests all new product developments in the company's own HALT chamber. This enables us to guarantee optimum product quality for the market launch.
Equipment
THERMOTRON AST-165/RSL-48
Vibration
Max. level 50 Grms
Noise profile 2 Hz - 10 kHz
Excitation
- 3 linear
- 3 rotational
Temperature
Min. -100 °C
Max. +392 F
Change rate > 70 K/min
Airflow 2830 L/s
Heat output 108 kW
Cooling LN
Working range dimensions
Width 54 in.
Depth 56 in.
Height 94 in.
Max. loading weight 1543 lbs.
Your benefits
Take advantage of the benefits offered by the HALT method and use the TRUMPF Hüttinger HALT chamber to test your products! This will enable you to identify potential weaknesses in the product design at an early stage, thereby reducing development costs and time. More information is available in the flyer (available to download).
EMC services
TRUMPF Hüttinger has its own EMC test center in order to verify electromagnetic compatibility (EMC) as part of manufacturer's declarations in accordance with the EMC Directive 2014/30/EU.
We carry out the following tests here
Conducted emitted interference: 150 kHz - 30 MHz
Radiated emitted interference: 9 kHz - 1000 MHz
- according to CISPR16
- open area test site with measuring distance of 33 ft.
Interference immunity according to:
- EN61000-4-2
- EN61000-4-4
- EN61000-4-5
- EN61000-4-6
Equipment
Rotary plate with a diameter of 4.5 m and a carrying capacity of 3 tons
Cooling water supplied at 500 l/min
3-phase power supply for the test specimen, multi-level 200 - 520 V 650 A / 450 kVA (200/207/220/380/400/420/440/460/480/500/520 V)
Line impedance stabilization network (LISN) up to a nominal current consumption of 400 A (3-phase)
Coupling network up to a nominal current consumption of max. 100 A
Your benefits
If you would like to have EMC tests performed but do not have your own EMC test facility, then take advantage of our services! More information is available in the flyer (available to download).
Power system simulation
A wide variety of standard-compliant tests can be performed on our PAS 25000 power system simulation facility from Spitzenberger & Spies with three 4-quadrant amplifiers.
Equipment
Characteristics of 4-quadrant amplifiers
PDuration 75 kVA
PTemporary 150 kVA
PPeak 630 kVA
Voltage
- 0 - 135 Veff, 0 - 270 Veff
- 0 - 320 Veff
- DC up to 5 kHz
- small signal up to 100 kHz
Your benefits
Profit from the special features of our system:
High peak load and very low internal resistance
Straightforward, standard-compliant tests due to preconfigured test sequences
Simulation of harmonic waves and power system abnormalities can be adjusted as desired
Measured (oscilloscope) or simulated gradients are transferable
Are you interested? More information is available in the flyer.
Contact
Joachim Scheyhing
Head of the test and qualification center
E-mail
Downloads

TQZ flyer
pdf - 2 MB