Profitable overall system
Anyone who wants to optimize laser cutting costs needs to look at the overall process This is why we created the TruLaser Center 7030 – it takes on all processes related to laser cutting reliably and independently. You benefit from drastic reductions in throughput time and processing costs, enabling you to maximize the cost-effectiveness of your laser processing workflow, from the drawing to the sorted part. The machine relieves monotony and tedious work steps for you, while saving you money and time.
A comparison of process steps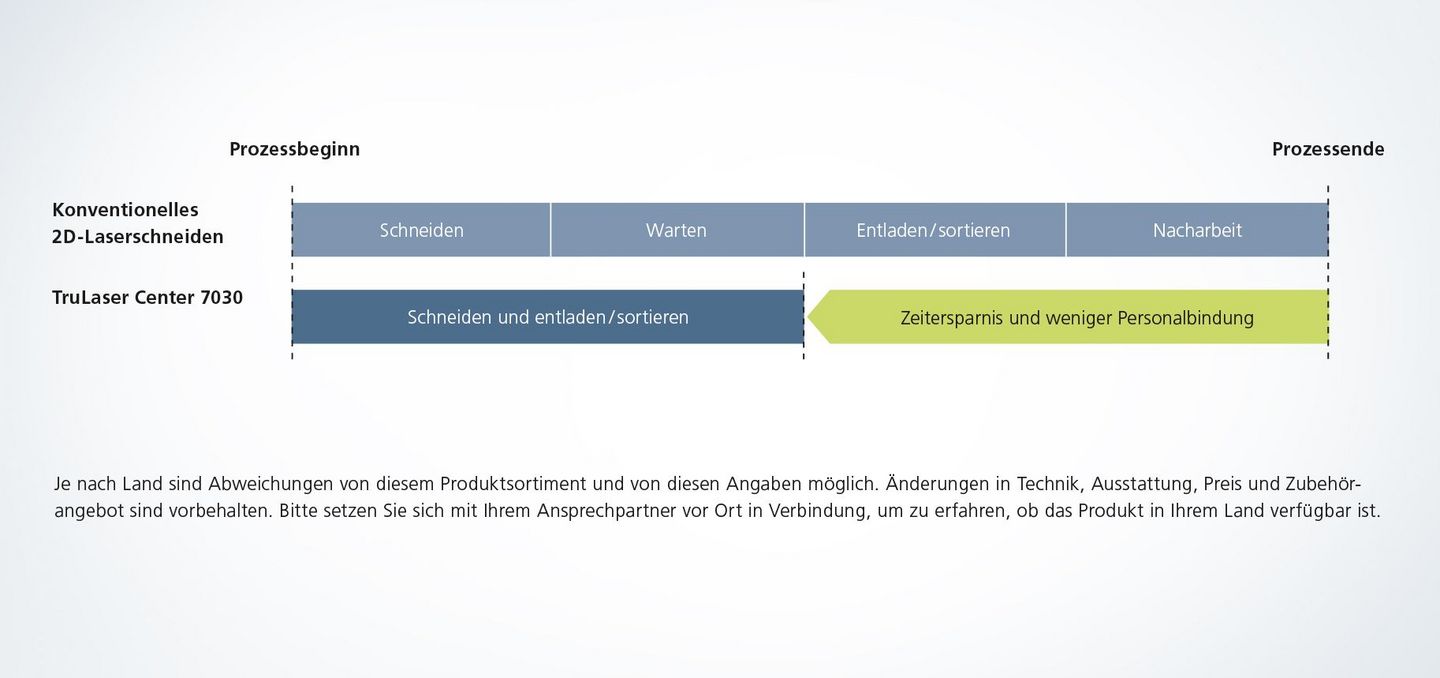 The result is that the TruLaser Center 7030 takes on all processes related to laser cutting reliably and independently – which significantly lowers your sheet metal processing costs.
All the processing steps integrated in one machine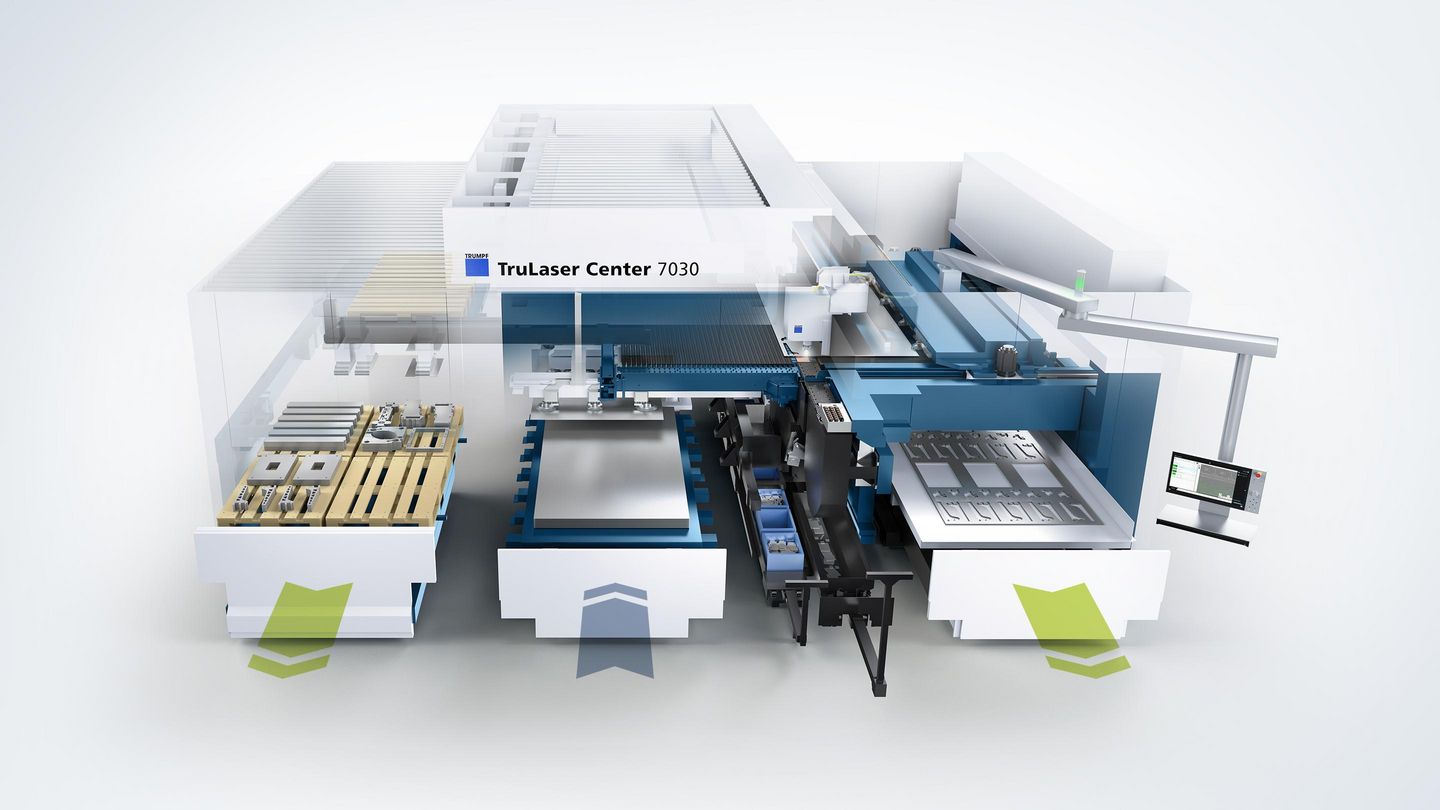 Programming an order
At the touch of a button, the TruTops Boost programming system performs a fully automatic calculation for a comprehensive proposal for the cutting, removal, sorting, and depositing of your parts.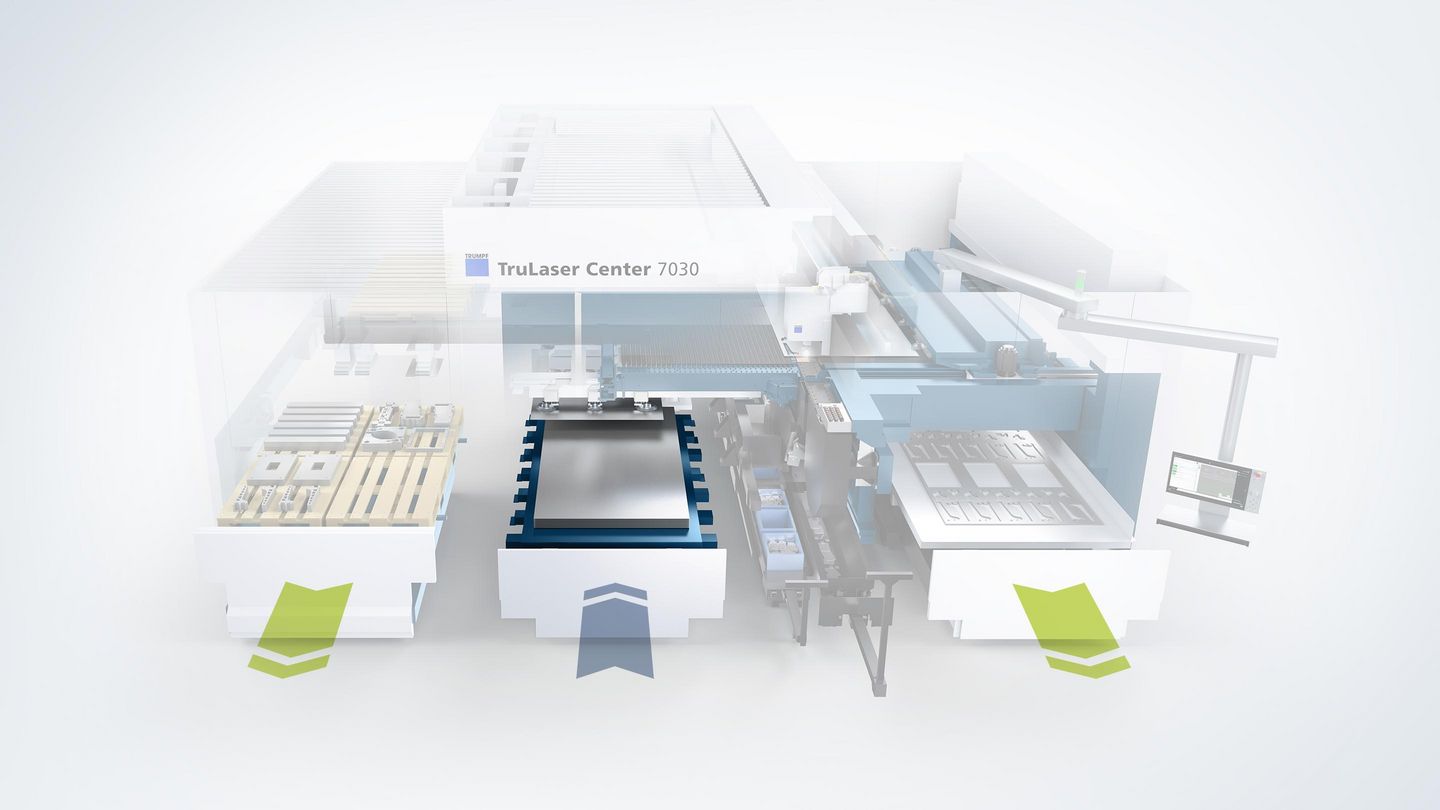 Loading raw sheets
The loading cart can be loaded with raw sheets parallel to production. The LoadMaster Center places the raw sheets onto the brush table and into the clamping unit. Powerful peeler technologies reliably separate the sheet metal from the stack.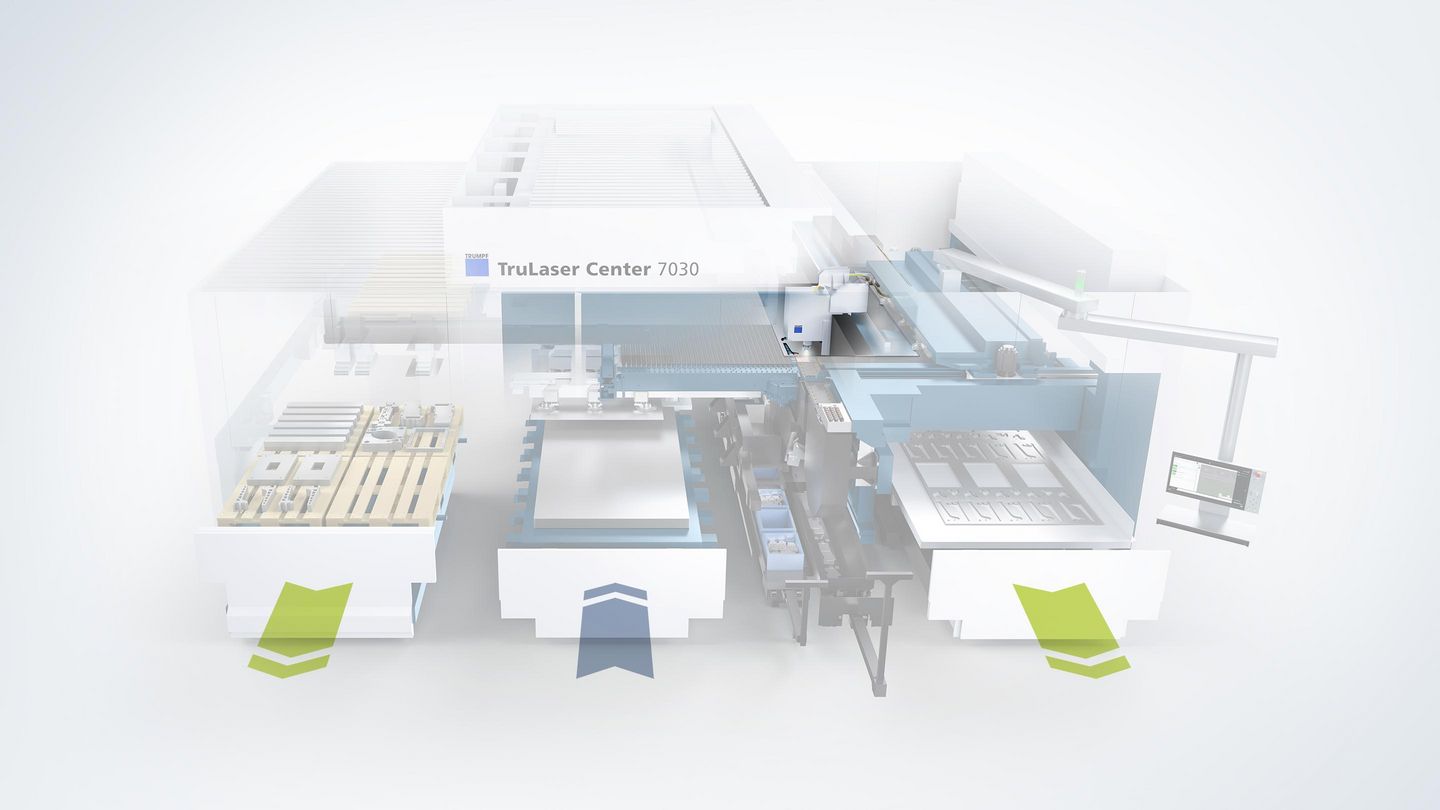 Cutting parts
The clamping unit moves the sheet in the Y direction, the cutting unit processes it in the X direction and also in the Y direction using a highly dynamic additional axis. The SmartGate assists the cutting process.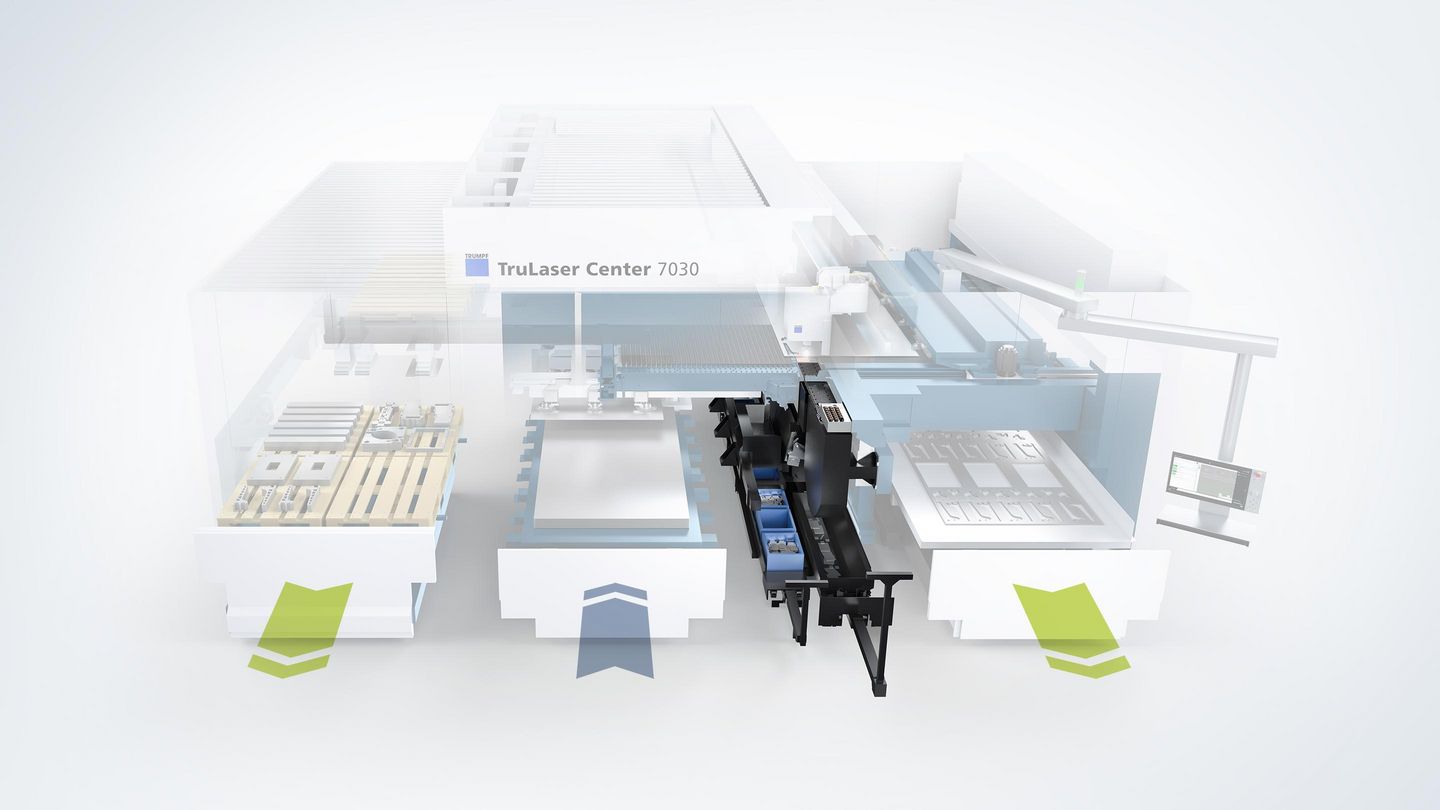 Removing parts and scrap
The intelligent SmartGate reliably removes punching slugs, scrap, and small parts. The sorting flap separates the finished parts from the scrap. Finished parts are sorted into up to eight containers. The scrap and punching slugs fall into a slag cart.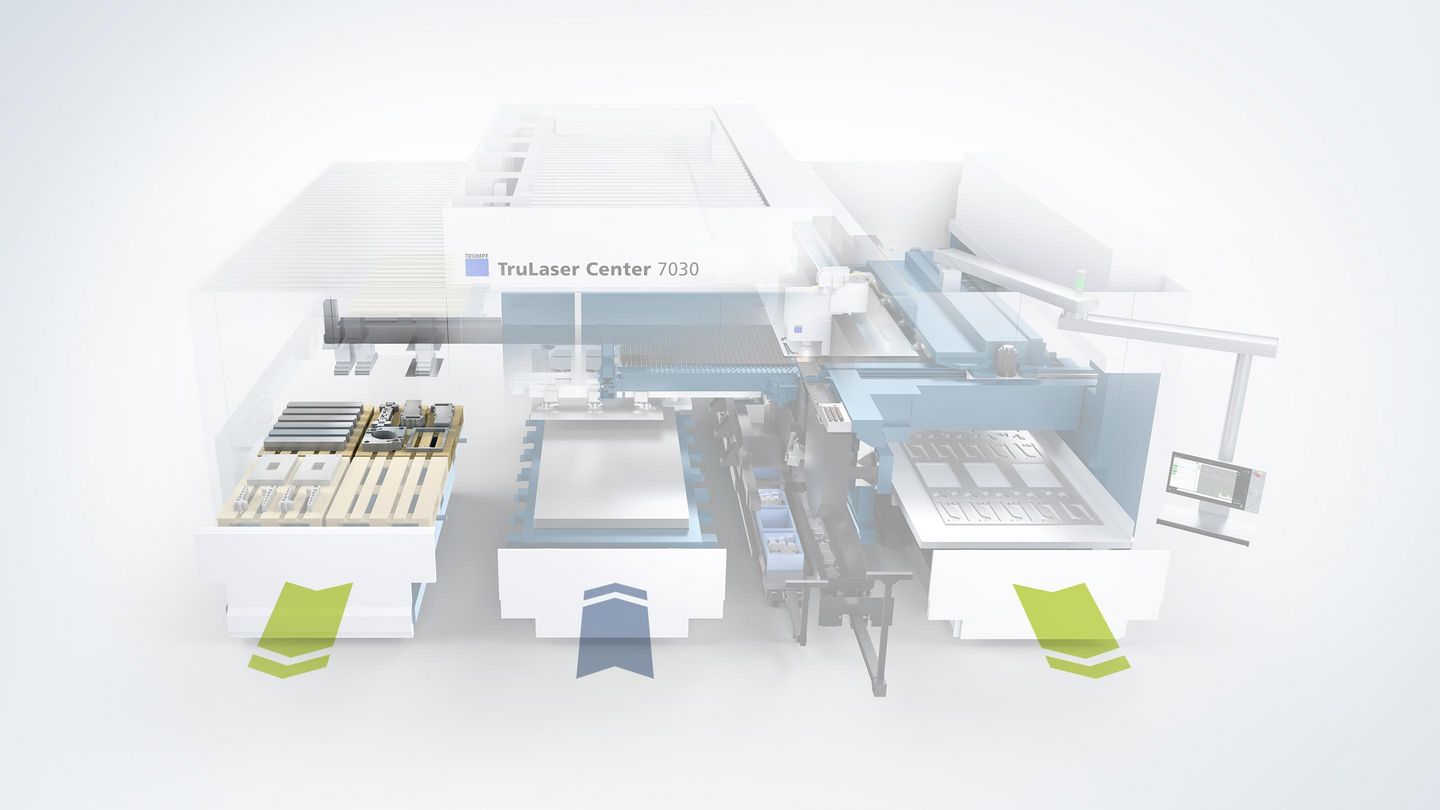 Unloading parts onto stacks
The SmartLift uses its pins to press parts from the scrap skeleton. The finely structured suction plates of the SortMaster Speed remove the cut parts, and sort and stack them on the parts deposit. The suction plates and pins prevent the parts from tilting.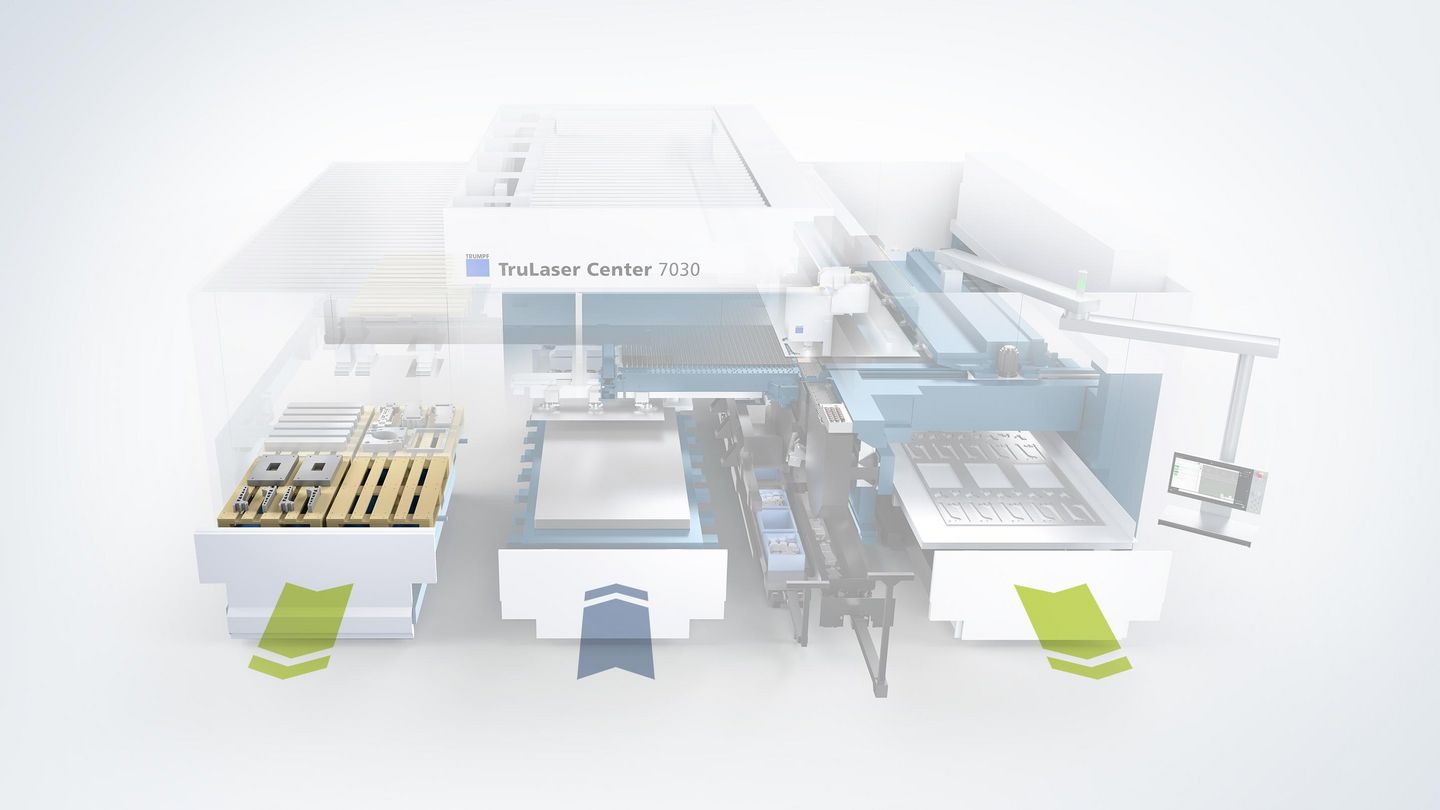 Unloading finished parts
The parts are removed from the machine, sorted and stacked parallel to production.
Unloading the scrap skeleton
The clamping unit unloads the scrap skeleton onto the scrap skeleton cart. A forklift truck can empty this unrushed while the machine is operating.
For a clear explanation, watch these videos to learn how the TruLaser Center 7030 can optimize your production
Intelligent innovations: perfectly combined for your success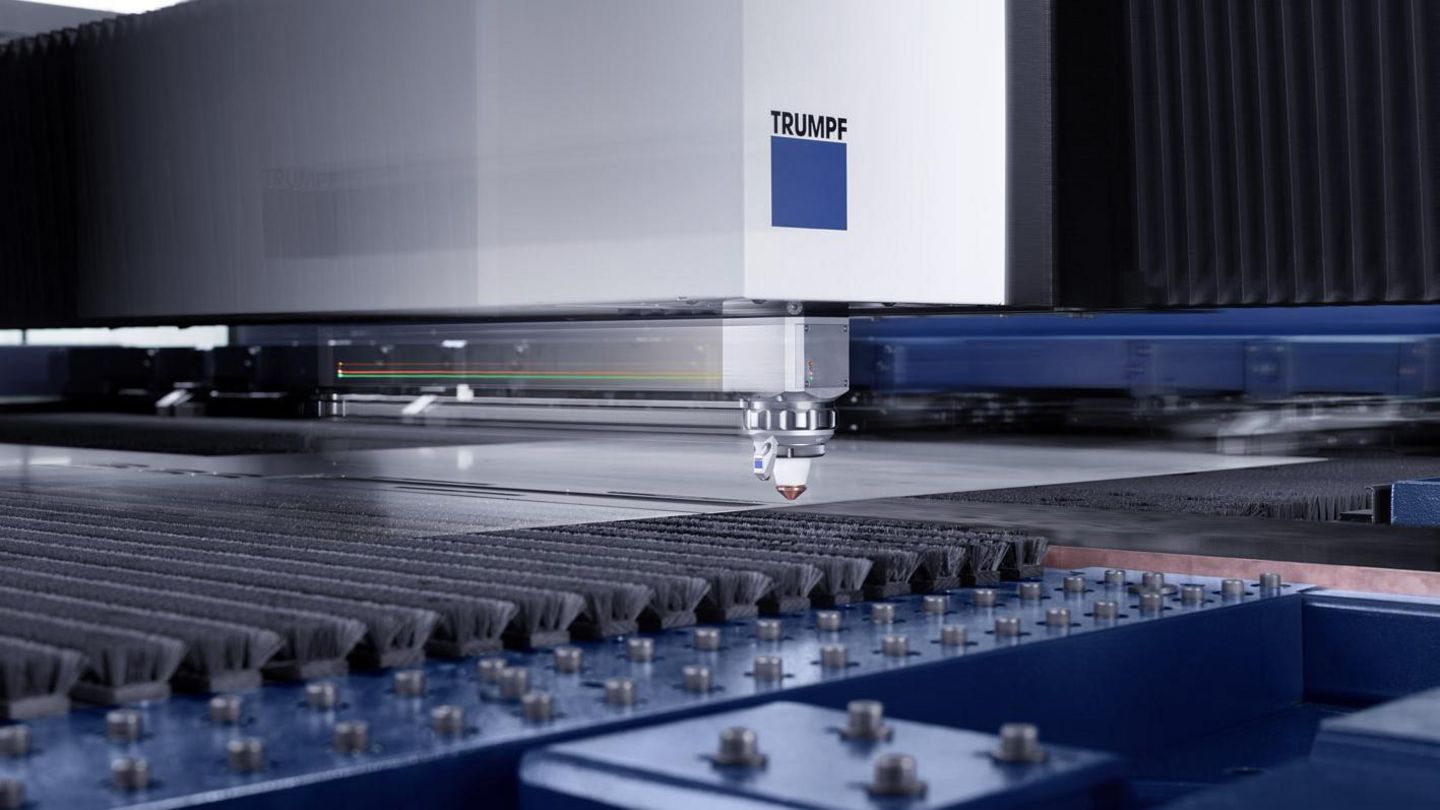 Optimal dynamics because of the combined movement of the sheet and cutting head.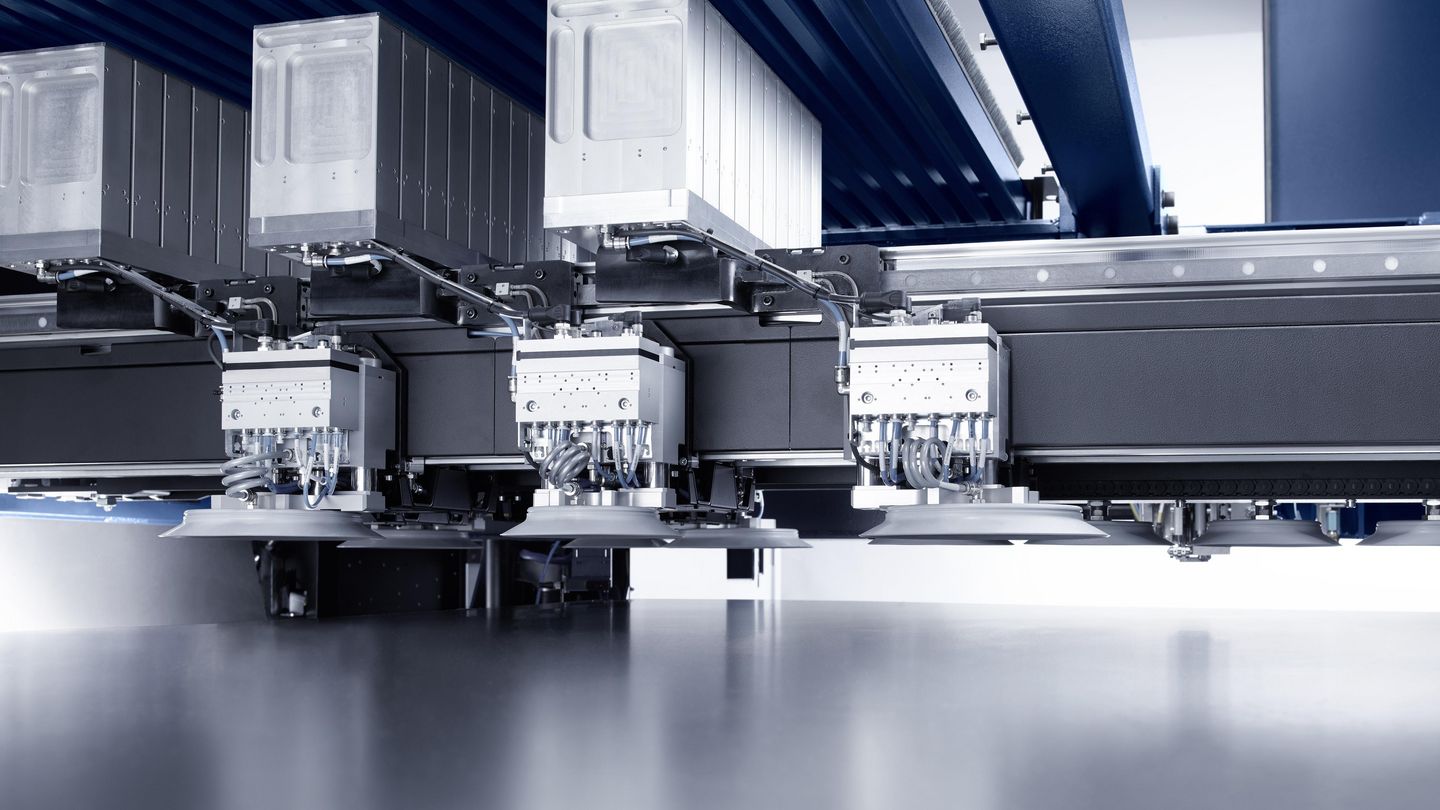 The LoadMaster Center loads raw sheets quickly and reliably.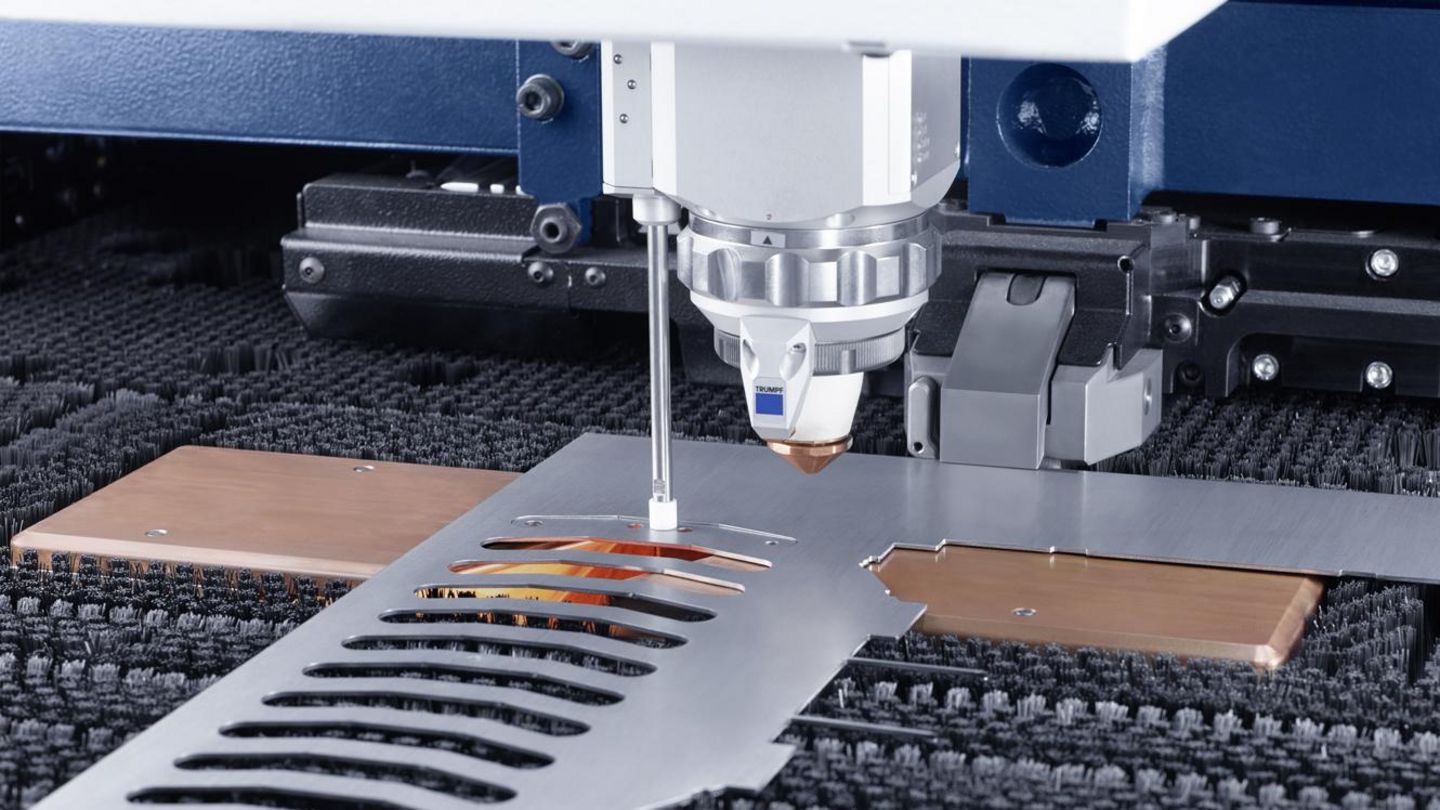 Parts are fixed between the ejector cylinder and the SmartGate and are therefore, removed with process reliability.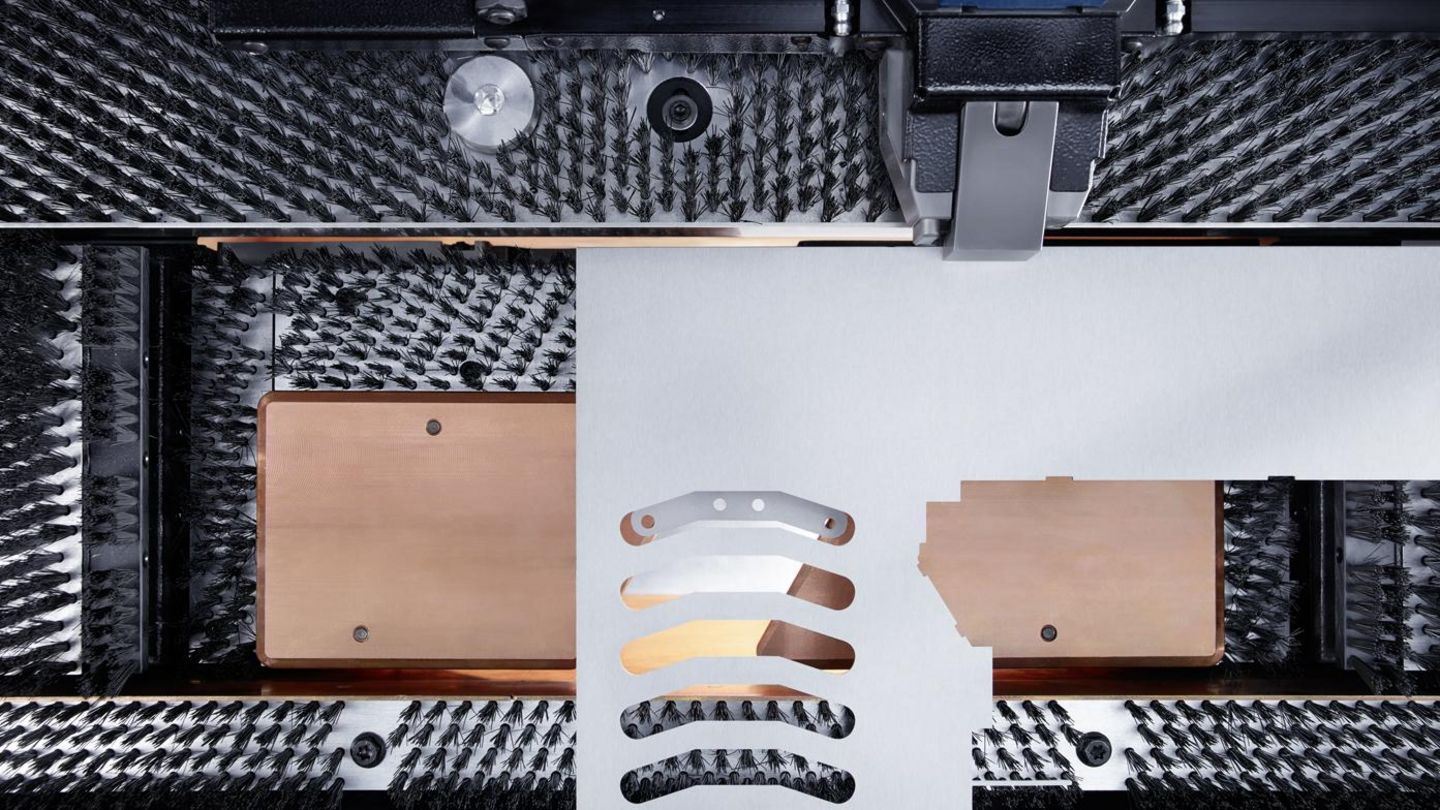 The SmartGate intelligently removes punching slugs and scrap in seconds.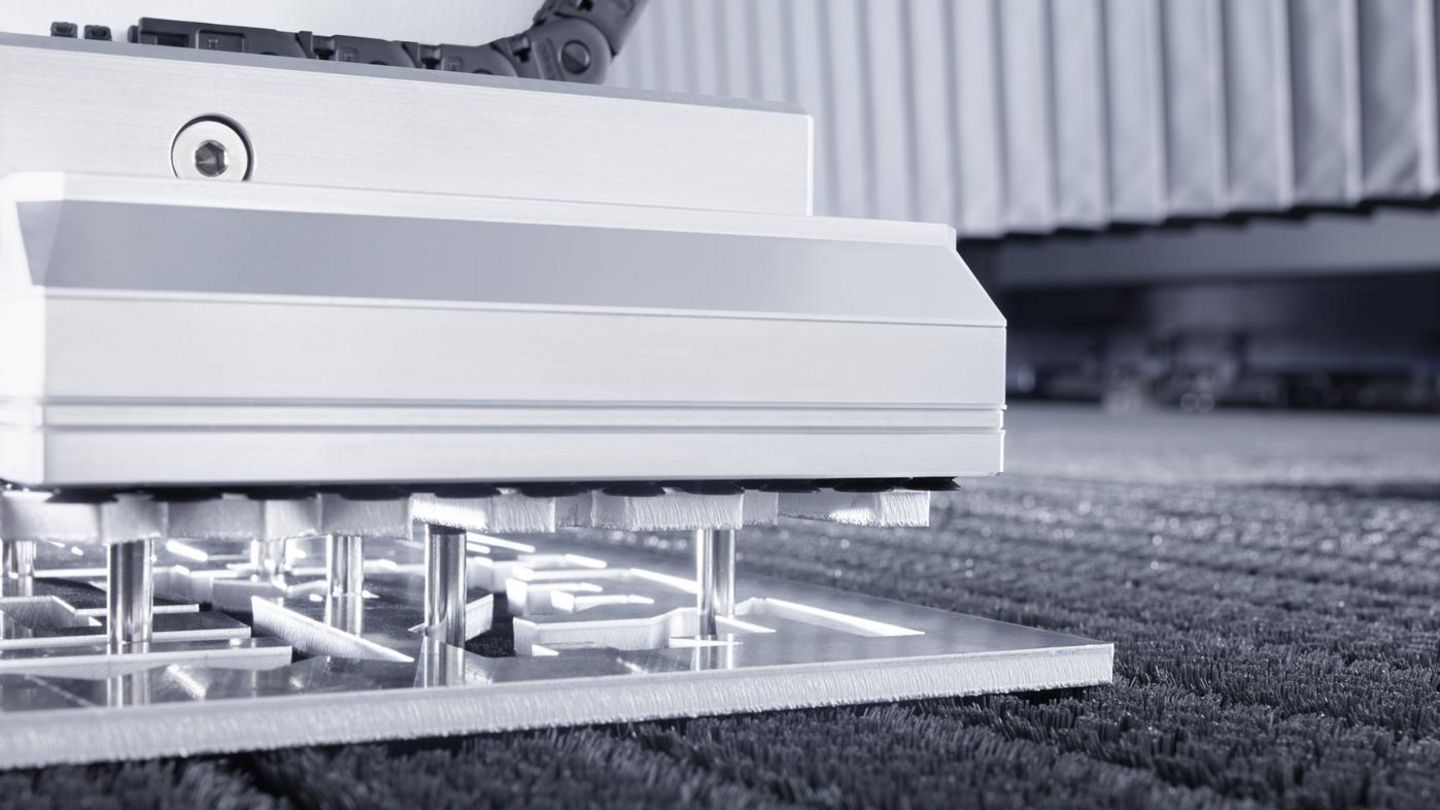 The combination of SortMaster Speed and SmartLift provides part removal with process reliability.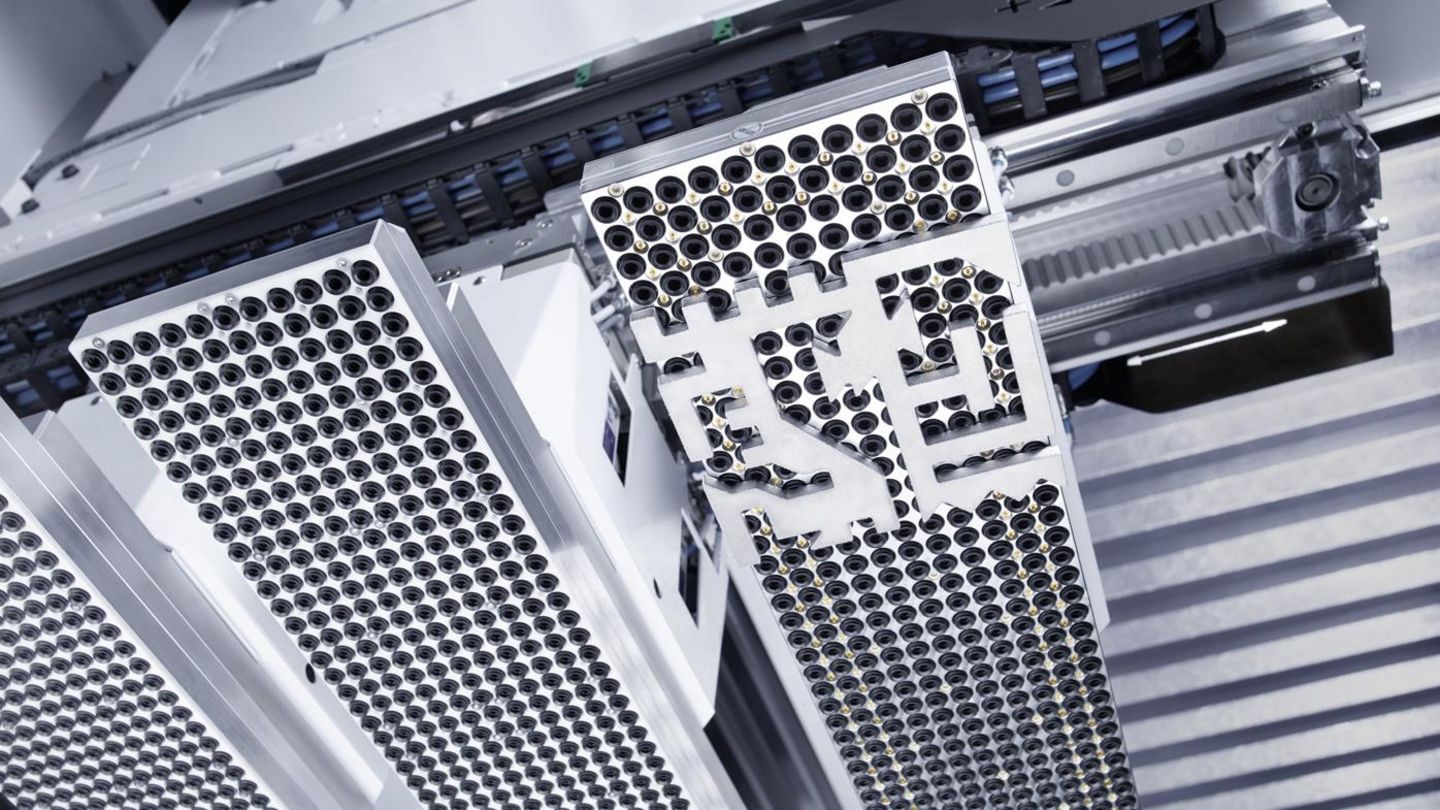 With its small suction cups, the SortMaster Speed stacks even the most intricate of parts in record time.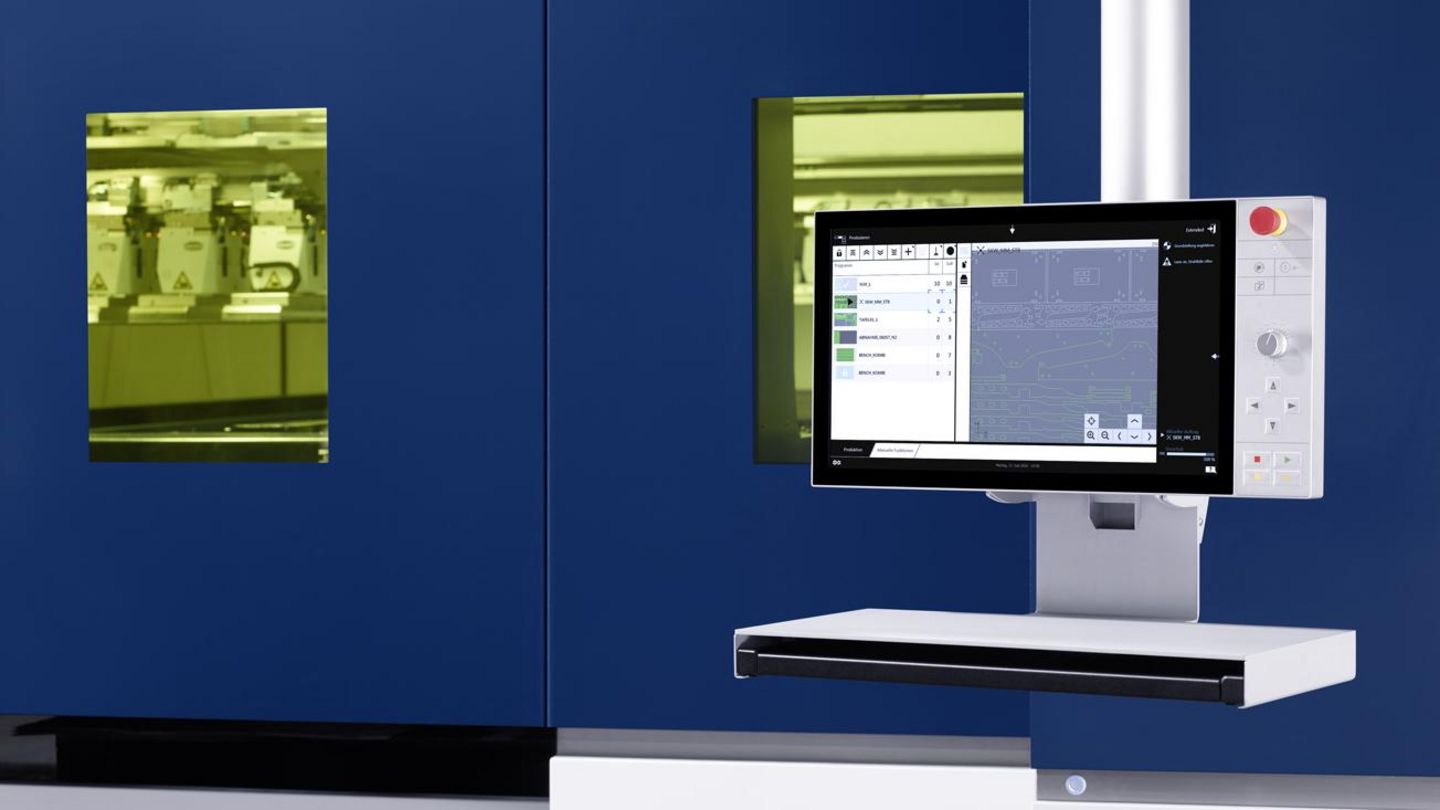 The Touchpoint user interface enables an intuitive dialog with the machine.