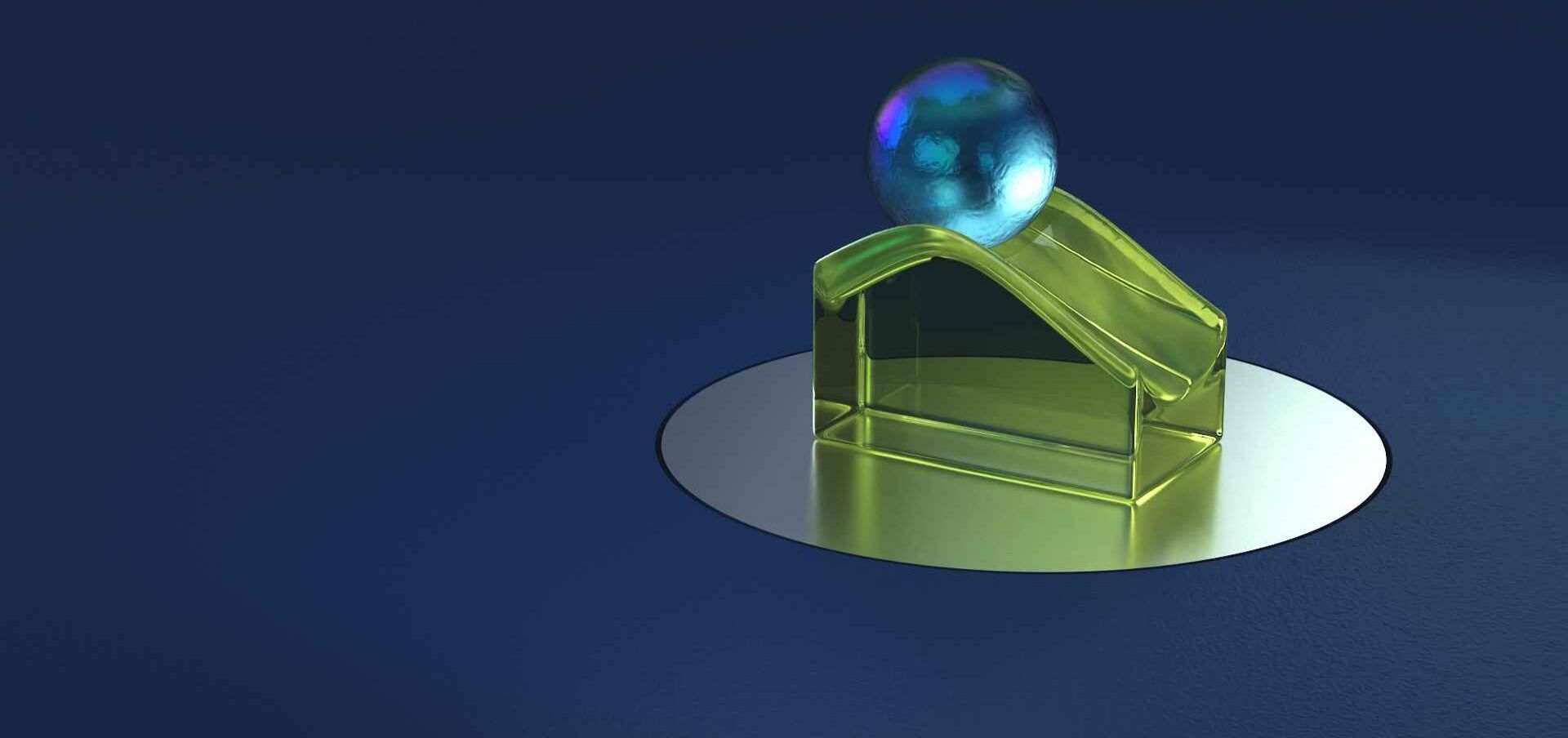 Production control: a perfect production flow with Oseon
As a sheet metal processor, how do you keep an overview over your processes? With Oseon – a comprehensive solution for production and material flow control, which supports users according to their roles and displays your processes consistently and transparently. This opens up growth and savings potential for you.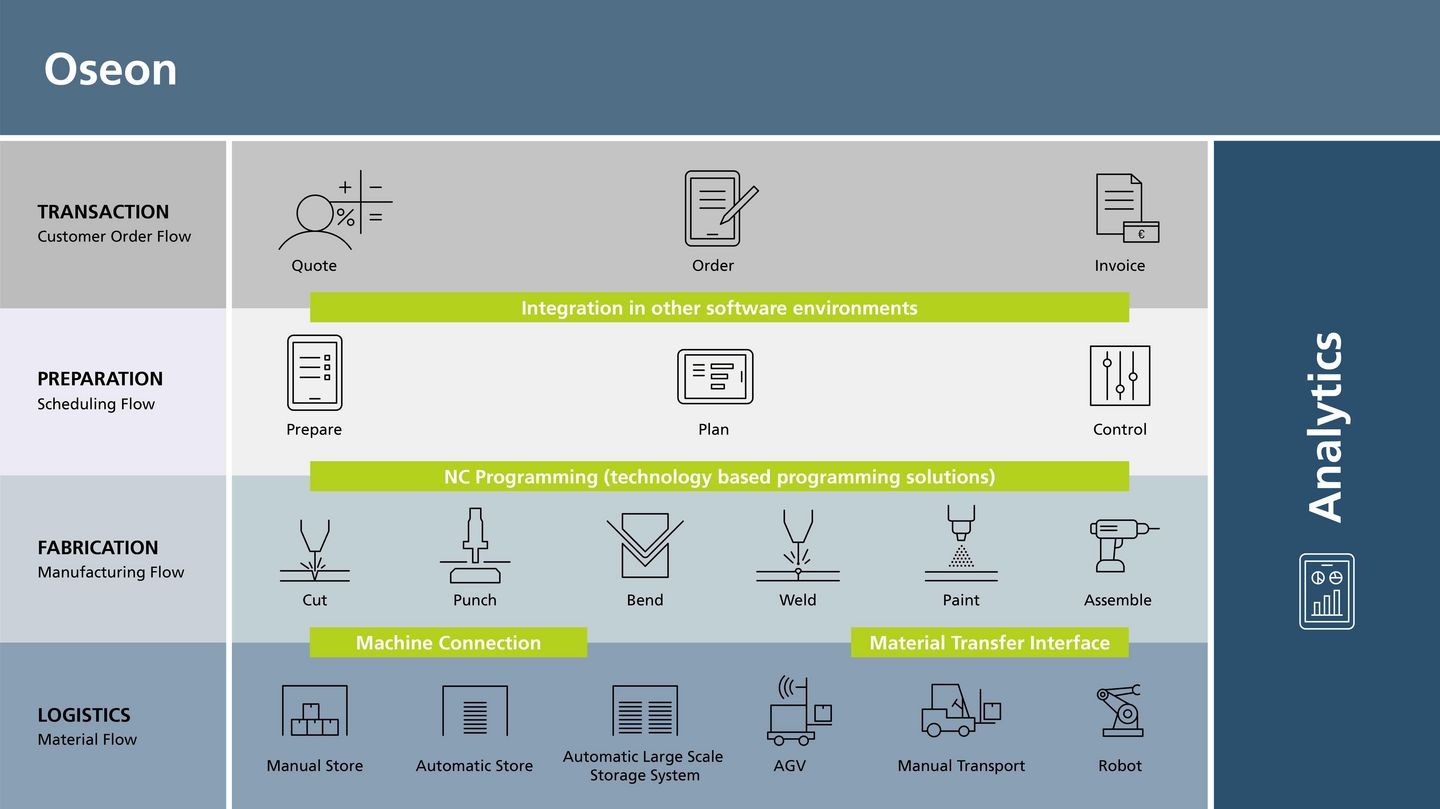 Information is generated at many points in your production. The Oseon software ensures that you receive all relevant information at the correct time and at the correct location, specific to the particular users. To this end, Oseon combines the production control of the sheet metal process chain with the benefits of a logistics system. Standard interfaces ensure simple integration of your existing facilities, automation and systems. The result is a seamless flow of information along the entire production chain. To put it simply: work flows
Oseon Go digitalizes all core processes in your production.
Oseon Grow is an extension of Go in the areas of storage, logistics, and interfaces.
You achieve a complete network with Oseon Flow.
Whether a parts spectrum or technologies: no production is static. That is why you need a flexible control solution that not only goes along with permanent changes but also actively supports you in them. With Oseon, your information flow is accessible wherever you are thanks to mobile terminals. The system displays your sheet metal processing with a transparent overview. Following the principle "As much as necessary, as simply as possible", it is easy for users to learn how to use and operate Oseon. Even new employees can quickly learn how to operate it thanks to its role-based structure and guided work steps. Use Oseon Go for your core processes or extend your software with the Grow and Flow packages until you are controlling your entire workflow with this program.
Oseon connects production and the material flow
Most software solutions are separated according to functions, into modules such as "Production" and "Logistics". In sheet metal processing, these roles are often not defined clearly, meaning that production staff also take on logistics tasks. This means users have to tediously switch between modules. Oseon, on the other hand, provides task-specific support – and delivers the correct information to the correct person at the correct time.
CEO: completely flexible
Growth requires flexibility – you determine the Oseon scope suitable for your production and scale it as required
Machine operators: well informed
The web-based app simplifies your job thanks to step-by-step instructions
Logistics: transparent material flow
Control and monitor your material flow and manage your inventory.
Production manager: full transparency
You always have your eye on your production – which is how you achieve maximum tolerance and increase your efficiency
Production staff: digital aids
The app accompanies you throughout the working day, provides instructions and supports you with your tasks in a targeted manner
Hit the ground running with Oseon Go
You will digitalize and simplify the core processes of your sheet metal processing with the Oseon Go software package. The software experts from TRUMPF will explain how that can advance your company in a personal consultation.
Get in touch now
Whether Go, Grow or Flow: the flexibly structured solution meets you exactly where you are. As a sheet metal processor, you can use it to grow step by step and digitalize and automate your production as much as you require at the time.
At the correct place at the correct time
Media gaps and false information can cause some productions to grind to a halt. Oseon digitalizes and connects the order and material flow. But above all, it guides users through the working day based on their roles. Staff in the production or store areas see on mobile devices what is currently important for their task. Everyone knows what they need to do. The result: your production flows – and you can respond to customer requests quickly and confidently.
CEO: cost-effective production
Optimum use of resources and profitable production, even from lot size 1
Machine operators: everything ready to hand
You always have all the information you need on the shop floor ready to hand in the web-based app
Logistics: easy to manage
Manage the material, inventory data and transport orders directly on the shop floor
Production manager: react faster
You can keep track of the utilization of all machines and optimize your production step by step with Oseon
Production planer: plan in real time
Scheduling production orders taking existing workstation capacities and feedback into consideration.
Would you like your production to grow?
You integrate further processes and automate your material flow with the Oseon Grow software solution package. It might be best to discuss with the software experts from TRUMPF how this can help your company grow.
Get in touch now
The path is cleared for fully automated sheet metal processing with Oseon Flow.
Fulfil customer requests immediately
The production and material flow control from TRUMPF is easy to learn and operate throughout, even in the Flow expansion stage. It is based on the fundamental idea of relieving staff from the burden of routine tasks and providing them with task-specific support as best as possible. At a corporate level, Oseon helps to ensure production is more cost-effective and customer requests are answered faster.
CEO: cost-effective production
Optimum use of resources and profitable production, even from lot size 1
Machine operators: well informed
You always have all the information you need on the shop floor ready to hand in the web-based app
Logistics: fully networked
Manage automated large-scale stores and network the material flow intelligently; including stores and AGVs
Production manager: increase output
You can assess workstations comprehensively, analyze trends, and set benchmarks.
Good advice: the flow in your production
With Oseon Flow, you will enhance the interaction between workstations and the material flow in your sheet metal processing, up to complete networking. The objective: a perfect production flow. Talk to your TRUMPF software experts about it.
Get in touch now
New releases of Oseon
Find out here what innovations the new release of Oseon has to offer.
Find out more
Digital Services Sales
Email