Sort small and large parts in a fully automated fashion
The SortMaster removes, sorts, and stacks cut finished parts and allows you to operate your 2D laser cutting machine in a fully automated fashion. To do this, you connect it to a storage system with a LiftMaster. In this way you can manufacture reliably, on demand, and around the clock. Smart functions correct potential malfunctions independently. For example, with automatic separation control: if a part does not come loose, the gripper head separates it from the scrap skeleton by shaking it.
Sort safely
Low-scratch part removal increases the quality of your parts.
More freedom
Sort parts up to 40 x 60 inches in size in a fully automated fashion.
Extra strong
The SortMaster even removes parts weighing up to 100 kg. in a fully automatic fashion.
Manufacture more productively
Automated removal of parts saves time and money.
| | SortMaster large format | SortMaster max format |
| --- | --- | --- |
| Unloading | | |
| Maximum part size | 1000 mm x 1500 mm | 1000 mm x 1500 mm |
| Minimum part size | 30 mm x 80 mm | 30 mm x 80 mm |
| Maximum part weight | 100 kg | 100 kg |
Technical data sheet
The technical data of all product versions as a download.
To ensure the fastest possible supply of materials, you can connect your machine to your materials store. In this context, you can expand your SortMaster with TRUMPF cart systems in accordance with your individual needs. This will ensure a constant workpiece flow.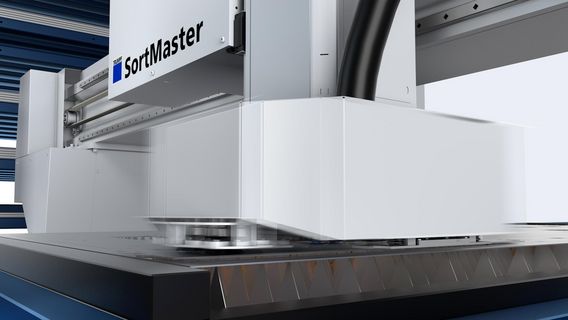 An additional gripper removes parts up to 40 x 60 inches. It can be connected easily with a gripper coupling.
Smart functions monitor the separation of parts. Vibrations in the gripper head ensure a more effective separation of the finished parts from the scrap skeleton.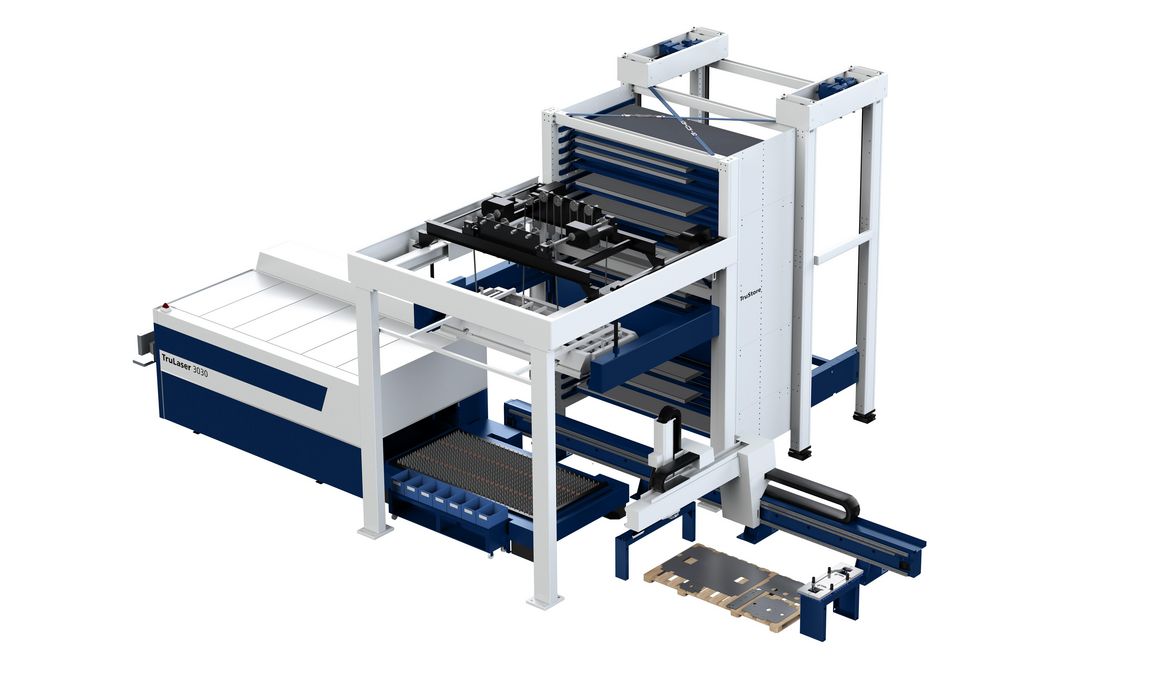 TruLaser 3030 fiber with SortMaster, TruStore 3030, LiftMaster Store
TruLaser 3030 with LiftMaster Sort, SortMaster, and cart systems
TruLaser 5030 with SortMaster directly connected to a TruStore 3030 with a LiftMaster Store.
This product range and information may vary depending on the country. Subject to changes to technology, equipment, price, and range of accessories. Please get in touch with your local contact person to find out whether the product is available in your country.