The productive machine
The laser cutting machines TruLaser 5030 / 5040 represent high productivity, efficiency and high-quality results. They are characterised by speed and reliable processes. Diverse automation solutions and intelligent functions guarantee excellent results in continuous operation – the smooth edges produced by the CO2 laser also offer clear-cut benefits. The perfect machine for excellent laser cutting.
Perfect quality
With the TruFlow CO2 laser, you can achieve perfect, micro-burr-free cutting results.
Perfect edges
Achieve extremely smooth cutting edges in stainless steel thanks to BrightLine.
Minimal part costs
High machine dynamics, even for complex contours
Intricate cutting even in thick mild steel
With the CoolLine function, you can even create small contours in thick mild steel to an outstanding quality.
Increased machine availability
Condition Guide always monitors the condition of your machine.
Perfect nozzle quality
Smart nozzle automation ensures a high quality of nozzle – even in fully automatic operation
Extremely smooth cutting edges with BrightLine
The BrightLine cutting procedure, the interaction between innovative components and a flow-optimised nozzle, enables the highest quality cuts to be made in thick stainless steel and mild steel. In stainless steel in particular, the BrightLine fusion cutting produces an especially high-quality cutting edge – a clear-cut mark of quality. This results in considerably reduced reworking, or often even no reworking at all.
Thick mild steel cut with CoolLine
The CoolLine process specifically cools the workpiece during laser cutting. This enables new geometries and increases process reliability for the processing of thick mild steel considerably.
Thin stainless steel
You can achieve perfect quality in thin stainless steel – even in intricate contours: the edges are burr-free and reworking is no longer required.
| | TruLaser 5030 | TruLaser 5040 |
| --- | --- | --- |
| Dimensions | | |
| Length | 9950 mm | 12510 mm |
| Width | 4600 mm | 5400 mm |
| Height | 2400 mm | 2400 mm |
| Maximum speed | | |
| Simultaneous | 300 m/min | 300 m/min |
| Working range | | |
| X axis | 3000 mm | 4000 mm |
| Y axis | 1500 mm | 2000 mm |
| Maximum workpiece weight | - | - |
| Laser-specific data - TruFlow 6000 | | |
| Maximum laser power | 6000 W | 6000 W |
| Maximum sheet thickness, mild steel | 25 mm | 25 mm |
| Maximum sheet thickness, stainless steel | 25 mm | 25 mm |
| Maximum sheet thickness, aluminium | 16 mm | 16 mm |
| Consumption values | | |
| Average power input in production - TruFlow 6000 | 32 kW | 32 kW |
Technical data sheet
The technical data of all product versions as a download.
High productivity and the best quality: powerful functions guarantee the best processing results.
AdjustLine enables the easy adjustment of the cutting process to materials of different quality. The function increases process reliability, above all when cutting material of a poor quality. This results in fewer waste parts and lower material costs for you. The operator can switch AdjustLine on or off at any time – programming is not required.
Collision protection for your cutting head guarantees the highest process reliability. You benefit from shorter non-productive times due to increased machine availability. In the event of collisions, damage to the cutting head is avoided.
Mild steel becomes extremely hot during laser cutting and may melt uncontrollably. With CoolLine, this does not happen. During processing, the cutting head sprays water mist in a circle around the laser beam onto the workpiece. This is possible thanks to nozzles with precise bore holes. The vaporisation energy of the water means that the material around the laser beam is cooled. CoolLine therefore enables new geometries and increases process reliability for the processing of thick mild steel considerably.
The optimal condition of the nozzle and lens is an important requirement in order to guarantee a seamless production process and a high level of part quality. The smart nozzle automation package combines intelligent functions, including LensLine to increase the service life of your lenses, in order to ensure high nozzle and lens quality – even in fully automatic operation.
Smart collision prevention
You can largely avoid the need for microjoints, saving costly reworking. The parts can also be unloaded using an automated mechanism as they do not tip over.
A camera system determines the position of inserted sheets precisely, and enables the reworking of parts which have already been cut with absolute precision. DetectLine also automatically measures a cut focusing comb and sets the focal position.
With BrightLine you can achieve the perfect sectional view. Special cutting data and the BrightLine nozzle with adapted cutting gas jet considerably improve the quality of the cutting edges. The process demonstrates its advantages in thick stainless steel in particular. The BrightLine fusion cutting creates smooth edges which are a clear-cut benefit for you. Reworking is no longer required.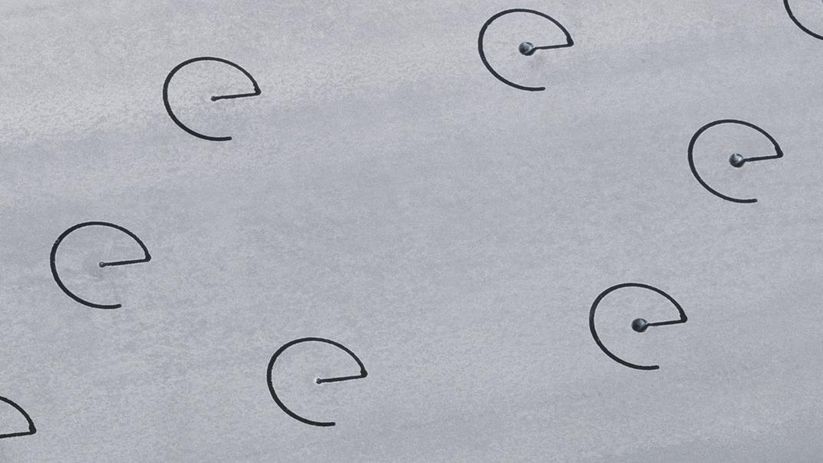 PierceLine monitors and controls the piercing process. This saves material and preserves the machine, increasing part quality and shortening the piercing time by up to 80%.
One glance is enough: thanks to the new Condition Guide function, you are always informed about the condition of your machine. A traffic light system shows the status of important elements that influence the cutting capability of the machine. Condition Guide will give you recommendations for action as required. Process diagrams facilitate forecasting as to when action may need to be taken. Maintenance work can therefore be planned efficiently.
The Dot Matrix Code function enables parts to be labelled quickly and with process reliability using a standardised industrial code. Within seconds, the laser in your laser flatbed machine applies a 2D code (data matrix) made out of dots onto a part. It contains information for the process chain. The code serves, for example, to call up the corresponding program at the next machine.
Using the MobileControl app, you can operate and monitor your machines easily and with flexibility as the app transmits the interface of the standard control panel onto the touch screen of your tablet PC. The app enables you to call up different machine information at different places in the working environment of the machine – such as the clearing area – or to change the program.
With Drop&Cut, remainder sheet is utilised more easily, intuitively and efficiently than ever before. A camera ensures that the live image of the machine interior appears directly on your user interface. You can position any number of part geometries on the remainder sheet. This saves a lot of time during the post-production of individual parts. Time-consuming process steps such as aligning the sheet, sheet position measurement or zero point displacement are not needed.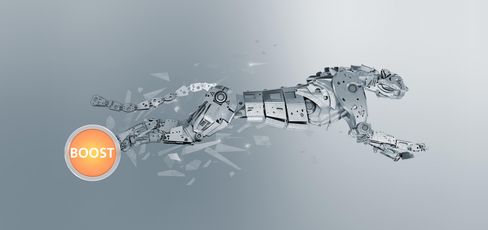 TruTops Boost
Construct and program your laser, punching and combination punch laser machines intelligently with TruTops Boost, your all-in-one 3D solution. Numerous automated processes save you time-consuming routine processes and the joint nesting pool saves time and material. You also always have an overview of all manufacturing orders and order-based work.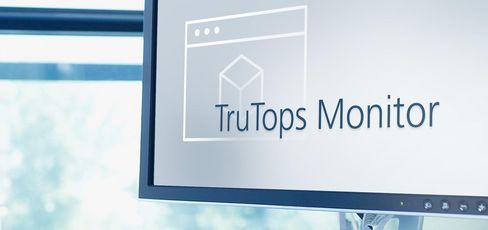 TruTops Monitor
Reduce your idle time. Record and analyse machine data, such as idle states, error messages, causes of malfunctions and maintenance periods for all of your production workplaces. If an idle state or a malfunction occurs, TruTops Monitor informs you immediately of the cause, allowing you to respond quickly.
Software
The extensive range of TruTops software supports you throughout the entire production process. Control your operational workflow in a simple and targeted manner, from managing your customer orders and purchasing processes to delivery of the produced parts. Through the direct coupling with the machine control, you can keep a constant eye on the status of your orders.
Choose the right automation components for your laser cutting machine from a large modular system. From semi-automatic loading to a fully automatic processing cell with storage connection, TRUMPF provides solutions which optimise your process chain.
Loading
Your entry into automation: the LoadMaster enables the automatic loading of your machine with raw sheets.
Loading and unloading
The compact LiftMaster Compact loads and unloads your machine completely automatically and extremely fast. With the LiftMaster Linear Basic you have the option of multiple-machine connection.
Loading and unloading / part sorting
The LiftMaster automation solution covers a broad range of automation functions. It loads and unloads, but is also suitable for pallet handling or part removal. The LiftMaster Sort also separates finished parts from the scrap skeleton. LiftMaster Store and LiftMaster Store Linear connect your system directly to the store. The SortMaster automatically sorts finished parts.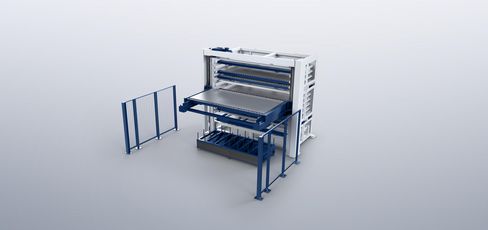 Auxiliary pallet operation
The PalletMaster Tower enables flexible material handling around the clock. It combines the automatic changing of pallets with compact storage technology.
Storage system
With the storage systems of the TruStore Series 1000 and TruStore Series 3000 you can organise your material handling according to your requirements.
This product range and information may vary depending on the country. Subject to changes to technology, equipment, price and range of accessories. Please get in touch with your local contact person to find out whether the product is available in your country.
Footnotes
* This function is available as a test or rental version.
TRUMPF Ltd.
Fax 01582 399260
Email