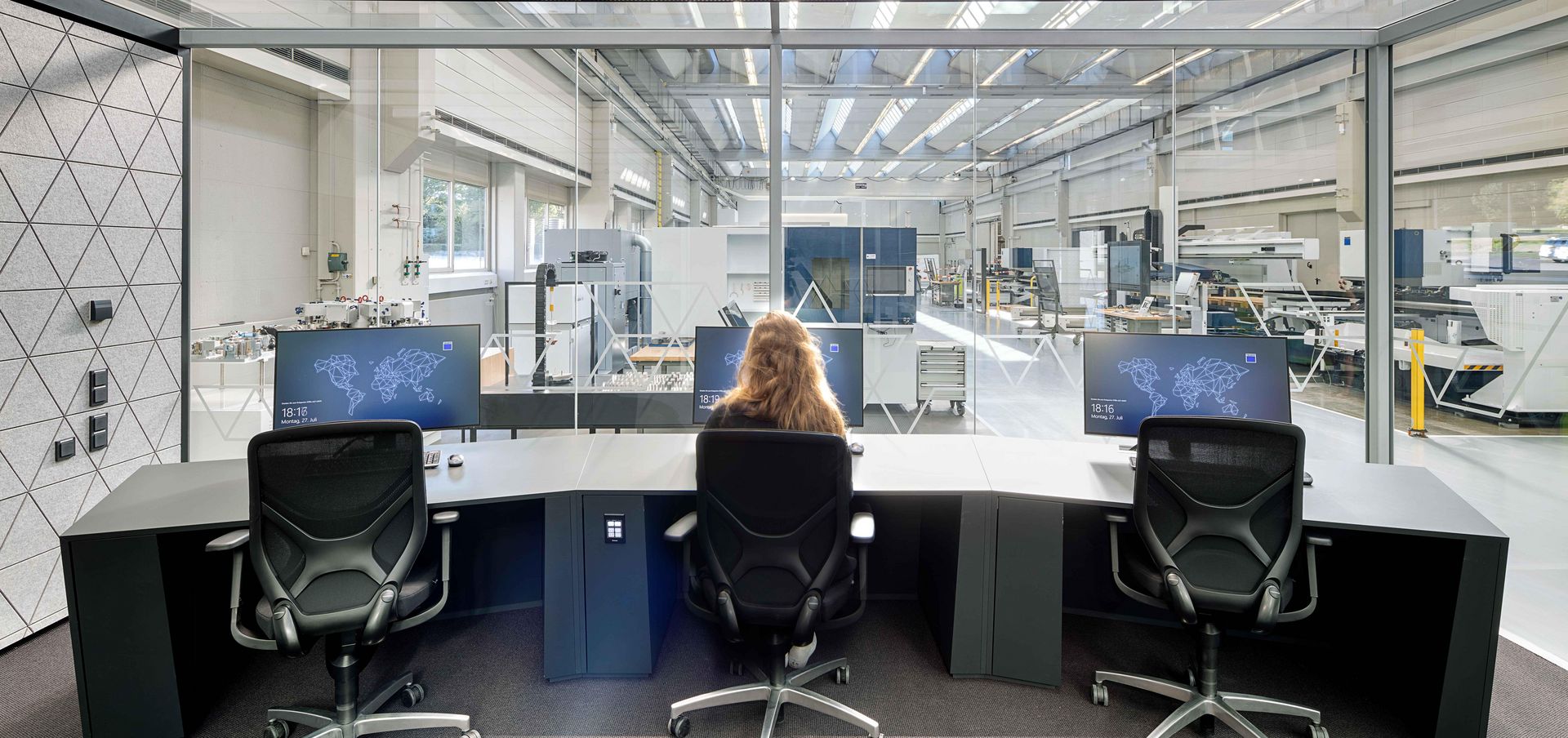 TRUMPF Smart Factory in Ditzingen
The intelligent factory at TRUMPF's headquarters
High order density in ever decreasing time frames, a reduction in lot sizes – just two challenges of a modern world of production. But how does it work on a shop floor with a fast, flexible and completely transparent production? In Ditzingen we will show you how! The Smart Factory offers small and medium-sized companies a realistic insight into fully networked and flexible sheet metal processing. Experience how people and machines work together hand in hand – supported by intelligent systems, from part transport to working on the machine. You will see for yourself how our solution always starts with your challenge. Whether it is due to the TRUMPF machine apps, ergonomic handling or simple programming – the machines lay the foundation for a networked future. Visit us and see for yourself!
In numbers: the intelligent factory in Ditzingen
Experience the future in Ditzingen!
Would you like to see the Smart Factory in Ditzingen in action? We would love for you to visit us! Just fill in the contact form, our colleagues will get in touch.
Register now
Experience Industry 4.0 live in action here
What does the Smart Factory in Ditzingen have to offer? We will show you the fully automated areas for autonomous production – including automated guided vehicle systems – as well as the support artificial intelligence provides when sorting metal parts and how tablets and smart watches assist with material movement and order overviews. We will demonstrate how partner machines for deburring and quality control effortlessly play their part in the Smart Factory. Intelligent TRUMPF monitoring and analysis software ensure complete transparency of orders, materials or productivity so that you do not lose the overview of your shop floor.
1. Control Center
This is where the various strands come together. All orders are generated, controlled and can be experienced live in action in the Control Center. Track&Trace facilitates complete transparency and localisation of the individual orders throughout the entire shop floor. Put us to the test!
2. Application Center
You experience the variety of metal and tubes here. We provide advice for part design in terms of design, production time and cost efficiency. Your options and your production take centre stage.
3. AI-supported sorting
The Sorting Guide provides assistance to the operator directly at the laser cutting machine during the sorting procedure. After removing a part from the sheet, the parts which belong to this order are marked in colour in a screen. See for yourself how artificial intelligence increases the efficiency at the interface between the laser cutting machine and the factory flow.
4. Smart material flow
Up to 40% of valuable resources are still being allocated to non-value-adding activities. There is a better way: you will optimise your shop floor and therefore the entire production with a transparent material flow and automated guided vehicle systems.
5. Autonomous production
Within the Smart Factory area, we will demonstrate autonomous processes – four machines and one large-scale storage system work together, independent of technologies, within fully automated systems. We also supply our own in-house TRUMPF machine production with real parts for production here.
6. Integration of partner machines
Smart procedures are only possible if everyone is getting along: this is why TRUMPF opens its doors and forms cooperation partnerships. This means that we can get the best out of all of the systems for your solution.
7. Networked processing cell for the sheet metal process chain
Procedural progress, utilisation, malfunction – all status data and status information can be called up in real time. It is possible to analyse the entire production with this data to make it easy to detect inefficiencies and bottlenecks. But that's not all! Machines and machine apps actively help the operator process the orders.
The following machines can be viewed
TruLaser
TruLaser 1030 fiber

TruLaser 3030 fiber

TruLaser 3030

TruLaser 5030 fiber

TruLaser Center 7030
TruLaser Tube
TruLaser Tube 5000 fiber

TruLaser Tube 7000 fiber
TruPunch
TruPunch 1000

TruPunch 5000
TruMatic
TruMatic 3000 fiber

TruMatic 6000

TruMatic 7000
TruBend
TruBend Series 3000

TruBend Series 5000
TruBend Series 7000

TruBend Cell 5000

TruBend Cell 7000

TruBend Center 7030
TruLaser Weld / TruArc Weld
TruLaser Weld / TruLaser Robot

TruArc Weld 1000
TruStore
TruStore

STOPA large-scale storage system
Insight into the Smart Factory in Ditzingen
Come and visit us!
Would you like to experience the Smart Factory in Ditzingen in action? Then come for a visit! Just fill in the contact form, our colleagues will get in touch.
Register now
Uwe Cichowicz
Smart Factory Consultant
Email
---
Thomas Rupp
Managing Director TRUMPF Smart Factory Consulting GmbH​