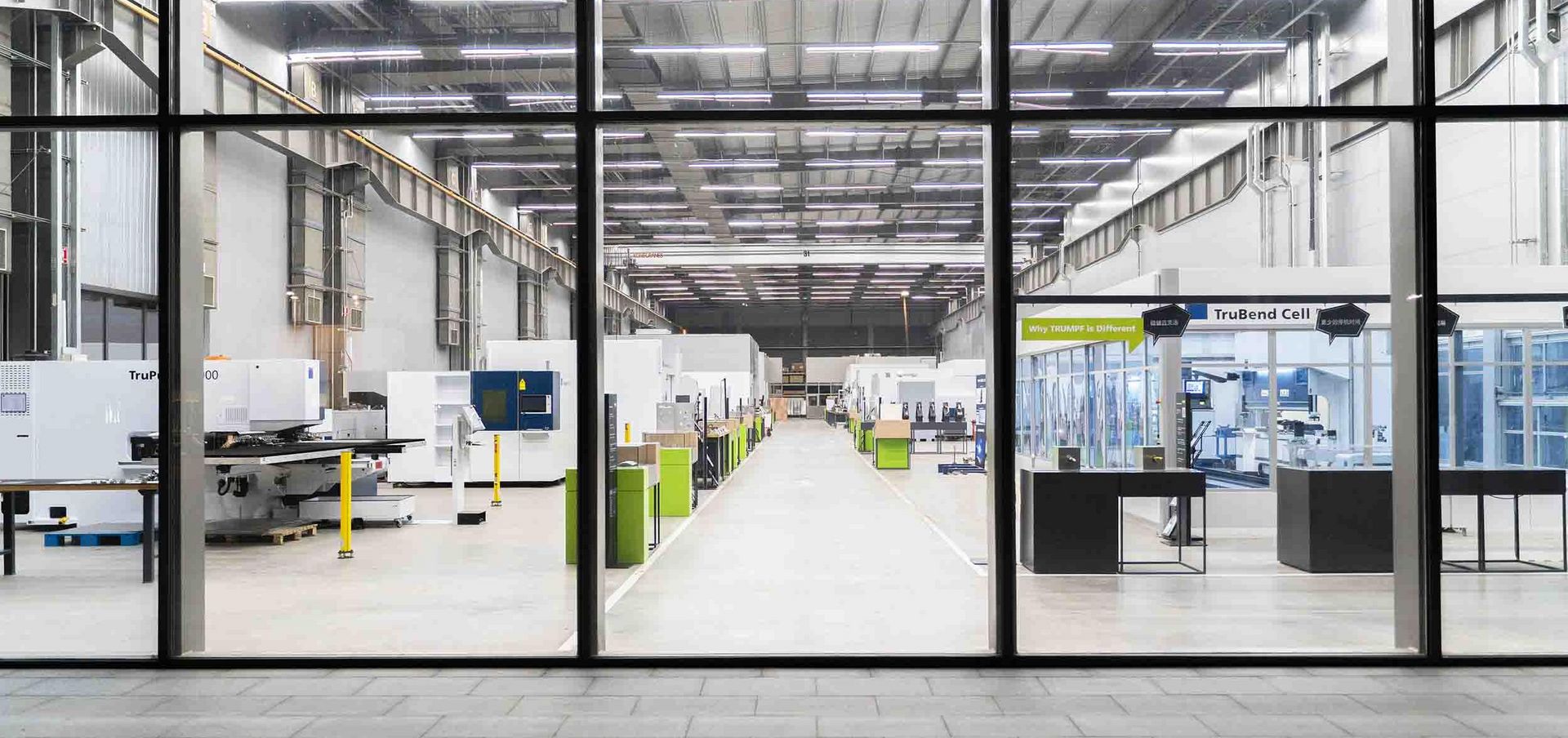 TRUMPF Smart Factory in Taicang
The intelligent TRUMPF factory in China
The demands of processing more and more orders at greater speeds and responding to small lot sizes with flexibility – TRUMPF customers in China face these central challenges of modern production just like most other metal processors around the world. But how does it work on a shop floor with a fast, flexible and completely transparent production? Chinese customers can experience this live in action in our production facility in Taicang. A fully automated production line as well as our production management system were introduced in 2017 in Taicang. The intelligent digital upgrade propelled the production there to the next level and brought measurable results immediately.
In numbers: what are the advantages of the Smart Factory in Taicang?
Come and visit us!
Want to see the Smart Factory in Taicang in action? Then come for a visit! Just fill out the contact form and our colleagues will get in touch.
Register now
Experience the factory of the future in China
How does automated bending, punching and laser manufacturing work on an intelligently networked shop floor? Visitors to our Smart Factory in Taicang can experience this for themselves. Using real production processes to demonstrate, it can be shown, for example, how artificial intelligence makes sorting metal parts easier and how production managers can keep an overview of their production at all times and in any place using smart devices. Smart intralogistic solutions and intelligent monitoring and analysis software from TRUMPF also put an end to cost- and time-intensive searches on the shop floor.
1. Control Center
The linchpin of the Smart Factory Taicang: the Control Center. This is where orders are centrally generated, controlled and traced. Thanks to our intralogistics solution Track&Trace, customers always have full transparency of their shop floor.
2. Automated 2D laser cutting
Even without supervision, the dynamic and variable automation solution LiftMaster Compact will run 24 hours a day without compromising process reliability. Customers in Taicang experience automated loading and unloading in conjunction with our 2D laser cutting machine TruLaser 3030 fiber.
3. Automation during punching
The SheetMaster Compact loads the TruPunch 3000 with sheets or blanks and unloads microjoint sheets and scrap skeletons reliably and efficiently. As a result, the punching machine works much more productively and requires very little additional installation space.
4. Automated bending cell
The TruBend Cell 3000 in the Taicang Smart Factory impresses with productive and flexible automation designed to handle a wide range of parts.
5. The full-service machine in laser production
Visit the Smart Factory in Taicang and convince yourself of the first TRUMPF full-service laser machine: the TruLaser Center 7030 takes over the entire laser manufacturing process – from the drawing to the sorted part.
6. Smart laser welding
Turnkey automated laser welding – visitors to our Smart Factory Taicang can experience this with our TruLaser Weld 5000 Basic Edition.
7. Affordable introduction to laser tube cutting
We will show you how customers are able to insource quality, manufacture at shorter notice and with greater flexibility or develop new markets using the TruLaser Tube 3000 fiber in China. It is ideal for first-time users or as a supplementary machine thanks to its ease of operation.
Come and visit us!
Would you like to experience the Smart Factory in Taicang in action? Then come for a visit! Just fill in the contact form, our colleagues will get in touch.
Register now
Thomas Rupp
Managing Director TRUMPF Smart Factory Consulting GmbH​